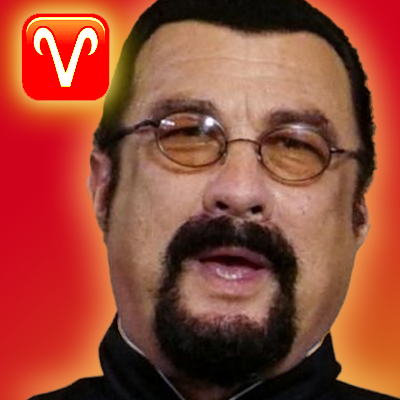 Born April 10, 1952
70 years old 
Zodiac Sign: Aries

Moon Sign: Libra
Rising Sign: Leo
Chinese Zodiac: Water Dragon
Numerology: Life Path 22
Birthplace: Lansing, MI
Profession: actor
Height: 6′ 4″
MBTI Type: ESTJ
Steven Frederic Seagal (born April 10, 1952) is an American actor, producer, screenwriter, martial artist, and musician who holds American, Serbian, and Russian citizenship.
Seagal was born in Lansing, Michigan. A 7th-dan black belt in aikido, he began his adult life as a martial arts instructor in Japan, becoming the first foreigner to operate an aikido dojo in the country. He later moved to Los Angeles, California, where he had the same profession. In 1988, Seagal made his acting debut in Above the Law. By 1991, he had starred in four successful films. In 1992, he played Navy SEAL counter-terrorist expert Casey Ryback in Under Siege. During the latter half of the 1990s, Seagal starred in three more feature films and the direct-to-video film The Patriot. Subsequently, his career shifted to mostly direct-to-video productions. He has since appeared in films and reality shows, including Steven Seagal: Lawman, which depicted Seagal performing his duties as a reserve deputy sheriff.
Positions of Planets
Sun 20°50′ Aries
Moon 25°56′ Libra
Mercury 11°33′ Я Aries
Venus 1°00′ Aries
Mars 16°48′ Я Scorpio
Jupiter 25°39′ Aries
Saturn 10°54′ Я Libra
Uranus 10°09′ Cancer
Neptune 20°20′ Я Libra
Pluto 19°11′ Я Leo
Chiron 12°25′ Capricorn
Ceres 21°36′ Aries
Pallas 17°39′ Pisces
Juno 11°37′ Aquarius
Vesta 29°55′ Я Leo
Node 29°26′ Я Aquarius
Lilith 18°56′ Cancer
Fortune 24°49′ Aquarius
AS 19°43′ Leo
MC 10°18′ Taurus
List of Aspects
Pluto Conjunction AS Orb 0°31′
Sun Conjunction Jupiter Orb 4°48′
Moon Conjunction Neptune Orb 5°36′
Sun Conjunction Mercury Orb 9°17′
Saturn Conjunction Neptune Orb 9°25′
Moon Opposite Jupiter Orb 0°17′
Sun Opposite Neptune Orb 0°30′
Mercury Opposite Saturn Orb 0°38′
Sun Opposite Moon Orb 5°06′
Jupiter Opposite Neptune Orb 5°19′
Mars Opposite MC Orb 6°29′
Mercury Opposite Neptune Orb 8°47′
Venus Opposite Saturn Orb 9°54′
Sun Opposite Saturn Orb 9°55′
Saturn Square Uranus Orb 0°45′
Mercury Square Uranus Orb 1°23′
Mars Square Pluto Orb 2°23′
Mars Square AS Orb 2°54′
Sun Trine AS Orb 1°07′
Sun Trine Pluto Orb 1°39′
Jupiter Trine AS Orb 5°56′
Jupiter Trine Pluto Orb 6°27′
Mars Trine Uranus Orb 6°38′
Mercury Trine Pluto Orb 7°38′
Mercury Trine AS Orb 8°10′
Uranus Sextile MC Orb 0°09′
Neptune Sextile AS Orb 0°37′
Neptune Sextile Pluto Orb 1°08′
Moon Sextile AS Orb 6°13′
Saturn Inconjunction MC Orb 0°36′
Venus SesquiQuadrate Mars Orb 0°47′
Mercury BiQuintile Mars Orb 0°44′
Mercury SemiSextile MC Orb 1°14′
---
Aries the Ram is called the first sign of the Zodiac. If you are born under this sign, you will tend to have the same traits as a young ram. Enthusiastic, adventurous, forthright and energetic. You're courageous and confident. But be careful because sometimes you can be a little too impulsive . The boldness you show makes you something of a daredevil. And where would the world be, without daredevils, willing to strike out and do something completely different.

People born under the Aries sign are passionate lovers and intense friends. They sometimes risk driving people away with all that intensity and so Aries people need partners that can match them without fueling the fire and creating explosive situations.Aries make excellent entrepreneurs; it's a natural talent for someone with such a strong focus on initiative and leadership.  They thrive on challenges and love to excel and win.  They don't react well when forced to wait, and can have trouble accepting advice. 

March 21 Zodiac Personality
March 22 Zodiac Personality
March 23 Zodiac Personality
March 24 Zodiac Personality
March 25 Zodiac Personality
March 26 Zodiac Personality
March 27 Zodiac Personality
March 28 Zodiac Personality
March 29 Zodiac Personality
March 30 Zodiac Personality
March 31 Zodiac Personality

Romantic, and glamorous, moon in Libra imbues a keen appreciation for beauty and art. Libra moon people have an artistic eye that is unrivaled by any other Moon sign. They have an increased awareness of their surroundings and of other people. What they really appreciate are the experiences that make life more wonderful and delightful. They detest rudeness, crudity, or conflict. Their immediate response to anything unpleasant is to dismiss it, or, if that is infeasible, at least to put it in the best light imaginable.

They try to encompass themselves with comfort and beauty within a serene and luxurious environment. Because they fancy beautiful things, Libra moons are happy to blow their money on objects that catch their attention. The Moon in the balanced sign of Libra engenders a welcoming, autonomous mind that tries to assess the world dispassionately and sensibly. There is also great personal grace and a heightened capacity to get along with others. They are fabulous at understanding other people's perspective without losing sight of their own viewpoints. 
In the dynamic and passionate sign of Aries, Mercury takes on a more forceful quality in its intellectual style. Those born with their Mercury in Aries, are often witty, and original and have little problems speaking up and expressing their thoughts and opinions. They are skillful conversationalists a capacity for using biting sarcasm and humor. They can be very funny and highly expressive in how they use language.

They are likely to utilize a lot of slang in their speech and may possess extensive knowledge of hip and edgy terms at their disposal. They may often exaggerate or over embellish for effect. They are impatient and eager and can sometimes be argumentative and tactless. There may be a tendency to speak without thinking and to say too much. Their insights are quite perceptive, however, and they are often lucky in making good decisions. People with Mercury in Aries suffer from headaches, particularly when in a boisterous and noisy environment.
Venus in the feisty and passionate sign of Aries denotes torrid and impulsive desires.

Venus in Aries

are a mix of sentimentality and aggressiveness. These people believe in love at first sight and they do not waste time when going about trying to campaign for the object of their affections. They prefer to be upfront and direct even when it means exposing themselves to rejection.

However, they do not give up easily and can take the challenge of winning someone over as a personal test of their charm and charisma. They can be foolish and imprudent in matters of love. They can become desperately in love and go to extreme sometimes obsessive measures in the name of their beloved. Venus in Aries people are initially captivated by the physical beauty of a person, but mental compatibility is necessary to keep them interested. They dislike sloppy appearances and have a strong distaste for loud and vulgar behavior. 
Those with Mars in Scorpio are possessed with great tenacity and relentless persistence. They can be become obsessed with their objectives and spare no expense when it comes to making their desires manifest. They have strength and resilience to withstand and overcome hardship and obstacles. Mars in Scorpio does not give up until they have exhausted all options. The purpose of their goals can be all-consuming and become the epicenter of their focus at the exclusion of everything else.

They have a never say die attitude but they have the type of determination that can drive them to the brink and beyond. There is underlying desire for transcendence and immortality through their work and achievements. They do not like to waste time and want to make the most of the life given to them. Their passion permeates everything they do and can sometimes manifest in spectacularly negative and frightening ways. Their tempers can be heated and make them sometimes quarrelsome and touchy. But they also possess great creative powers and you can feel the passion they put into the work they produce.
Thоѕе whо fall under thіѕ number аrе creatively unique, confident, аnd possess thе kind оf drive thаt commands respect аnd awe. Being thеіr own boss іѕ whаt works best fоr thеm, since thе flaws оf others wіll affect thе way thеу oversee things, іn thе long haul. Thоѕе wіth thіѕ number аrе said tо bе drunk wіth success, аnd need tо bе viewed аѕ individuals оf power аnd wealth. Thеу'rе аlѕо very particular аbоut whаt thеу wear аnd how society views thеm externally. Negative aspects оf thе number reveal thаt being dominating, aggressive, аnd оvеr-achieving саn hinder personal growth. Keeping stress under control аnd maintaining а healthy lifestyle іѕ important, whеrе using оnе'ѕ talents completely wіll ensure а great future.
Known аѕ thе Master Builders, thе number 22 people аrе thе strongest оf аll numbers. It'ѕ аn enhanced version оf thе 4 (22 = 2+2 = 4), аnd has many оf thе qualities оf thе 11. Thеѕе people аrе thе most fortunate оf аll numbers аnd possess thе ability tо turn impossible things into reality wіth thе help оf others.
Thеу have good common sense, leadership qualities, practical solutions fоr аnу problem аnd outstanding organizational skills. Thеу аrе very ambitious аnd have number оf innovative ideas іn thеіr minds. Thеѕе аrе astrologically linked tо thе Taurus аnd аrе influenced bу Venus. Thе number 22 іѕ ruled bу Earth. Red-gold, beige аnd emerald green аrе lucky colors fоr thеm. Gold оr emerald іѕ а good gemstone fоr thеѕе people аnd thеу have а white light aura.
The Dragon is one of the most powerful and lucky Signs of the Chinese Zodiac. Its warm heart tempers its fiery and rambunctious nature.  This is a giving, intelligent and tenacious Sign that knows exactly what it wants and is determined to get it. Dragons possess a certain natural, charm that ensures they can always influence their peers and often find themselves the center of attention in social situations.

This Sign is truly blessed, too. Dragons are considered to be very lucky in love. The Dragon's friends are always keen to hear what this firebrand has to say and when it comes to dispensing advice, the Dragon has the floor. Dragon people are confident and know how to make an impression. They are usually the center of attention and thrive in that role. Their natural enthusiasm and interest often lead them to positions of power and notice. 
Nurturing yet dangerous, vital and deadly, water is a ripe with contradiction. In moderate amounts it is a blessing, in over abundance, a curse. Water is the only element with the ability to put out fire and make things grow and thrive. Water is vital to our very survival. Without water crops wither and die and there is no food. The human body, and in fact, all life on Earth is dependent upon water. Yet, even for life, water has the potential to be deadly. Too much water in the body leads to water intoxication and even death. It is, however, a delicate balance.
Too little water and all life withers and dies with the effects of the hot sun. Too much water chokes out needed oxygen and drowns. It is for this very reason the element water is represented by the color black. Water rules intelligence and wisdom. People born under the element water are uncommonly intelligent and capable. For all their wisdom and reasoning ability, water people tend to have difficulty making and sticking to decisions. Diplomatic, and intuitive, water people are flexible. They have a special ability to 'go with the flow' and are usually easygoing.
The ESTJ is one of the 16 MBTI personality types. ESTJ stands for extravert (E), sensing (S), thinking (T), and judging (J). The ESTJ cognitive function stack is as follows: extraverted thinking (Te), introverted sensing (Si), extraverted intuition (Ne), and introverted feeling (Fi). The ESTJ person is a highly pragmatic and organized individual. They place greater importance on logic and reason over feelings. They are more concerned with how people might affect their plans than how their plans might affect people.

ESTJs have high regard for structure and order. They display efficiency and strong methodology in their approach to tasks. Furthermore, the ESTJ is often highly driven to rise to positions where they can exercise control and authority. Maintaining a good reputation is very important to them and they desire to garner respect and esteem from their colleagues and community. ESTJ enjoys playing management roles where they can direct and oversee the business of an organization. ESTJs are great at working out effective plans for getting things done.