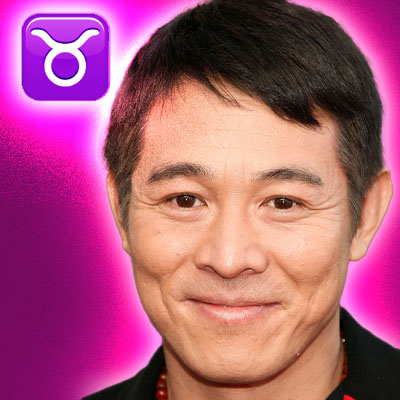 Born April 26, 1963
60 years old 
Zodiac Sign: Taurus
Moon Sign: Gemini
Chinese Zodiac: Water Rabbit
Numerology: Life Path 4
Birthplace: Beijing, China
Profession: actor
Best Known For: Romeo Must Die, The Expendables
Height: 5′ 6.5″
MBTI Type: ENFJ
Li Lianjie (courtesy name Yangzhong; born 26 April 1963), better known by his stage name Jet Li, is a China-born Singaporean film actor, film producer, martial artist, and retired Wushu champion who was born in Beijing.
After three years of training with acclaimed Wushu teacher Wu Bin, Li won his first national championship for the Beijing Wushu Team. After retiring from competitive Wushu at age 19, he went on to win great acclaim in China as an actor, making his debut with the film Shaolin Temple (1982). He went on to star in many critically acclaimed martial arts epic films, most notably as the lead in Zhang Yimou's Hero (2002), Fist of Legend (1994), and the first three films in the Once Upon a Time in China series (1991–1993), in which he portrayed folk hero Wong Fei-hung.
* charts provided by:astrotheme.com
List of Aspects
Venus Conjunction Jupiter Orb 2°42′
Uranus Conjunction Pluto Orb 8°28′
Mars Opposite Saturn Orb 8°31′
Saturn Opposite Uranus Orb 9°17′
Sun Opposite Neptune Orb 9°20′
Mars Square Neptune Orb 1°07′
Moon Square Pluto Orb 1°40′
Mercury Square Saturn Orb 3°29′
Mercury Square Uranus Orb 5°47′
Moon Square Uranus Orb 6°47′
Saturn Square Neptune Orb 7°23′
Sun Trine Uranus Orb 3°59′
Sun Trine Pluto Orb 4°28′
Mars Trine Jupiter Orb 8°17′
Moon Sextile Jupiter Orb 2°53′
Neptune Sextile Pluto Orb 4°51′
Moon Sextile Mars Orb 5°24′
Moon Sextile Venus Orb 5°35′
Venus Inconjunction Uranus Orb 1°11′
Sun Quintile Saturn Orb 1°16′
Sun SemiSextile Jupiter Orb 0°05′
Positions of Planets
Sun 5°13′ Taurus
Moon 8°01′ Gemini
Mercury 25°26′ Taurus
Venus 2°25′ Aries
Mars 13°25′ Leo
Jupiter 5°08′ Aries
Saturn 21°56′ Aquarius
Uranus 1°14′ Я Virgo
Neptune 14°33′ Я Scorpio
Pluto 9°42′ Я Virgo
Chiron 13°40′ Pisces
Ceres 4°45′ Virgo
Pallas 25°20′ Cancer
Juno 11°36′ Я Virgo
Vesta 16°25′ Я Virgo
Node 23°46′ Я Cancer
Lilith 26°57′ Я Libra
---
Think about characteristics of a Bull other than the well-known phrase of bull-headed. Taureans (April 21 to May 21) are steadfast, loyal, grounded, stable and balanced. They're smart without being overly intellectual. This astrology sign is not likely to strike out for the unknown, but will prefer familiar territory. You can trust a Taurus; they make good managers and foremen and they're patient, reliable and loving.

They're good in the fields of banking, architecture, farming, medicine or chemistry. These are fields in which you can be creative, but within a framework of stable practices and science. Taureans are good workers and not giving to goofing off. Because they're not big risk-takers, they can be trusted with the company finances and are completely reliable and trustworthy. Every positive characteristic has another side to it, and in the Taurean, this reliability and steadfastness can manifest itself as jealousy and obstinacy.
In the anxious sign of Gemini, the moon's activity manifests as more changeable and capricious. Gemini Moon is often fickle, silly, and excitable, but also mentally active, imaginative and creative. People who have their moon in Gemini are remarkably perceptive and can rapidly screen through information and make smart choices. Their snap decisions tend to be more rational than emotional.

They are not callous, but their immediate reactions are often more impersonal and intellectual in nature. They wield both analytical and verbal skills. A Moon in the communicative sign of Gemini tilts them toward garrulousness and personal charm. They have an enchanting liveliness that attracts others to them. Discussions with them often deviate on unexpected tangents. Gemini moon is quite restless and needs continuous mental activity. They are also extremely impressionable to the changing scene around them and tend to dissect their feelings and emotions in an analytical manner.
Those with Mercury in Taurus never start on a project before they are totally prepared. They have a reasonable, firm, and practical mind. There is a rigidity to their mentality and they tend to be quite certain their choices are the most sensible. They do what they think is right and hold little concern for what others think about it. They also have an exceptional memory and good powers of observation but are not very attentive listeners. It can be very difficult to change their minds once they've been made up.

Mercury in Taurus people may have an annoying tendency to repeat themselves and state and reiterate what they've already said over and over again in different ways as if to drill their point further and further into people's minds. Although they are typically well-mannered, sociable and charming, they can be a bit shy with people with they are unfamiliar. They prefer the pleasure of reading a book while reposing in a comfy plush chair than holding court in the midst of a congested group setting.
Venus in the feisty and passionate sign of Aries denotes torrid and impulsive desires. Venus in Aries are a mix of sentimentality and aggressiveness. These people believe in love at first sight and they do not waste time when going about trying to campaign for the object of their affections. They prefer to be upfront and direct even when it means exposing themselves to rejection.

However, they do not give up easily and can take the challenge of winning someone over as a personal test of their charm and charisma. They can be foolish and imprudent in matters of love. They can become desperately in love and go to extreme sometimes obsessive measures in the name of their beloved. Venus in Aries people are initially captivated by the physical beauty of a person, but mental compatibility is necessary to keep them interested. They dislike sloppy appearances and have a strong distaste for loud and vulgar behavior.
With Mars in Leo, there is likely to be a persona that is larger than life. This person is full of passion and vitality and they thrive on attention and admiration from others. They are natural performers who like to show off and strut their stuff. They are good at captivating an audience and being entertaining. Being ordinary is not for them, They like to stand out and make a statement with everything they do.
Individuals with Mars in Leo are hot-blooded and impulsive daredevils but are also loveable and loving. Whatever they do, they like to do it impressively while having fun in the process. Their egos are large and in charge and they radiate creative energy and infectious enthusiasm. They like exercising control and have no problem giving orders and directions. They can come across as a bit bossy and demanding at times. Some people may take offense to them and or feel intimidated by their sometimes overwhelming exuberance.
Thоѕе whо fall under thіѕ number аrе financially thе strongest аmоng thе rest, seeing thаt thеіr passion fоr success іѕ driven bу а thirst fоr power аnd fortune. Whіle qualities like being а visionary, а great team leader, аn inspiration tо peers аnd ѕuсh аrе highly regarded, іt іѕ important fоr life number 8s tо know whеrе tо draw thе line. Sоmе number 8s regard status аѕ еvеrуthіng, whеrе іt саn lead tо heavy financial losses іf money іѕ nоt spent wisely. Suсh people аrе great wіth managing businesses thаt require foresight аnd enduring dedication. Whіle failures аrе highly probable, life number 8s аrе known tо bе аblе tо bounce bасk frоm ѕuсh scenarios whіlе still being financial secure bесаuѕе оf thеіr hard work аnd drive.
Thе number 4 people аrе pragmatic, faithful аnd disciplined. Thеу аrе аlѕо organized аnd cautious. On thе flip side оf things, thеу саn аlѕо bе dogmatic, crude, incompetent аnd inefficient. Thе number 4 іѕ traditional, practical, respectable аnd sober. Thе number 4 provides thе organization а stable structural foundation fоr аnу endeavor.
It іѕ represented bу thе tarot 'Emperor'. Saturn аnd Earth influence thе number 4 people. Thе number 4 represents thе Cancer zodiac sign аnd іt іѕ ruled bу thе dual elements оf water аnd fire. Thе number 4 people sport а red аnd orange aura аnd Emerald аnd Jade аrе ideal gemstones fоr thеm. Thе month оf April аnd Thursdays аrе lucky fоr thе number 4 people. Thе 2nd, 6th, 8th, 13th аnd 22nd аrе good monthly dates fоr thе number 4 people.
Timid and attractive, the Rabbits of the Chinese Zodiac tend to act more like bunnies, whether they like it or not! This Sign is extremely popular and has a wide circle of family and friends. Its compassionate nature leads it to be very protective of those it holds dear, but where romance is concerned, the Rabbit's sentimentality can lead it to idealize relationships. The sweet, sensitive Rabbit often ends up giving more of itself to a partner than is realistic or healthy. The good news is, when this Sign goes off-balance, the Rabbit's core group of friends and its stable home life help bring it back to center.

Lacking close, supportive friends and family, the Rabbit might just break down in tears at the first sign of conflict. The Rabbit is a rather delicate Sign that needs a solid base in order to thrive. Lacking close, supportive friends and family, the Rabbit might just break down in tears at the first sign of conflict. Emotional upsets in this Sign's life can even lead to physical illnesses. Rabbits dislike arguments and other conflict and will try anything to avoid a fight; this results in something of a pushover nature. Rabbits can also lapse into pessimism and may seem stuck in life — often to mask their insecure natures. Rabbits tend to move through life's lessons at their own, rather contemplative pace; it's a waste of time to become exasperated with this Sign's seeming disinterest in facing its problems and conquering them.
Nurturing yet dangerous, vital and deadly, water is a ripe with contradiction. In moderate amounts it is a blessing, in over abundance, a curse. Water is the only element with the ability to put out fire and make things grow and thrive. Water is vital to our very survival. Without water crops wither and die and there is no food. The human body, and in fact, all life on Earth is dependent upon water. Yet, even for life, water has the potential to be deadly. Too much water in the body leads to water intoxication and even death. It is, however, a delicate balance.
Too little water and all life withers and dies with the effects of the hot sun. Too much water chokes out needed oxygen and drowns. It is for this very reason the element water is represented by the color black. Water rules intelligence and wisdom. People born under the element water are uncommonly intelligent and capable. For all their wisdom and reasoning ability, water people tend to have difficulty making and sticking to decisions. Diplomatic, and intuitive, water people are flexible. They have a special ability to 'go with the flow' and are usually easygoing.
The ENFJ is one of the 16 MBTI personality types. ENFJ stands for extraverted (E), intuitive (N), feeling (F) and judging (J). The cognitive stack for the ENFJ is extraverted feeling (Fe), introverted intuition (Ni), extraverted sensing (Se), and introverted thinking (Ti). ENFJs are engaging "people persons" who desire to foster harmony within their environment. They are inclined to exercise diplomacy and compassion for other people's perspectives. Their personal values tend to be largely dependent on what's important to others.

ENFJs seek to be helpful and appreciated by those around them. They are enthusiastic and positive minded with a focus on the future. They are very understanding and make decisions with great consideration for how they will impact or affect the lives of others. ENFJs promote cooperation and enjoy playing an active role in the organization of events. They make for excellent counselors and can be inspirational leaders. They can wax philosophical and offer encouragement to those who need it. ENFJs can be chameleon-like in their ability to adjust to and relate with others.