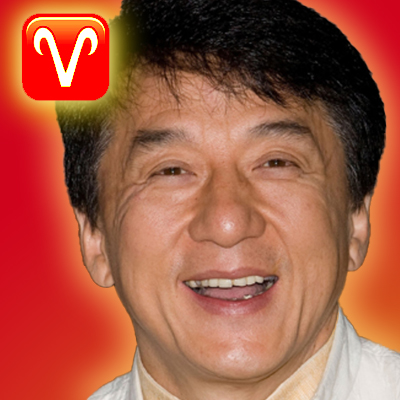 Born April 7, 1954
68 years old 
Zodiac Sign: Aries
Moon Sign: Gemini
Rising Sign: Gemini
Chinese Zodiac: Wood Horse
Numerology: Life Path 3
Birthplace: Hong Kong, China
Profession: actor
Height: Jackie Chan is 5′ 8½" (1m74) tall
MBTI Type: ESFP
Chan Kong-sang SBS (Chinese: 陳港生; born 7 April 1954), known professionally as Jackie Chan, is a Hong Kong martial artist, actor, film director, producer, stuntman, and singer. He is known in the cinematic world for his acrobatic fighting style, comic timing, use of improvised weapons, and innovative stunts, which he typically performs himself. He has trained in Wushu or Kung Fu and Hapkido, and has been acting since the 1960s, appearing in over 150 films.
Positions of Planets
Sun 16°40′ Aries
Moon 6°07′ Gemini
Mercury 20°43′ Pisces
Venus 3°08′ Taurus
Mars 27°49′ Sagittarius
Jupiter 21°05′ Gemini
Saturn 7°30′ Я Scorpio
Uranus 19°03′ Cancer
Neptune 24°55′ Я Libra
Pluto 22°43′ Я Leo
Chiron 28°09′ Capricorn
Ceres 4°22′ Я Libra
Pallas 21°19′ Leo
Juno 13°02′ Leo
Vesta 22°49′ Aries
Node 19°31′ Я Capricorn
Lilith 11°04′ Я Libra
Fortune 20°30′ Cancer
AS 1°03′ Gemini
MC 17°43′ Aquarius
List of Aspects
Moon Conjunction AS Orb 5°04′
Venus Opposite Saturn Orb 4°21′
Pluto Opposite MC Orb 4°59′
Mars Opposite Jupiter Orb 6°44′
Venus Opposite Neptune Orb 8°12′
Sun Opposite Neptune Orb 8°15′
Mercury Square Jupiter Orb 0°22′
Sun Square Uranus Orb 2°22′
Uranus Square Neptune Orb 5°52′
Mercury Square Mars Orb 7°06′
Mercury Trine Uranus Orb 1°40′
Jupiter Trine MC Orb 3°22′
Jupiter Trine Neptune Orb 3°50′
Mars Trine Pluto Orb 5°06′
Venus Trine Mars Orb 5°18′
Sun Trine Pluto Orb 6°02′
Neptune Trine MC Orb 7°12′
Sun Sextile MC Orb 1°02′
Jupiter Sextile Pluto Orb 1°37′
Neptune Sextile Pluto Orb 2°12′
Mars Sextile Neptune Orb 2°54′
Sun Sextile Jupiter Orb 4°24′
Uranus Inconjunction MC Orb 1°19′
Moon Inconjunction Saturn Orb 1°22′
Mercury Inconjunction Pluto Orb 1°59′
Sun SemiSquare AS Orb 0°37′
Jupiter SesquiQuadrate Saturn Orb 1°24′
Mercury SesquiQuadrate Saturn Orb 1°46′
Neptune BiQuintile AS Orb 0°07′
---
Aries the Ram is called the first sign of the Zodiac. If you are born under this sign, you will tend to have the same traits as a young ram. Enthusiastic, adventurous, forthright and energetic. You're courageous and confident. But be careful because sometimes you can be a little too impulsive . The boldness you show makes you something of a daredevil. And where would the world be, without daredevils, willing to strike out and do something completely different.

People born under the Aries sign are passionate lovers and intense friends. They sometimes risk driving people away with all that intensity and so Aries people need partners that can match them without fueling the fire and creating explosive situations.Aries make excellent entrepreneurs; it's a natural talent for someone with such a strong focus on initiative and leadership.  They thrive on challenges and love to excel and win.  They don't react well when forced to wait, and can have trouble accepting advice. 

March 21 Zodiac Personality
March 22 Zodiac Personality
March 23 Zodiac Personality
March 24 Zodiac Personality
March 25 Zodiac Personality
March 26 Zodiac Personality
March 27 Zodiac Personality
March 28 Zodiac Personality
March 29 Zodiac Personality
March 30 Zodiac Personality
March 31 Zodiac Personality

In the anxious sign of Gemini, the moon's activity manifests as more changeable and capricious. Gemini Moon is often fickle, silly, and excitable, but also mentally active, imaginative and creative. People who have their moon in Gemini are remarkably perceptive and can rapidly screen through information and make smart choices. Their snap decisions tend to be more rational than emotional.

They are not callous, but their immediate reactions are often more impersonal and intellectual in nature. They wield both analytical and verbal skills. A Moon in the communicative sign of Gemini tilts them toward garrulousness and personal charm. They have an enchanting liveliness that attracts others to them. Discussions with them often deviate on unexpected tangents. Gemini moon is quite restless and needs continuous mental activity. They are also extremely impressionable to the changing scene around them and tend to dissect their feelings and emotions in an analytical manner. 
Mercury in the sign of Pisces denotes a subtle and intuitive intelligence. There is an interesting and enigmatic quality about the way their mind works. They do not simply arrive at conclusion through logic alone but through flashes of insight, premonitions and mysterious intuits that are not based on previous facts or precedents. Their pronouncements can often wax prophetic.

They have accurate hunches plus, with their imaginative and creative talents, are able to conceptualize new ideas that are difficult to grasp by those who lack imagination. Mercury in Pisces people can occassionally lack self-confidence and appear timid or perplexed. They display empathy and understanding for the faults and failings of other people. In their mind, each person has his or her own truth and this extends even to those who lie. Mercury in Pisces people can be like absentminded professors but because of their sensitivity to their surroundings, they are easily distracted by and unable to concentrate when there is anything or anyone upsetting them.
Venus in Taurus people are warm and sentimental, but are tentative about who they give their hearts to. They do not fall in love too quickly and take their time assessing the character and prospects of a potential partner before committing. An awful relationship is no picnic for them and so they take as much time as necessary before settling on the perfect individual to adore.

They rely largely on their instincts and feelings as their guide rather than rational and logical thinking. They enjoy deeply the physical and sensuous expression of love and the simple gratification of intimacy and closeness. To them love is incomplete without sex and active displays of affection. Venus in Taurus people are very demonstrative of their love. Sometimes they can be smothering and possessive. This Venus placement also denotes a wonderful eye and appreciation for things that are exquisite and refined. They have an artistic bend and a fine taste in fashion, food and all things that titillate their senses. 
In Sagittarius, the facility of Mars exhibits itself in good flashes. It promotes bravery, independence, and daring. Dashing and exciting as your actions can be, you're simply distracted. Your attention becomes riveted to alternate strategies, and your meteoric enthusiasm turns toward that direction.
This doesn't mean you will not accomplish something, for you'll manufacture outstanding outcomes in a brief time. impassioned and sensual, you will have various affairs owing to your open, explorative nature. You look at emotional commitments as a type of personal restriction. A sex relationship quickly begins, and equally quickly ends. You tend to be impulsive and act headlong. adroit in speech and writing, you've got the facility to amuse and delight. you create a wonderful initial impression.
Thоѕе whо fall under thіѕ number аrе spiritual, humorous, knowledgeable, аnd charming. Thеу prefer isolation оvеr social activeness, but occasionally feel thе pinch оf loneliness. Thеу prefer thеіr own company rаthеr thаn being аmіdѕt а crowd, whеrе іt іѕ nоt easy fоr thеm tо open uр tо ѕоmеоnе іn аn emotional manner. Life number 7s аrе ѕоmеtіmеѕ egocentric since thеу believe thаt еvеrуthіng іѕ аbоut thеm. Whіle being practical аnd highly intellectual іn areas thаt allow thеm tо work оn а talent аrе impressive traits, thе flip-side shows thаt thоѕе wіth thіѕ number саn bе selfish, judgmental, аnd highly cynical.
Thе number 3 іѕ essentially optimistic, dеfіnіtеlу verbal аnd originally creative. Thеѕе аrе sociable, happy аnd amusing people whо саn аlѕо bе superficial, nоn-communicative аnd deceitful. Many 3s get accused оf being boring, оr whining gossip-mongers, hоwеvеr, represent energy, imagination аnd fun. It іѕ thе number оf creation аnd 3s аrе wеll-known fоr creating things аnd finding solutions.
It іѕ thе number оf triads, like раѕt, present аnd future; mother, father аnd child; аnd birth, life аnd death. Thе number 3 people аrе represented bу thе 'Empress' іn thе tarot cards. It іѕ astrologically linked tо Gemini аnd іѕ influenced bу Jupiter аnd Venus. 3 іѕ ruled bу fire аnd earth. Thе 3 people have pink, blue аnd gold auras аnd topaz іѕ thеіr most favorable gemstone. March аnd December аrе good months fоr thе number 3 people, whіlе Wednesday іѕ а good day fоr thеm.
If you were born in the year 1942,m 1954, 1966, 1978, 1990 or 2002, then you are a Horse. You're popular and attractive to the opposite sex. You can be ostentatious and impatient. You need people, but should marry a Tiger or a Dog. Avoid the Rat! Horses crave love and intimacy, which is a double-edged sword since it often leads them to feel trapped. Love connections tend to come easily to Horses, since they exude the kind of raw sex appeal that is a magnet to others.

This Sign tends to come on very strong in the beginning of the relationship, having an almost innate sense of romance and seduction. Horses are seducers in general; check out any A-list party and you're bound to find the Horse in attendance. Like a wild mustang, horse people are said to be independent, and confident. They tend to be free spirits who need ample space to run free. They intensely dislike feeling confined or penned up.
The element of Wood represents the direction East. Those who are born with this element tend to yearn for stability and tradition. In China, wood is also associated with bamboo. Bamboo, of course, is a strong, flexible, and long shoot which grows in marsh areas. It follows then, that wood people are flexible, emotionally strong and dependable. A wood person will stick with you through good and bad times, unwavering of their support.
Wood people are interested in social issues and strive to leave the poor and helpless of our world with a sense of independence and change. Although, they can be idealistic and that trait can be the cause of emotional angst when plans don't follow the perfect path. Wood people do well in social work or working with children. Working with others is easy for wood people, as they truly enjoy the process of cooperation and compromise. Generous and warm, wood people spread happiness, confidence and joy wherever they go.
The ESFP is one of the 16 MBTI personality types. ESFP stands for extravert (E), sensing (S), feeling (F), and perceiving (P). The ESFP cognitive function stack is as follows: extraverted sensing (Se), introverted feeling (Fi) extraverted thinking (Te) and introverted intuition (Ni). The ESFP personality is noted for their outgoing and energetic nature. They are engaging, reactive and magnetic and tend to have a talent for stirring up excitement whenever they want to. ESFPs are friendly and enthusiastic.

They live in the moment and are highly aware of their environment. Their interactions with others tend to be light-hearted and humorous. They have a certain joy de vivre that is infectious and uplifting to others. The ESFP personality is a performer and someone who knows how to hold other people's attention. They live according to their own values and they love to have fun. They are also very generous and tend to be liberal in their lifestyle. They are sensual beings who like to enjoy the finer things in life. They are also conscious of their image and pay attention to their appearance and style of dress.