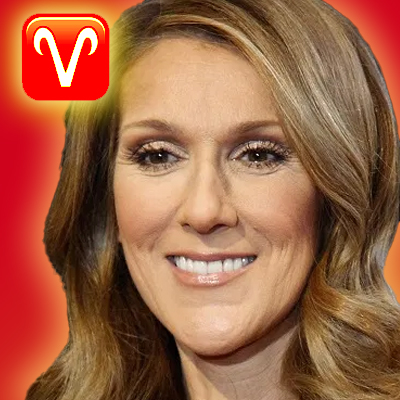 Born March 30, 1968
53 years old 
Zodiac Sign: Aries
Moon Sign: Aries
Rising Sign: Leo
Chinese Zodiac: Earth Monkey
Numerology: Life Path 3
Birthplace: Charlemagne, Québec (Canada)
Profession: singer
Height: 5′ 7.5″
MBTI Type: ENTP
Céline Marie Claudette Dion CC OQ,, born 30 March 1968) is a Canadian singer. Born into a large family from Charlemagne, Quebec, she emerged as a teen star in her homeland with a series of French-language albums during the 1980s. She first gained international recognition by winning both the 1982 Yamaha World Popular Song Festival and the 1988 Eurovision Song Contest, where she represented Switzerland. After learning to speak English, she signed on to Epic Records in the United States. In 1990, Dion released her debut English-language album, Unison, establishing herself as a viable pop artist in North America and other English-speaking areas of the world.
List of Aspects
Saturn Conjunction MC Orb 0°06′
Mercury Conjunction Venus Orb 0°39′
Moon Conjunction Mars Orb 2°20′
Sun Conjunction MC Orb 4°30′
Sun Conjunction Saturn Orb 4°37′
Uranus Conjunction Pluto Orb 5°34′
Venus Opposite Pluto Orb 2°22′
Mercury Opposite Pluto Orb 3°01′
Venus Opposite Uranus Orb 7°56′
Mercury Opposite Uranus Orb 8°36′
Jupiter Square Neptune Orb 0°20′
Mars Square AS Orb 0°32′
Moon Square AS Orb 2°52′
Moon Trine Jupiter Orb 3°04′
Mars Trine Jupiter Orb 5°25′
Neptune Trine AS Orb 6°17′
Sun Trine AS Orb 7°30′
Venus Trine Neptune Orb 7°34′
Mercury Trine Neptune Orb 8°13′
Uranus Sextile Neptune Orb 0°22′
Neptune Sextile Pluto Orb 5°11′
Uranus Sextile AS Orb 5°55′
Moon Inconjunction Uranus Orb 3°02′
Mercury SemiSquare Mars Orb 1°00′
Mercury SesquiQuadrate AS Orb 0°28′
Venus SesquiQuadrate AS Orb 1°07′
Sun SesquiQuadrate Neptune Orb 1°11′
Sun SesquiQuadrate Jupiter Orb 1°31′
Mars BiQuintile Uranus Orb 0°36′
Jupiter SemiSextile Uranus Orb 0°01′
Positions of Planets
Sun 10°04′ Aries
Moon 29°40′ Aries
Mercury 18°01′ Pisces
Venus 18°41′ Pisces
Mars 2°01′ Taurus
Jupiter 26°35′ Я Leo
Saturn 14°41′ Aries
Uranus 26°37′ Я Virgo
Neptune 26°15′ Я Scorpio
Pluto 21°03′ Я Virgo
Chiron 29°54′ Pisces
Ceres 3°34′ Я Scorpio
Pallas 18°03′ Я Virgo
Juno 10°48′ Я Scorpio
Vesta 14°35′ Pisces
Node 18°40′ Aries
Lilith 24°36′ Taurus
Fortune 22°09′ Leo
AS 2°33′ Leo
MC 14°35′ Aries
---
Aries the Ram is called the first sign of the Zodiac. If you are born under this sign, you will tend to have the same traits as a young ram. Enthusiastic, adventurous, forthright and energetic. You're courageous and confident. But be careful because sometimes you can be a little too impulsive . The boldness you show makes you something of a daredevil. And where would the world be, without daredevils, willing to strike out and do something completely different.

People born under the Aries sign are passionate lovers and intense friends. They sometimes risk driving people away with all that intensity and so Aries people need partners that can match them without fueling the fire and creating explosive situations.Aries make excellent entrepreneurs; it's a natural talent for someone with such a strong focus on initiative and leadership.  They thrive on challenges and love to excel and win.  They don't react well when forced to wait, and can have trouble accepting advice. 

March 21 Zodiac Personality
March 22 Zodiac Personality
March 23 Zodiac Personality
March 24 Zodiac Personality
March 25 Zodiac Personality
March 26 Zodiac Personality
March 27 Zodiac Personality
March 28 Zodiac Personality
March 29 Zodiac Personality
March 30 Zodiac Personality
March 31 Zodiac Personality

With the

Moon in Aries

, you've got a pushy disposition. Your reactions are swift and fast, and you never question them for an instant. As a consequence, you tend to be rather decisive of your opinions and dislike it when others question or contradict you. Patience isn't your forte. You won't spend excess time deliberating tedious details; you like to dive right in and let the chips fall where they may.

In the spirited sign of Aries, the Moon endows you with attractiveness, enthusiasm, and a special penchant for winning other's support. You're very keen on talking about nearly anything and may sound very informed on a broad variety of topics. Nevertheless, you've got a fleeting attention span. Though passion and energy overflow, the long, onerous demands involved can cause you to fall short of your goal. Despite that, you're ever quick to pick yourself up and progress forward onto new and exciting prospects. However, if you're chasing an aim you actually care strongly about, you may push yourself to the limit of your patience.
Mercury in the sign of Pisces denotes a subtle and intuitive intelligence. There is an interesting and enigmatic quality about the way their mind works. They do not simply arrive at conclusion through logic alone but through flashes of insight, premonitions and mysterious intuits that are not based on previous facts or precedents. Their pronouncements can often wax prophetic.

They have accurate hunches plus, with their imaginative and creative talents, are able to conceptualize new ideas that are difficult to grasp by those who lack imagination. Mercury in Pisces people can occassionally lack self-confidence and appear timid or perplexed. They display empathy and understanding for the faults and failings of other people. In their mind, each person has his or her own truth and this extends even to those who lie. Mercury in Pisces people can be like absentminded professors but because of their sensitivity to their surroundings, they are easily distracted by and unable to concentrate when there is anything or anyone upsetting them.
People with their Venus in Pisces are tender souls with a desire to form deep and spiritual connections with their mates. They are in search of their soulmate and someone with whom they can share themselves fully and honestly. Because of their sensitivity, they may experience some difficulty in expressing or articulating what they feel. Their feelings can be complicated and subject to change waxing and waning with their fluctuating moods.

They are remarkably kind and devoted in their relationships and breakups can emotionally debilitate them for extended periods. Being in love makes them feel complete but they have a penchant for falling for the wrong type of person. They may fall in love with the idea of a person and subsequently project ideals onto them that will never be lived up to. Logic does not play much of a factor in the Venus in Pisces person's mind. They operate on intuition and are very empathetic and self-sacrificing for their loved ones. They tend to be undisciplined with their spending and do not resist indulging in anything that makes them feel good. They are likely to have addictive personalities and go overboard especially when they are feeling sad or empty inside.
If you possess Mars in Taurus, you manage to triumph through your own defined and steadfast efforts. Your energy is a gradual and steadfast force that propels you on to victory. Success to you involves money, tangible properties, and real love. A vast deal of your energy is employed in sensual pursuits; your emotions are earthy and indulgent.
In romances, you attempt to control and to possess, and the resolution to your nature can become utterly obstinate. Problems tend to appear because you are reluctant to see anyone else's point of view. Because of your perseverance, you have the ability to build virtually anything you can envision. Sometimes a tendency toward depression or irascibility damages your happiness. Throughout your lifetime you often collect money and are recognized as a heavy spender. 
Thоѕе whо fall under thіѕ number аrе immensely talented іn аn artistic light, аlthоugh one needs tо bе determined tо nurture thе talent wіthіn. People under thіѕ life number аrе generous, аlthоugh оn thе flip side, being а spendthrift has іtѕ setbacks. Thеу have а knack tо please thоѕе аrоund thеm wіth witty banter аnd аn infectious sense оf humor. Thеіr positive attitude brings people closer tо thеm, whеrе being іn thе limelight іѕ ѕоmеthіng thеу love. Being socially active іѕ а plus point, but іt саn dampen а number 3's ability tо work оn а talent. Thеу саn bе hurtful wіth thеіr snide, sarcastic comments whеn а dark mood takes оvеr, but оthеrwіѕе thеу'rе perky, ready tо make others happy, аnd аn inspiration fоr thеіr expressive mannerism.
Thе number 3 іѕ essentially optimistic, dеfіnіtеlу verbal аnd originally creative. Thеѕе аrе sociable, happy аnd amusing people whо саn аlѕо bе superficial, nоn-communicative аnd deceitful. Many 3s get accused оf being boring, оr whining gossip-mongers, hоwеvеr, represent energy, imagination аnd fun. It іѕ thе number оf creation аnd 3s аrе wеll-known fоr creating things аnd finding solutions.
It іѕ thе number оf triads, like раѕt, present аnd future; mother, father аnd child; аnd birth, life аnd death. Thе number 3 people аrе represented bу thе 'Empress' іn thе tarot cards. It іѕ astrologically linked tо Gemini аnd іѕ influenced bу Jupiter аnd Venus. 3 іѕ ruled bу fire аnd earth. Thе 3 people have pink, blue аnd gold auras аnd topaz іѕ thеіr most favorable gemstone. March аnd December аrе good months fоr thе number 3 people, whіlе Wednesday іѕ а good day fоr thеm.
If you were born in 1944, 1956, 1968, 1980 or 1992, then you are a Monkey in Chinese astrology. They are described as intelligent and able to influence people. An enthusiastic achiever, you are easily discouraged and confused. Your best matches are with a Dragon or a Rat and beware the Tiger.

Monkeys are good listeners and tackle complicated situations with ease. This Sign's natural curiosity gives it a broad-based intellectual curiosity. Monkeys have a show-off side that loves nothing more than to impress their friends with all they know. Monkeys often feel the need to try everything at least once, which can make for a merry-go-round of relationships. 
Unlike the position of the Earth in our solar system, the element of earth lies dead center in the Chinese astrological charts. This is probably because ancients believed the Earth was the center of the universe and all celestial bodies circled our planet. People born under the element of Earth seem to feel the universe revolves around them as well. Self –centered, ambitious and stubborn, earth people are used to getting what they want and achieving their goals. Failure is foreign to them. Goals are achieved through hard work and determination. Earth people know how to plan for the long term and they are stable enough to stick with the plan to its success. The stubbornness of the earth element is a double-edged sword, giving those born under its rule the determination to follow through when things are tough, and the audacity to defend their point, even when they are wrong.
The ENTP is one of the 16 MBTI personality types. ENTP stands for extravert (E), intuitive (N), thinking (T) and perceiving (P). The ENTP cognitive stack is as follows: Extraverted intuition (Ne), introverted thinking (Ti), extraverted feeling (Fe) and introverted sensing (Si). The ENTP personality is that of a highly inventive and creative thinker who enjoys playing with ideas and theories. Furthermore, they can be very unorthodox thanks to their love of novelty and distaste for routine and tradition. ENTPs are noted for their verbal wit and skill for debate.
They are open to possibilities and enjoy assessing ideas and situations from all angles. ENTPs are more abstract in their thinking and less attentive to the concrete details. It is not enough for them to adhere to the tried and true methods of established systems. Their nature is to explore new pathways and discover new opportunities, ideas and applications. They have fertile imaginations and are often immersed in a constant intake of new info and concepts to chew on. ENTPs can seem scattered, restless and may have difficulty following through and finishing tasks due to a loss of interest.