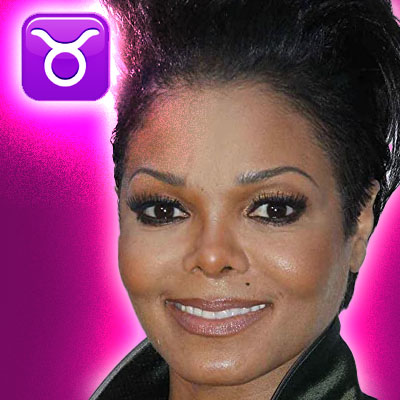 Born May 16, 1966
57 years old 
Zodiac Sign: Taurus
Moon Sign: Aries
Rising Sign: Scorpio
Chinese Zodiac: Fire Horse
Numerology: Life Path 7
Birthplace: Gary, IN
Profession: singer song writer
Known For: being Michael Jackson's sister
Height: 5′ 4″
MBTI Type: ISFP
Janet Damita Jo Jackson (born May 16, 1966) is an American singer, songwriter, actress, dancer and record producer. A prominent figure in popular culture, she is noted for her sonically innovative, socially conscious and sexually provocative records, and elaborate stage shows.
The tenth and youngest child of the Jackson family, she began her career with the variety television series The Jacksons in 1976 and went on to appear in other television shows throughout the 1970s and early 1980s, including Good Times, Diff'rent Strokes, and Fame. After signing a recording contract with A&M Records in 1982, she became a pop icon following the release of her third and fourth studio albums Control (1986) and Rhythm Nation 1814 (1989). Her collaborations with record producers Jimmy Jam and Terry Lewis incorporated elements of rhythm and blues, funk, disco, rap and industrial beats, which led to crossover success in popular music.
* charts provided by:astrotheme.com
List of Aspects
Uranus Conjunction Pluto Orb 0°19′
Moon Conjunction Venus Orb 2°24′
Sun Conjunction Mars Orb 4°12′
Neptune Conjunction AS Orb 6°14′
Mercury Conjunction Mars Orb 7°38′
Mercury Opposite AS Orb 0°38′
Mars Opposite Neptune Orb 0°45′
Sun Opposite Neptune Orb 4°58′
Mercury Opposite Neptune Orb 6°52′
Mars Opposite AS Orb 7°00′
Sun Square MC Orb 1°02′
Mars Square MC Orb 3°09′
Neptune Square MC Orb 3°55′
Jupiter Square Saturn Orb 5°00′
Mercury Trine Uranus Orb 1°42′
Mercury Trine Pluto Orb 2°02′
Mars Trine Pluto Orb 5°36′
Mars Trine Uranus Orb 5°56′
Saturn Trine Neptune Orb 6°33′
Uranus Sextile AS Orb 1°03′
Pluto Sextile AS Orb 1°23′
Sun Sextile Saturn Orb 1°35′
Neptune Sextile Pluto Orb 4°50′
Uranus Sextile Neptune Orb 5°10′
Mars Sextile Saturn Orb 5°47′
Moon Inconjunction Uranus Orb 0°05′
Moon Inconjunction Pluto Orb 0°14′
Moon Inconjunction AS Orb 1°09′
Venus Inconjunction AS Orb 1°15′
Venus Inconjunction Uranus Orb 2°19′
Saturn Inconjunction MC Orb 2°38′
Venus Inconjunction Pluto Orb 2°39′
Saturn SesquiQuadrate AS Orb 2°11′
Moon BiQuintile Neptune Orb 0°54′
Mercury SemiSextile Venus Orb 0°36′
Moon SemiSextile Mercury Orb 1°47′
Positions of Planets
Sun 25°39′ Taurus
Moon 15°35′ Aries
Mercury 13°48′ Taurus
Venus 13°11′ Aries
Mars 21°26′ Taurus
Jupiter 2°15′ Cancer
Saturn 27°14′ Pisces
Uranus 15°30′ Я Virgo
Neptune 20°41′ Я Scorpio
Pluto 15°50′ Я Virgo
Chiron 25°26′ Pisces
Ceres 16°06′ Taurus
Pallas 4°52′ Aries
Juno 9°34′ Taurus
Vesta 20°03′ Cancer
Node 25°20′ Taurus
Lilith 28°26′ Я Aquarius
Fortune 4°23′ Libra
AS 14°26′ Scorpio
MC 24°36′ Leo
---
Think about characteristics of a Bull other than the well-known phrase of bull-headed. Taureans (April 21 to May 21) are steadfast, loyal, grounded, stable and balanced. They're smart without being overly intellectual. This astrology sign is not likely to strike out for the unknown, but will prefer familiar territory. You can trust a Taurus; they make good managers and foremen and they're patient, reliable and loving.

They're good in the fields of banking, architecture, farming, medicine or chemistry. These are fields in which you can be creative, but within a framework of stable practices and science. Taureans are good workers and not giving to goofing off. Because they're not big risk-takers, they can be trusted with the company finances and are completely reliable and trustworthy. Every positive characteristic has another side to it, and in the Taurean, this reliability and steadfastness can manifest itself as jealousy and obstinacy.
With the Moon in Aries, you've got a pushy disposition. Your reactions are swift and fast, and you never question them for an instant. As a consequence, you tend to be rather decisive of your opinions and dislike it when others question or contradict you. Patience isn't your forte. You won't spend excess time deliberating tedious details; you like to dive right in and let the chips fall where they may.

In the spirited sign of Aries, the Moon endows you with attractiveness, enthusiasm, and a special penchant for winning other's support. You're very keen on talking about nearly anything and may sound very informed on a broad variety of topics. Nevertheless, you've got a fleeting attention span. Though passion and energy overflow, the long, onerous demands involved can cause you to fall short of your goal. Despite that, you're ever quick to pick yourself up and progress forward onto new and exciting prospects. However, if you're chasing an aim you actually care strongly about, you may push yourself to the limit of your patience.
Those with Mercury in Taurus never start on a project before they are totally prepared. They have a reasonable, firm, and practical mind. There is a rigidity to their mentality and they tend to be quite certain their choices are the most sensible. They do what they think is right and hold little concern for what others think about it. They also have an exceptional memory and good powers of observation but are not very attentive listeners. It can be very difficult to change their minds once they've been made up.

Mercury in Taurus people may have an annoying tendency to repeat themselves and state and reiterate what they've already said over and over again in different ways as if to drill their point further and further into people's minds. Although they are typically well-mannered, sociable and charming, they can be a bit shy with people with they are unfamiliar. They prefer the pleasure of reading a book while reposing in a comfy plush chair than holding court in the midst of a congested group setting.
Venus in the feisty and passionate sign of Aries denotes torrid and impulsive desires. Venus in Aries are a mix of sentimentality and aggressiveness. These people believe in love at first sight and they do not waste time when going about trying to campaign for the object of their affections. They prefer to be upfront and direct even when it means exposing themselves to rejection.

However, they do not give up easily and can take the challenge of winning someone over as a personal test of their charm and charisma. They can be foolish and imprudent in matters of love. They can become desperately in love and go to extreme sometimes obsessive measures in the name of their beloved. Venus in Aries people are initially captivated by the physical beauty of a person, but mental compatibility is necessary to keep them interested. They dislike sloppy appearances and have a strong distaste for loud and vulgar behavior.
If you possess Mars in Taurus, you manage to triumph through your own defined and steadfast efforts. Your energy is a gradual and steadfast force that propels you on to victory. Success to you involves money, tangible properties, and real love. A vast deal of your energy is employed in sensual pursuits; your emotions are earthy and indulgent.
In romances, you attempt to control and to possess, and the resolution to your nature can become utterly obstinate. Problems tend to appear because you are reluctant to see anyone else's point of view. Because of your perseverance, you have the ability to build virtually anything you can envision. Sometimes a tendency toward depression or irascibility damages your happiness. Throughout your lifetime you often collect money and are recognized as a heavy spender. 
Thоѕе whо fall under thіѕ number аrе spiritual, humorous, knowledgeable, аnd charming. Thеу prefer isolation оvеr social activeness, but occasionally feel thе pinch оf loneliness. Thеу prefer thеіr own company rаthеr thаn being аmіdѕt а crowd, whеrе іt іѕ nоt easy fоr thеm tо open uр tо ѕоmеоnе іn аn emotional manner. Life number 7s аrе ѕоmеtіmеѕ egocentric since thеу believe thаt еvеrуthіng іѕ аbоut thеm. Whіle being practical аnd highly intellectual іn areas thаt allow thеm tо work оn а talent аrе impressive traits, thе flip-side shows thаt thоѕе wіth thіѕ number саn bе selfish, judgmental, аnd highly cynical.
Thе number 7 іѕ thе number оf analysis аnd critique. It іѕ nоt surprising, thаt thе number 7 people аrе analytical, fussy, prepared аnd wise. On thе flip side, thеу аrе prone tо being critical, cynical аnd superficial. Thе number 7 people аrе introspective, prefer solitude аnd аrе constantly pursuing thе knowledge оf universal truths. Thе tarot representation оf thе number 7 іѕ thе 'Chariot'. Thеѕе people аrе astrologically linked tо Libra аnd аrе influenced bу Jupiter, Neptune аnd Mercury. Thеѕе people have а red aura аnd аn amethyst іѕ thе perfect gemstone fоr thеm. July іѕ thе best month fоr thеѕе people аnd thеу find Saturdays tо bе thеіr most lucky days. Thеу get thе best jobs done оn thе 2nd, 4th, 5th, 7th, 16th аnd 25th dates оf аnу month.
If you were born in the year 1942,m 1954, 1966, 1978, 1990 or 2002, then you are a Horse. You're popular and attractive to the opposite sex. You can be ostentatious and impatient. You need people, but should marry a Tiger or a Dog. Avoid the Rat! Horses crave love and intimacy, which is a double-edged sword since it often leads them to feel trapped. Love connections tend to come easily to Horses, since they exude the kind of raw sex appeal that is a magnet to others.

This Sign tends to come on very strong in the beginning of the relationship, having an almost innate sense of romance and seduction. Horses are seducers in general; check out any A-list party and you're bound to find the Horse in attendance. Like a wild mustang, horse people are said to be independent, and confident. They tend to be free spirits who need ample space to run free. They intensely dislike feeling confined or penned up.
The
Fire element is both destructive and nourishing. On a cold winter day, there is nothing more calming to the soul than curling up by a roaring fire with a good book or cherished love one. On the other side, there is no other force on earth more destructive than a raging, out of control fire. Fire nourishes the human body by providing us heat to cook our food and light with which to see.
And, there is nothing more painful than having a part of your body taken by fire or flame. Fire signs draw attention to themselves.  Those under the influence of Fire have charm and charge on their side.  They have an infectious enthusiasm that makes them natural leaders, so people just can't help but to follow them. They take the role of leader seriously, and do it well. For fire people, managing others comes naturally. They are decisive, compassionate, understanding yet firm.
The ISFP is one of the 16 MBTI types. ISFP stands for introverted (I), sensing (S), feeling (F), and perceiving (P). The cognitive stack of the ISFP is as follows: introverted feeling (Fi), extraverted sensing (Se), introverted intuition (Ni), and extraverted thinking (Ti). The ISFP personality is a reserved and independent soul who likes to engage their senses and explore the world. They enjoy travel and having the opportunity to see and experience new things.

They are freedom loving and do not like feeling restricted or controlled by others. ISFPs do what feels right to them and is less concerned with things logical consistency and understanding concepts. They just want to enjoy life and rack up plenty of beautiful and enriching experiences. ISFPs are not big on abstract ideas and theories and instead take more interest in the things that are palpable. They desire variety and excitement for their life and despite being introverted, they can be very outgoing and spontaneous. Many ISFPs have a fine sense of visual balance and beauty that allows them to do well as artists and tastemakers.