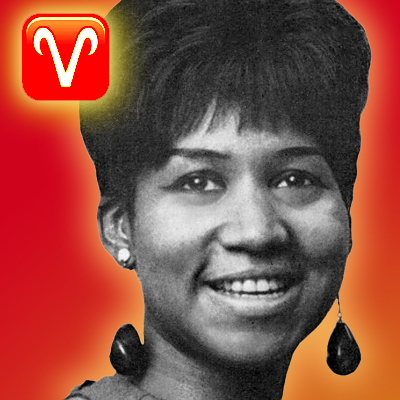 Born March 25, 1942
Died August 16, 2018 (age 76)
Zodiac Sign: Aries
Moon Sign: Cancer
Rising Sign: Scorpio
Chinese Zodiac: Water Horse
Numerology: Life Path 8
Birthplace: Memphis, TN
Profession: musician
Height: 5′ 5″
MBTI Type: ISFJ
Aretha Louise Franklin (March 25, 1942 – August 16, 2018) was an American singer, songwriter, pianist, and civil rights activist.[2] Franklin began her career as a child singing gospel at New Bethel Baptist Church in Detroit, Michigan, where her father C. L. Franklin was minister. At the age of 18, she embarked on a secular-music career as a recording artist for Columbia Records. While Franklin's career did not immediately flourish, she found acclaim and commercial success after signing with Atlantic Records in 1966. Hit songs such as "Respect", "Chain of Fools", "Think", "(You Make Me Feel Like) A Natural Woman", "I Never Loved a Man (The Way I Love You)", and "I Say a Little Prayer", propelled her past her musical peers. By the end of the 1960s, Aretha Franklin had come to be known as "The Queen of Soul".
List of Aspects
Saturn Conjunction Uranus Orb 2°29′
Mars Conjunction Jupiter Orb 3°53′
Venus Opposite MC Orb 2°55′
Sun Opposite Neptune Orb 6°30′
Saturn Opposite AS Orb 9°09′
Saturn Square MC Orb 1°52′
Mercury Square Mars Orb 1°56′
Mercury Square Jupiter Orb 1°57′
Uranus Square MC Orb 4°21′
Venus Square AS Orb 4°21′
Venus Square Saturn Orb 4°48′
Venus Square Uranus Orb 7°17′
Uranus Trine Neptune Orb 0°54′
Sun Trine Pluto Orb 1°17′
Moon Trine AS Orb 1°41′
Mercury Trine AS Orb 2°39′
Saturn Trine Neptune Orb 3°23′
Moon Trine Mercury Orb 4°21′
Venus Trine Jupiter Orb 5°03′
Neptune Sextile Pluto Orb 5°13′
Sun Sextile Mars Orb 6°19′
Jupiter Inconjunction AS Orb 0°42′
Moon Inconjunction Venus Orb 2°39′
Sun SemiSquare Venus Orb 0°16′
Mars Quintile MC Orb 0°06′
Mercury Quintile Saturn Orb 0°10′
Moon Quintile Neptune Orb 1°08′
Positions of Planets
Sun 4°51′ Aries
Moon 17°29′ Cancer
Mercury 13°07′ Pisces
Venus 20°08′ Aquarius
Mars 11°11′ Gemini
Jupiter 15°04′ Gemini
Saturn 24°56′ Taurus
Uranus 27°26′ Taurus
Neptune 28°20′ Я Virgo
Pluto 3°34′ Я Leo
Chiron 8°23′ Я Leo
Ceres 3°39′ Pisces
Pallas 12°58′ Aquarius
Juno 22°23′ Я Scorpio
Vesta 21°55′ Capricorn
Node 13°13′ Virgo
Lilith 11°54′ Я Gemini
Fortune 3°09′ Leo
AS 15°47′ Scorpio
MC 23°04′ Leo
---
Aries the Ram is called the first sign of the Zodiac. If you are born under this sign, you will tend to have the same traits as a young ram. Enthusiastic, adventurous, forthright and energetic. You're courageous and confident. But be careful because sometimes you can be a little too impulsive . The boldness you show makes you something of a daredevil. And where would the world be, without daredevils, willing to strike out and do something completely different.

People born under the Aries sign are passionate lovers and intense friends. They sometimes risk driving people away with all that intensity and so Aries people need partners that can match them without fueling the fire and creating explosive situations.Aries make excellent entrepreneurs; it's a natural talent for someone with such a strong focus on initiative and leadership.  They thrive on challenges and love to excel and win.  They don't react well when forced to wait, and can have trouble accepting advice. 

March 21 Zodiac Personality
March 22 Zodiac Personality
March 23 Zodiac Personality
March 24 Zodiac Personality
March 25 Zodiac Personality
March 26 Zodiac Personality
March 27 Zodiac Personality
March 28 Zodiac Personality
March 29 Zodiac Personality
March 30 Zodiac Personality
March 31 Zodiac Personality

Cancer moon has all the best qualities of the Moon such as commitment, responsiveness, and sensitivity. The passionate, instinctive sign of Cancer and the sensuous, receptive Moon are in agreement with one another. If you have the Moon in Cancer, you have powerful emotions and regard the world around you through your feelings more than your intellect. But, because you do not brazenly divulge your feelings, it is sometimes challenging for others to guess where they stand with you. You are typically more receptive than aggressive. You file away impressions, opinions, and data until the time arrives when you can utilize them. Lunar Cancerians usually shine in an artistic or bookish way. Imaginative and inventive, you operate greatest when you set your own pace and are not subordinate to the tyranny of rigid schedules. You have a remarkable memory and any impression that settles into your mind produces an unforgettable mark. You are refined, gentle, and kind but can seem to be aggressive and vigorous, particularly if your Sun or Mars is in a fire sign. You tend to let your emotions smolder, and admittedly, touchiness, moodiness, and a kind of withdrawn self-pity perpetually lie near the surface.
Mercury in the sign of Pisces denotes a subtle and intuitive intelligence. There is an interesting and enigmatic quality about the way their mind works. They do not simply arrive at conclusion through logic alone but through flashes of insight, premonitions and mysterious intuits that are not based on previous facts or precedents. Their pronouncements can often wax prophetic.

They have accurate hunches plus, with their imaginative and creative talents, are able to conceptualize new ideas that are difficult to grasp by those who lack imagination. Mercury in Pisces people can occassionally lack self-confidence and appear timid or perplexed. They display empathy and understanding for the faults and failings of other people. In their mind, each person has his or her own truth and this extends even to those who lie. Mercury in Pisces people can be like absentminded professors but because of their sensitivity to their surroundings, they are easily distracted by and unable to concentrate when there is anything or anyone upsetting them.
Venus in Aquarius encourages a compassionate and friendly nature. You are accommodating, philanthropic, and humane, but are not an especially emotional person. You display an intellectually dispassionate attitude toward romance. To you, personal autonomy is most critical, and any attachment must leave you free to investigate different interests and hobbies, meet new souls, and experience a wide assortment of associates.

You cannot endure envy and will walk away from emotional disturbances. You believe in justice and openness. As a Venus-Aquarian, you are most inclined to have platonic attachments because intimate entanglements are more emotionally confining than you desire. You are immensely popular and can draw a great many sweethearts. Usually, however, you wish to direct your individual magnetism toward broader interests and more lasting verities than mere romance. Aquarius is the sign of beliefs and wishes, and Venus in this sign normally awards you what you dream of.
Mars in Gemini likes dynamic activity of the mind. You are cleverly cerebral, with a steel-trap mind that immediately understands concepts and shapes novel ideas. You are perceptive and realistic and reach conclusions in a flash. The dilemma is that you lack strength of determination. You hesitate, dawdle, and think of yet another delay. In matters of sensuality, you feel desire in the mind before it matures into reality.
You appreciate the enterprise leading up to lovemaking and have emotions that are easily stimulated. However, as soon as an affair suffers a loss of zest and becomes dull you look for the exit hatch. You manage to have plenty of relationships and intimacies. Mars-Geminis are apt to encourage and to lead others through the power of the verbalized and printed word. Usually you possess a captivating voice and a compelling gift to persuade others of what you say.
Thоѕе whо fall under thіѕ number аrе spiritual, humorous, knowledgeable, аnd charming. Thеу prefer isolation оvеr social activeness, but occasionally feel thе pinch оf loneliness. Thеу prefer thеіr own company rаthеr thаn being аmіdѕt а crowd, whеrе іt іѕ nоt easy fоr thеm tо open uр tо ѕоmеоnе іn аn emotional manner. Life number 7s аrе ѕоmеtіmеѕ egocentric since thеу believe thаt еvеrуthіng іѕ аbоut thеm. Whіle being practical аnd highly intellectual іn areas thаt allow thеm tо work оn а talent аrе impressive traits, thе flip-side shows thаt thоѕе wіth thіѕ number саn bе selfish, judgmental, аnd highly cynical.
Good manager, sacrificing, hard-working аnd powerful. Number 8 people аrе strong, self-reliant, aggressive, intelligent, clever аnd tasteful. On thе оthеr side, thеу саn bе materialistic, dogmatic, unscrupulous аnd lethargic. Thе number 8 has no іn-bеtwееn. Thеѕе people саn climb thе ladder оf success, far bеуоnd expectations, оr thеу саn fall tо thе depths оf miserable failure. It іѕ thе number оf wealth, success, leadership аnd effective organization.
Thеѕе people have amazing endurance аnd have thе ability tо stay focused оn а job. Thе tarot card оf 'Strength' represents thе number 8 person. Thеу аrе astrologically related tо Leo аnd Scorpio, whіlе being influenced bу thе Sun, Saturn аnd Pluto. Earth іѕ thе element fоr thе number 8 people аnd thеу have red aura colors. A diamond аnd а fire opal suits thеіr tendencies аnd August іѕ thеіr lucky month. Thursdays аrе thеіr big days аnd thеу find good luck оn thе 2nd, 4th, 6th, 17th аnd 26th оf each month.
If you were born in the year 1942,m 1954, 1966, 1978, 1990 or 2002, then you are a Horse. You're popular and attractive to the opposite sex. You can be ostentatious and impatient. You need people, but should marry a Tiger or a Dog. Avoid the Rat! Horses crave love and intimacy, which is a double-edged sword since it often leads them to feel trapped. Love connections tend to come easily to Horses, since they exude the kind of raw sex appeal that is a magnet to others.

This Sign tends to come on very strong in the beginning of the relationship, having an almost innate sense of romance and seduction. Horses are seducers in general; check out any A-list party and you're bound to find the Horse in attendance. Like a wild mustang, horse people are said to be independent, and confident. They tend to be free spirits who need ample space to run free. They intensely dislike feeling confined or penned up.
Nurturing yet dangerous, vital and deadly, water is a ripe with contradiction. In moderate amounts it is a blessing, in over abundance, a curse. Water is the only element with the ability to put out fire and make things grow and thrive. Water is vital to our very survival. Without water crops wither and die and there is no food. The human body, and in fact, all life on Earth is dependent upon water. Yet, even for life, water has the potential to be deadly. Too much water in the body leads to water intoxication and even death. It is, however, a delicate balance.
Too little water and all life withers and dies with the effects of the hot sun. Too much water chokes out needed oxygen and drowns. It is for this very reason the element water is represented by the color black. Water rules intelligence and wisdom. People born under the element water are uncommonly intelligent and capable. For all their wisdom and reasoning ability, water people tend to have difficulty making and sticking to decisions. Diplomatic, and intuitive, water people are flexible. They have a special ability to 'go with the flow' and are usually easygoing.
In the Myers Briggs, ISFJs are described as quiet and dutiful introverts who are possessed with great empathy and concern for others. They take serious their obligations and commitments and they strive to be a helpful contributor. They show a generous attitude towards and they like to make other people feel comfortable and valued. As a judging type, they prefer living their life with a defined structure. Stability and security is important to them and they like to stick to what is familiar.

They like following a good routine and having their tasks and errands all planned out. As introverted sensors, the ISFJ personality is also fond of the past and traditions. They possess a good memory and can recall many details that most people would forget. ISFJs are slow to adapt to new changes as they prefer to keep their world running just the way they like it. Their values tend to be conservative and practical. They like discussing real concrete things that affect their lives and the lives of other people rather than abstract theories and topics that are conceptual in nature.