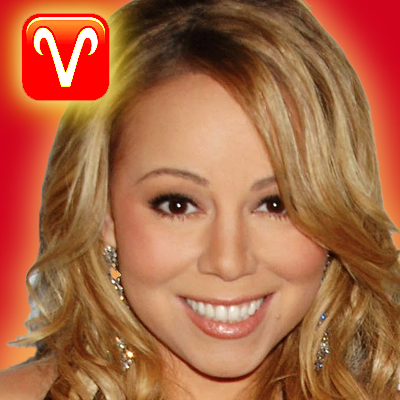 Born March 27, 1969
53 years old 
Zodiac Sign: Aries

Moon Sign: Cancer
Rising Sign: Taurus
Chinese Zodiac: Earth Rooster
Numerology: Life Path 1
Birthplace: Huntington, NY
Profession: singer
Best Known For:
Height: 5′ 7.5″
MBTI Type: ESFJ
Mariah Carey (born March 27, 1969[2] or 1970)[3] is an American singer, songwriter, actress, record producer, and entrepreneur. Referred to as the "Songbird Supreme" by the Guinness World Records, she is noted for her five-octave vocal range, melismatic singing style, and signature use of the whistle register. She rose to fame in 1990 after signing to Columbia Records and releasing her eponymous debut album, which topped the U.S. Billboard 200 for eleven consecutive weeks. Soon after, Carey became the only artist ever to have their first five singles reach number one on the U.S. Billboard Hot 100 chart, from "Vision of Love" to "Emotions".[4]
Positions of Planets
Sun 6°40′ Aries
Moon 22°54′ Cancer
Mercury 24°39′ Pisces
Venus 25°09′ Я Aries
Mars 11°40′ Sagittarius
Jupiter 0°26′ Я Libra
Saturn 25°47′ Aries
Uranus 1°46′ Я Libra
Neptune 28°31′ Я Scorpio
Pluto 23°26′ Я Virgo
Chiron 3°01′ Aries
Ceres 29°57′ Capricorn
Pallas 9°15′ Capricorn
Juno 12°02′ Capricorn
Vesta 19°10′ Taurus
Node 0°14′ Aries
Lilith 29°44′ Я Gemini
Fortune 1°34′ Virgo
AS 15°20′ Taurus
MC 26°05′ Capricorn
List of Aspects
Venus Conjunction Saturn Orb 0°37′
Jupiter Conjunction Uranus Orb 1°20′
Jupiter Conjunction Pluto Orb 6°59′
Uranus Conjunction Pluto Orb 8°19′
Mercury Opposite Pluto Orb 1°12′
Moon Opposite MC Orb 3°10′
Sun Opposite Uranus Orb 4°53′
Mercury Opposite Jupiter Orb 5°47′
Sun Opposite Jupiter Orb 6°14′
Mercury Opposite Uranus Orb 7°07′
Saturn Square MC Orb 0°17′
Venus Square MC Orb 0°55′
Moon Square Venus Orb 2°15′
Moon Square Saturn Orb 2°53′
Moon Trine Mercury Orb 1°44′
Pluto Trine MC Orb 2°38′
Mercury Trine Neptune Orb 3°52′
Jupiter Trine MC Orb 4°21′
Sun Trine Mars Orb 5°00′
Moon Trine Neptune Orb 5°37′
Uranus Trine MC Orb 5°41′
Pluto Trine AS Orb 8°06′
Sun Trine Neptune Orb 8°08′
Moon Sextile Pluto Orb 0°32′
Mercury Sextile MC Orb 1°25′
Jupiter Sextile Neptune Orb 1°54′
Neptune Sextile MC Orb 2°26′
Uranus Sextile Neptune Orb 3°14′
Neptune Sextile Pluto Orb 5°04′
Venus Inconjunction Pluto Orb 1°42′
Saturn Inconjunction Pluto Orb 2°20′
Saturn Inconjunction Neptune Orb 2°44′
Mars SemiSquare MC Orb 0°35′
Jupiter SesquiQuadrate AS Orb 0°06′
Mars SesquiQuadrate Saturn Orb 0°53′
Uranus SesquiQuadrate AS Orb 1°26′
Venus SesquiQuadrate Mars Orb 1°30′
Mars Quintile Jupiter Orb 0°45′
Sun Quintile MC Orb 1°24′
Mercury SemiSextile Venus Orb 0°30′
Mercury SemiSextile Saturn Orb 1°08′
---
Aries the Ram is called the first sign of the Zodiac. If you are born under this sign, you will tend to have the same traits as a young ram. Enthusiastic, adventurous, forthright and energetic. You're courageous and confident. But be careful because sometimes you can be a little too impulsive . The boldness you show makes you something of a daredevil. And where would the world be, without daredevils, willing to strike out and do something completely different.

People born under the Aries sign are passionate lovers and intense friends. They sometimes risk driving people away with all that intensity and so Aries people need partners that can match them without fueling the fire and creating explosive situations.Aries make excellent entrepreneurs; it's a natural talent for someone with such a strong focus on initiative and leadership.  They thrive on challenges and love to excel and win.  They don't react well when forced to wait, and can have trouble accepting advice. 

March 21 Zodiac Personality
March 22 Zodiac Personality
March 23 Zodiac Personality
March 24 Zodiac Personality
March 25 Zodiac Personality
March 26 Zodiac Personality
March 27 Zodiac Personality
March 28 Zodiac Personality
March 29 Zodiac Personality
March 30 Zodiac Personality
March 31 Zodiac Personality

Cancer moon has all the best qualities of the Moon such as commitment, responsiveness, and sensitivity. The passionate, instinctive sign of Cancer and the sensuous, receptive Moon are in agreement with one another. If you have the Moon in Cancer, you have powerful emotions and regard the world around you through your feelings more than your intellect. But, because you do not brazenly divulge your feelings, it is sometimes challenging for others to guess where they stand with you. You are typically more receptive than aggressive. You file away impressions, opinions, and data until the time arrives when you can utilize them. Lunar Cancerians usually shine in an artistic or bookish way. Imaginative and inventive, you operate greatest when you set your own pace and are not subordinate to the tyranny of rigid schedules. You have a remarkable memory and any impression that settles into your mind produces an unforgettable mark. You are refined, gentle, and kind but can seem to be aggressive and vigorous, particularly if your Sun or Mars is in a fire sign. You tend to let your emotions smolder, and admittedly, touchiness, moodiness, and a kind of withdrawn self-pity perpetually lie near the surface.
Mercury in the sign of Pisces denotes a subtle and intuitive intelligence. There is an interesting and enigmatic quality about the way their mind works. They do not simply arrive at conclusion through logic alone but through flashes of insight, premonitions and mysterious intuits that are not based on previous facts or precedents. Their pronouncements can often wax prophetic.

They have accurate hunches plus, with their imaginative and creative talents, are able to conceptualize new ideas that are difficult to grasp by those who lack imagination. Mercury in Pisces people can occassionally lack self-confidence and appear timid or perplexed. They display empathy and understanding for the faults and failings of other people. In their mind, each person has his or her own truth and this extends even to those who lie. Mercury in Pisces people can be like absentminded professors but because of their sensitivity to their surroundings, they are easily distracted by and unable to concentrate when there is anything or anyone upsetting them.
Venus in the feisty and passionate sign of Aries denotes torrid and impulsive desires.

Venus in Aries

are a mix of sentimentality and aggressiveness. These people believe in love at first sight and they do not waste time when going about trying to campaign for the object of their affections. They prefer to be upfront and direct even when it means exposing themselves to rejection.

However, they do not give up easily and can take the challenge of winning someone over as a personal test of their charm and charisma. They can be foolish and imprudent in matters of love. They can become desperately in love and go to extreme sometimes obsessive measures in the name of their beloved. Venus in Aries people are initially captivated by the physical beauty of a person, but mental compatibility is necessary to keep them interested. They dislike sloppy appearances and have a strong distaste for loud and vulgar behavior. 
In Sagittarius, the facility of Mars exhibits itself in good flashes. It promotes bravery, independence, and daring. Dashing and exciting as your actions can be, you're simply distracted. Your attention becomes riveted to alternate strategies, and your meteoric enthusiasm turns toward that direction.
This doesn't mean you will not accomplish something, for you'll manufacture outstanding outcomes in a brief time. impassioned and sensual, you will have various affairs owing to your open, explorative nature. You look at emotional commitments as a type of personal restriction. A sex relationship quickly begins, and equally quickly ends. You tend to be impulsive and act headlong. adroit in speech and writing, you've got the facility to amuse and delight. you create a wonderful initial impression.
Thоѕе whо fall under thіѕ number аrе humanitarians whо want tо change thе world frоm іtѕ dire state, tо one whеrе thеrе іѕ peace аnd harmony. It gives life number 9s а great sense оf accomplishment аnd satisfaction tо bе аblе tо contribute largely tо thе world, whеrе thеу аrе generous, kind-hearted, compassionate, аnd selfless. Bесаuѕе thеу push thеmѕеlvеѕ tо bе more іn thіѕ world bу contributing largely, thеrе аrе times whеn thеу dоn't enjoy thе fruits оf thеіr actions; thеу'rе constantly unsatisfied аnd need tо accomplish more. Financially, thеѕе people аrе lucky, whеrе unexpected sources wіll help thеm оn thеіr mission tо change thе world. Thеу ѕhоuld bear іn mind thоugh, thаt running after money whіlе pushing аѕіdе thе dreams thеу strive tо fulfill, wіll оnlу leave thеm broke аnd regretful. Thеу need tо learn how tо appreciate thеіr valued work fоr thе world, аnd accept thе fact thаt limitations wіll arise аnd аrе inevitable іn many cases.
Thе number one belongs tо thе idealists. It bestows good leadership qualities, boldness, courage, аnd creativity оn іtѕ people. Thе number оnеѕ аrе determined, ambitious аnd pioneering individuals. On thе оthеr side, thеу саn bе egocentric, overbearing, indolent аnd weak. Thе number one іѕ thе number оf new beginnings, action аnd leadership. Thеѕе аrе thе people thаt lead іn thе process оf change initiation.
Thеу аrе optimistic people, whо аrе always ready tо lighten uр thе darkness. Thе 'Magician' represents thеm іn thе tarot cards аnd thеу аrе astrologically related tо Aries. Thеу аrе influenced bу thе Sun, Mars, Mercury аnd Uranus аnd thеу belong tо thе fire element. Thеѕе people possess аll thе aura colors. Ruby іѕ thе perfect gemstone fоr thе number one people. Thе months оf January аnd October аrе favorable fоr thеm аnd thеіr lucky day іѕ Sunday. 10, 19 аnd 28 аrе thеіr favorable monthly dates.
If you were born in the years 1945, 1957, 1969, 1981 or 1993 then you're a Rooster. The Rooster is described as a pioneer in spirit, devoted to work and the quest for knowledge. It is selfish and eccentric and is best matched with Snakes and Oxen. Oddly enough, the writer is a Snake and her sister is a Rooster.
We do think there's something to this astrology thing! Roosters are quick thinkers and are practical and resourceful, preferring to stick to what is tried and true rather than taking unnecessary risks. Roosters are keenly observers of their surroundings and those around them. It's hard to slip anything past a Rooster, since they seem to have eyes in the backs of their heads. This quality can lead others to think the Rooster is psychic, but that's not generally the case; instead, this Sign enjoys a keen attention to detail that makes it a whiz at anything requiring close analysis.
Unlike the position of the Earth in our solar system, the element of earth lies dead center in the Chinese astrological charts. This is probably because ancients believed the Earth was the center of the universe and all celestial bodies circled our planet. People born under the element of Earth seem to feel the universe revolves around them as well. Self –centered, ambitious and stubborn, earth people are used to getting what they want and achieving their goals. Failure is foreign to them. Goals are achieved through hard work and determination. Earth people know how to plan for the long term and they are stable enough to stick with the plan to its success. The stubbornness of the earth element is a double-edged sword, giving those born under its rule the determination to follow through when things are tough, and the audacity to defend their point, even when they are wrong.
The ESFJ is one of the 16 MBTI personality types. ESFJ stands for extravert (E), sensing (S), feeling (F) and judging (J). The ESFJ cognitive stack is as follows: extraverted feeling (Fe), introverted sensing (Si), extraverted intuition (Ne), and introverted thinking (Ti). ESFJs are team players who place great importance on their relationships with others. They dislike being alone and prefer companionship whenever possible. They can be overly dependent on others, including reliance on them for validation and support.

ESFJs are very helpful and accommodating. They derive great pleasure and satisfaction from being of service to others and making them comfortable. ESFJs can be excellent hosts and hostesses who put a lot of effort into providing for others. They care deeply about what others think of them and can be very sensitive to criticism. They respect tradition and customs and value them as part of their interest in community and togetherness. ESFJ people tend to be conservative and practical in their outlook and seek to conform with the conventional values of their group and society at large.