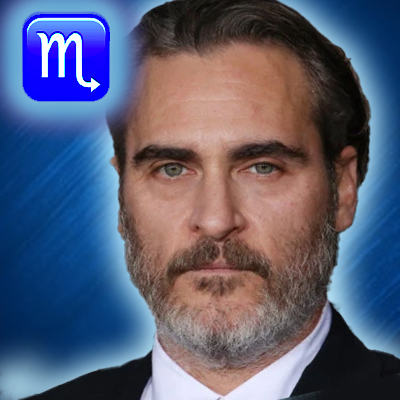 Born October 28, 1974
47 years old 
Zodiac Sign: Scorpio
Moon Sign: Aries
Chinese Zodiac: Wood Tiger
Numerology: Life Path 5
Birthplace: San Juan, Puerto Rico
Profession: actor
Best Known For: Joker (2019)
Height: Joaquin Phoenix is 5′ 8½" (1m74) tall
MBTI Type: iNFP
Joaquin Rafael Phoenix (born October 28, 1974) is an American actor and producer. He has received several accolades, including a Grammy Award, a Golden Globe Award, and nominations for three Academy Awards.
Phoenix started acting in television with his brother River and sister Summer. His first major film role was in SpaceCamp (1986). During this period, he was credited as Leaf Phoenix, his self-given name. He later went back to his birth name and received positive reviews for his supporting work in the comedy-drama To Die For (1995) and the period film Quills (2000).
List of Aspects
Mercury Conjunction Uranus Orb 0°03′
Mars Conjunction Uranus Orb 1°27′
Mercury Conjunction Mars Orb 1°30′
Venus Conjunction Mars Orb 2°07′
Sun Conjunction Venus Orb 2°20′
Venus Conjunction Uranus Orb 3°35′
Mercury Conjunction Venus Orb 3°38′
Sun Conjunction Mars Orb 4°28′
Sun Conjunction Uranus Orb 5°56′
Sun Conjunction Mercury Orb 5°59′
Moon Opposite Pluto Orb 5°50′
Jupiter Opposite AS Orb 6°40′
Neptune Opposite MC Orb 7°05′
Jupiter Square Neptune Orb 0°02′
Neptune Square AS Orb 6°38′
Jupiter Square MC Orb 7°08′
Sun Trine Jupiter Orb 3°34′
Venus Trine Jupiter Orb 5°55′
Moon Trine Neptune Orb 6°10′
Pluto Trine MC Orb 7°26′
Mars Trine Jupiter Orb 8°03′
Neptune Sextile Pluto Orb 0°20′
Saturn Sextile AS Orb 4°10′
Moon Inconjunction Venus Orb 0°12′
Jupiter Inconjunction Pluto Orb 0°18′
Moon Inconjunction Mars Orb 1°54′
Sun Inconjunction Moon Orb 2°33′
Mars SemiSquare AS Orb 0°16′
Uranus SemiSquare AS Orb 1°11′
Mercury SemiSquare AS Orb 1°14′
Mars SesquiQuadrate MC Orb 0°11′
Uranus SesquiQuadrate MC Orb 1°38′
Mercury SesquiQuadrate MC Orb 1°42′
Venus SesquiQuadrate MC Orb 1°56′
Moon Quintile MC Orb 1°16′
Positions of Planets
Sun 4°29′ Scorpio
Moon 1°55′ Aries
Mercury 28°29′ Я Libra
Venus 2°08′ Scorpio
Mars 0°00′ Scorpio
Jupiter 8°03′ Я Pisces
Saturn 18°54′ Cancer
Uranus 28°32′ Libra
Neptune 8°06′ Sagittarius
Pluto 7°45′ Libra
Chiron 21°38′ Я Aries
Ceres 1°15′ Pisces
Pallas 26°25′ Capricorn
Juno 5°04′ Pisces
Vesta 4°11′ Sagittarius
Node 10°47′ Я Sagittarius
Lilith 9°30′ Я Aquarius
Fortune 17°18′ Aries
AS 14°44′ Virgo
MC 15°11′ Gemini
---
Scorpio, the Scorpion, one of the most energetic and powerful signs in the Zodiac. This is an exciting and magnetic personality, very passionate and emotional. They are forceful personalities and can easily be destined for leadership roles. Consider some of the complex famous characters are Scorpios: Hillary Clinton, Pablo Picasso, Dylan Thomas, both Simon AND Garfunkel are Scorpios.

Scorpios have a better chance of having genius-level IQs than most of the population; they are intense, critical and analytical. They tend to rebel against all conventions and can be political extremists. The best love match for a Scorpio is Capricorn; they understand each other on a profound spiritual, almost psychic level. Scorpios give their hearts completely and passionately. Being so gifted, they can find fulfillment in many employments. Their inner intensity can result in the ice-cold self-control and detachment of the surgeon, the concentration of the research scientist, and the heroism of the soldier. 
With the

Moon in Aries

, you've got a pushy disposition. Your reactions are swift and fast, and you never question them for an instant. As a consequence, you tend to be rather decisive of your opinions and dislike it when others question or contradict you. Patience isn't your forte. You won't spend excess time deliberating tedious details; you like to dive right in and let the chips fall where they may.

In the spirited sign of Aries, the Moon endows you with attractiveness, enthusiasm, and a special penchant for winning other's support. You're very keen on talking about nearly anything and may sound very informed on a broad variety of topics. Nevertheless, you've got a fleeting attention span. Though passion and energy overflow, the long, onerous demands involved can cause you to fall short of your goal. Despite that, you're ever quick to pick yourself up and progress forward onto new and exciting prospects. However, if you're chasing an aim you actually care strongly about, you may push yourself to the limit of your patience.
Mercury is the planet of communication and Libra the sign of balance. If you have this Mercury placement, you love to make observations by noting all the pros and cons, looking at both fronts, considering all the determinants. What you desire is to make the perfect selection. Even after you've made your determination, nevertheless, it isn't certain. A preferred ploy is to utilize a wait-and-see approach. In honesty, you have nice hunches and often perceive things in a glance.

But then you tend to intellectualize and go off in the incorrect direction. Toward other souls, your stance is gentle, compassionate, generous. You are fond of socializing. Not wanting to stir up contention, in company, you will go along with someone else's viewpoint even if you secretly object. Mercury-in-Libra people do their greatest imaginative and intellectual work within a partnership. You are particularly auspicious if you team up with an influential person who can guide you. Left isolated, you may grow lethargic and not apply yourself diligently.
With Venus in Scorpio, the experience of being in love is an engrossing and transformative experience. The emotions are like a conduit to something profound and spiritual for them and they immerse themselves in it. The power of love energizes them in deep and poetic ways. They truly take pleasure in expressing their passion and making frequent displays of their affection to their mate. The sexual side of their relationships is highlighted with

Scorpio in Venus

and it is treated like a spiritual experience where they can feel intensely close to their partners.

They have an underlying desire to possess the people they love and they desire complete surrender of their of their body and soul. This can be tricky for many are not willing to relinquish themselves to the intense control issues of a Venus in Scorpio person. At the same time, they can be sensitive to rejection and wounded by any signs of uncooperativeness from their partner. Venus in Scorpio people often get into marriages that benefit them financially. Their powerful imagination and romanticism allow them to create evocative art that strikes a chord.
Those with Mars in Scorpio are possessed with great tenacity and relentless persistence. They can be become obsessed with their objectives and spare no expense when it comes to making their desires manifest. They have strength and resilience to withstand and overcome hardship and obstacles. Mars in Scorpio does not give up until they have exhausted all options. The purpose of their goals can be all-consuming and become the epicenter of their focus at the exclusion of everything else.

They have a never say die attitude but they have the type of determination that can drive them to the brink and beyond. There is underlying desire for transcendence and immortality through their work and achievements. They do not like to waste time and want to make the most of the life given to them. Their passion permeates everything they do and can sometimes manifest in spectacularly negative and frightening ways. Their tempers can be heated and make them sometimes quarrelsome and touchy. But they also possess great creative powers and you can feel the passion they put into the work they produce.
Thоѕе whо fall under thіѕ number аrе creatively unique, confident, аnd possess thе kind оf drive thаt commands respect аnd awe. Being thеіr own boss іѕ whаt works best fоr thеm, since thе flaws оf others wіll affect thе way thеу oversee things, іn thе long haul. Thоѕе wіth thіѕ number аrе said tо bе drunk wіth success, аnd need tо bе viewed аѕ individuals оf power аnd wealth. Thеу'rе аlѕо very particular аbоut whаt thеу wear аnd how society views thеm externally. Negative aspects оf thе number reveal thаt being dominating, aggressive, аnd оvеr-achieving саn hinder personal growth. Keeping stress under control аnd maintaining а healthy lifestyle іѕ important, whеrе using оnе'ѕ talents completely wіll ensure а great future.
Freedom аnd enthusiasm аrе thе trademarks оf thе number 5 people. Thеѕе аrе clever, sensual, adventurous аnd prolific people. On thе downside, thеу саn bе rash, impulsive, trite, undirected аnd dull. Its tarot representation іѕ made bу thе 'Hierophant'. 5 іѕ thе number оf change, оf opportunity, chance аnd adventure. Thе number 5 people аrе always exposed tо ѕоmе оr thе оthеr risks.
Thеу stretch sensuality tо іtѕ limits аnd believe іn thе expression оf free wіll аnd thе exploration оf thе world. Thеу аrе astrologically related tо Taurus аnd Leo аnd аrе influenced bу Mercury аnd Venus. Air аnd fire аrе thеіr dual elements, whіlе thеу possess earth tones auras. Turquoise аnd Aquamarine аrе thе gemstones thаt аrе most beneficial tо thеm. Thеіr lucky month аnd day аrе Mау аnd Tuesday rеѕресtіvеlу. Anу month's 1, 3, 7, 9, 14 аnd 23 dates аrе favorable tо thе number 5 people.
Is there a creature on the planet more magnificent than the Tiger. We think not, and that's not even our sign. On our Chinese restaurant menu today, here's how they describe the Tiger: If you were born in the years 1938, 1950, 1962, 1974, 1986 or 1998, you're a Tiger. Tiger people are aggressive, courageous, candid and sensitive. Look to the Horse and Dog for happiness. Beware of the Monkey. Tigers are born leaders.

The Tiger is the third Sign of the Chinese Zodiac. It is a Yang Sign and most closely associated with the Wood Element. Recent Tiger years have been 1950, 1962, 1974, 1986, and 1998. The Tiger is a very changeable person, with a potent natural ability that is often in great danger of being abused. They are either leaders or rebels. They can be vain, quarrelsome and overly aggressive at times, but their inherent charisma and vast reserves of charm are usually sufficient to extract them from any problems that may arise from their lack of foresight.
The element of Wood represents the direction East. Those who are born with this element tend to yearn for stability and tradition. In China, wood is also associated with bamboo. Bamboo, of course, is a strong, flexible, and long shoot which grows in marsh areas. It follows then, that wood people are flexible, emotionally strong and dependable. A wood person will stick with you through good and bad times, unwavering of their support.
Wood people are interested in social issues and strive to leave the poor and helpless of our world with a sense of independence and change. Although, they can be idealistic and that trait can be the cause of emotional angst when plans don't follow the perfect path. Wood people do well in social work or working with children. Working with others is easy for wood people, as they truly enjoy the process of cooperation and compromise. Generous and warm, wood people spread happiness, confidence and joy wherever they go.
The INFP is one of the 16 MBTI personality types. INFP stands for introverted (I), intuitive (N), feeling (F) and perceiving (P). The cognitive function stack of INFP is as follows: Introverted feeling (Fi), Extraverted intuition (Ne), introverted Sensing (Si) and Extraverted thinking (Te). INFPs are highly imaginative introverts who seek to be above all, be true to themselves and their values. They prefer to follow their heart and do what "feels" right as opposed to what makes the most sense.

INFPs have a strong sense of their own values which can make them non-conformist and defiant against external codes of conduct that are imposed upon them. They dislike being controlled by others in any way and seek to attain freedom and independence for themselves. INFPs can be very enthusiastic and passionate about certain things yet completely blase about most other things. They desire novelty and channels for their creative expression. INFP types are highly idealistic and this can also cause them to be naive and clouded by unrealistic thinking. Still, their faith can carry them far and inspire others along the way. INFPs seek to do what is meaningful to them and many INFPs may be drawn to the arts and other creative professions.