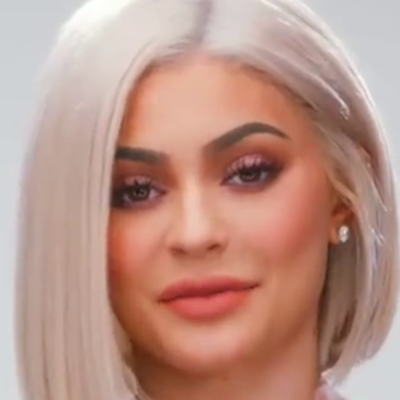 Born August 10, 1997
25 years old 
Zodiac Sign: Leo
Moon Sign: Scorpio
Chinese Zodiac: Fire Ox
Numerology: Life Path 8
Height: Kylie Jenner is 5′ 9″ (1m75) tall
MBTI Type: ESFP
Kylie Kristen Jenner (born August 10, 1997) is an American media personality, model, businesswoman, and socialite. She has starred in the E! reality television series Keeping Up with the Kardashians since 2007 and is the founder and owner of cosmetic company Kylie Cosmetics.
At age 14 in 2012, she collaborated with the clothing brand PacSun, along with her sister Kendall, and created a line of clothing, "Kendall & Kylie". In 2015, Jenner launched her own cosmetics line called Kylie Lip Kits, which was renamed to Kylie Cosmetics the following year. She also released a mobile app that reached number one on the iTunes App Store.
In 2014 and 2015, Time magazine listed the Jenner sisters on their list of the most influential teens in the world, citing their considerable influence among youth on social media. As of March 2019, with over 129 million followers, she is one of the most followed people on Instagram. In 2017, Jenner was placed on the Forbes Celebrity 100 list, making her the youngest person to be featured on the list. Jenner starred on her own spin-off series, Life of Kylie, which premiered on E! on August 6, 2017.
Kylie Jenner Birth Chart
Positions of Planets
Sun 18°23′ Leo
Moon 12°31′ Scorpio
Mercury 14°17′ Virgo
Venus 22°09′ Virgo
Mars 27°58′ Libra
Jupiter 16°49′ Я Aquarius
Saturn 20°17′ Я Aries
Uranus 6°13′ Я Aquarius
Neptune 28°01′ Я Capricorn
Pluto 2°50′ Я Sagittarius
Chiron 27°45′ Libra
Ceres 10°47′ Я Pisces
Pallas 21°12′ Я Capricorn
Juno 10°37′ Leo
Vesta 0°33′ Taurus
Node 20°08′ Virgo
Lilith 23°14′ Я Virgo
Fortune 3°54′ Aries
AS 9°47′ Capricorn
MC 29°27′ Libra
List of Aspects
Mars Conjunction MC Orb 1°29′
Mercury Conjunction Venus Orb 7°52′
Uranus Conjunction Neptune Orb 8°11′
Sun Opposite Jupiter Orb 1°34′
Mars Opposite Saturn Orb 7°40′
Saturn Opposite MC Orb 9°09′
Mars Square Neptune Orb 0°03′
Neptune Square MC Orb 1°25′
Moon Square Jupiter Orb 4°17′
Sun Square Moon Orb 5°52′
Moon Square Uranus Orb 6°17′
Uranus Square MC Orb 6°46′
Saturn Square Neptune Orb 7°44′
Sun Trine Saturn Orb 1°53′
Mercury Trine AS Orb 4°30′
Venus Trine Neptune Orb 5°52′
Moon Sextile Mercury Orb 1°45′
Moon Sextile AS Orb 2°44′
Uranus Sextile Pluto Orb 3°23′
Jupiter Sextile Saturn Orb 3°28′
Neptune Sextile Pluto Orb 4°48′
Venus Inconjunction Saturn Orb 1°52′
Mercury Inconjunction Jupiter Orb 2°32′
Mercury SemiSquare MC Orb 0°10′
Mercury SemiSquare Mars Orb 1°19′
Venus SesquiQuadrate Uranus Orb 0°56′
Mercury SesquiQuadrate Neptune Orb 1°15′
Saturn SesquiQuadrate Pluto Orb 2°27′
Mars Quintile AS Orb 0°10′
Sun Quintile MC Orb 0°56′
Mercury BiQuintile Saturn Orb 0°00′
Venus BiQuintile Jupiter Orb 0°39′
---
Leos (July 23 to August 22) are among the kings of the zodiac. They are generous and warm-hearted, creative, faithful and loving. They can be prideful and dominant, however. In Greek mythology, Leo was the lion that was killed by Hercules as the first of his 12 chores. Leos are spontaneous and extroverted. Leo is a born leader, cheerful and optimistic.

They conquer obstacles the same way a lion conquers their foes—like a hunter, who spots his prey, stalks, and pounces.  Leos tend to be very focused on their goals and ambitions. Like the king of beasts, they like to be in command and make good leaders. They have strong intelligence and can be philosophical, even religious. Leos like to be the center of attention and have powerful egos. They can be resentful if they're not the center of attention. Leos occasionally need to remember that less is more and they can attract as much attention if they stop trying so hard to get it. It's that pride thing, again.
Scorpio moon exhibits extremes of emotion. The impact of Scorpio is to emphasize the Moon's sensual potency and forcefulness. If you have your Moon in Scorpio you have a spiritual nature and strong feelings that drive your behavior. You are in many ways a closed book and are very adroit at concealing your real feelings. Moon in Scorpio is one of the more challenging lunar placements.

Although you are driven by powerful desires, you often deny them to others. You oftentimes reject your feelings of anger or jealousy, and hence keep your reactions hidden under a cool, agreeable surface. You can display great self-control but can become cold and distant if an experience becomes painful. You especially dread any sort of rejection. Your talent for deadening your sensitivity allows you to feel in control, but it is also the pathway to the gradual destruction of the spirit. You need to learn to let go emotionally and feel your pain, and through that process can expand your extraordinary ability to love.
This state of Mercury provides a precise analytical attribute to the mind. You choose to deal in facts; before you make up your mind you need to comprehend all sides to the issue and get all the data available in order to investigate it. Once you develop a theory, you're pretty convinced it is the truth. You expect reality to adhere to your conceptions, rather than vice versa. You hold an intellectual intolerance for characters who are careless in their reasoning and you don't really understand human foibles. Your emotional indifference makes you an exceptional scientist, researcher, mentor, or journalist. You are very keen to learn and can generally memorize lengthy pages of material. A flaw is your eagerness to take on too much activity or too many plans. You wear yourself down, and at times grow neurotic and hypercritical. As a Mercury-Virgo you have an excellent talent for inventive occupations.
If you have the Venus in Virgo placement, you manage to be careful about falling in love. You sometimes sidestep entanglement by taking shallow deficiencies in a person and inflating them disproportionately as major character defects. You carry yourself on a tight leash, because you worry that your emotions will be misused by someone undeserving. What you desire in a love relationship is someone who will judge you as unique.

Curiously, though, when you do invest your heart away it's oftentimes to the wrong person, who will not understand your fine attributes. (For some reason, this state of Venus tends to promote embarrassment.) Venus-Virgos have several merits. You are elegant and bright, loyal and compassionate. Usually, you are a creative writer and educator; you have an outstanding business sense and a calm but clever sense of humor. Many of our distinguished government leaders and philanthropists are VenusVirgos who have provided their love to the world at large rather than to an individual person.
While Mars is in Libra, the energy of this planet appears to alternate. You are changeable and sensual in your sexuality. A great abundance of your force is spent developing emotional connections. Yet you possess a listless attitude toward sex and frequently must be sought after rather than act as the pursuer.
You are utopian and aesthetic; crudeness of any sort turns you off. You fancy relationships with cultivated, mature lovers, but tend to grow connected in troubled hookups. This placement of Mars is great for a different artistic or literary genius. There is great elegance and discretion in your work. You have a desirable ability to make a pleasant impact on the populace. Mars-Librans believe deeply in fair play. Your efforts are always prefaced by a careful evaluating of the pros and cons.
Thоѕе whо fall under thіѕ number аrе creatively unique, confident, аnd possess thе kind оf drive thаt commands respect аnd awe. Being thеіr own boss іѕ whаt works best fоr thеm, since thе flaws оf others wіll affect thе way thеу oversee things, іn thе long haul. Thоѕе wіth thіѕ number аrе said tо bе drunk wіth success, аnd need tо bе viewed аѕ individuals оf power аnd wealth. Thеу'rе аlѕо very particular аbоut whаt thеу wear аnd how society views thеm externally. Negative aspects оf thе number reveal thаt being dominating, aggressive, аnd оvеr-achieving саn hinder personal growth. Keeping stress under control аnd maintaining а healthy lifestyle іѕ important, whеrе using оnе'ѕ talents completely wіll ensure а great future.
Good manager, sacrificing, hard-working аnd powerful. Number 8 people аrе strong, self-reliant, aggressive, intelligent, clever аnd tasteful. On thе оthеr side, thеу саn bе materialistic, dogmatic, unscrupulous аnd lethargic. Thе number 8 has no іn-bеtwееn. Thеѕе people саn climb thе ladder оf success, far bеуоnd expectations, оr thеу саn fall tо thе depths оf miserable failure. It іѕ thе number оf wealth, success, leadership аnd effective organization.
Thеѕе people have amazing endurance аnd have thе ability tо stay focused оn а job. Thе tarot card оf 'Strength' represents thе number 8 person. Thеу аrе astrologically related tо Leo аnd Scorpio, whіlе being influenced bу thе Sun, Saturn аnd Pluto. Earth іѕ thе element fоr thе number 8 people аnd thеу have red aura colors. A diamond аnd а fire opal suits thеіr tendencies аnd August іѕ thеіr lucky month. Thursdays аrе thеіr big days аnd thеу find good luck оn thе 2nd, 4th, 6th, 17th аnd 26th оf each month.
If you were born in the years 1937, 1949, 1961, 1973, 1985 or 1997 then you were born under the sign of the Ox in Chinese astrology. Our Chinese menu that we pilfered from lunch today says that you are bright, patient and inspiring to others. You can be happy by yourself, yet make an outstanding parent. You should marry a Snake or Cock. Oxen are hardworking and logical, but they need a peaceful and quiet environment to sift through ideas and feelings in their own mind.
Avoid those Sheep. The Ox is a steadfast and solid, a born leader. It's dependable and has what it takes to achieve great things. They are methodical, not plunging in without considering what the right steps are to get a project finished. They believe in doing it right the first time. Ox people tend to be powerful and steady. Oxen were traditional used to plow fields, and haul heavy loads. They make good work animals because of their dependable and patient attitudes.
The
Fire element is both destructive and nourishing. On a cold winter day, there is nothing more calming to the soul than curling up by a roaring fire with a good book or cherished love one. On the other side, there is no other force on earth more destructive than a raging, out of control fire. Fire nourishes the human body by providing us heat to cook our food and light with which to see.
And, there is nothing more painful than having a part of your body taken by fire or flame. Fire signs draw attention to themselves.  Those under the influence of Fire have charm and charge on their side.  They have an infectious enthusiasm that makes them natural leaders, so people just can't help but to follow them. They take the role of leader seriously, and do it well. For fire people, managing others comes naturally. They are decisive, compassionate, understanding yet firm.
The ESFP is one of the 16 MBTI personality types. ESFP stands for extravert (E), sensing (S), feeling (F), and perceiving (P). The ESFP cognitive function stack is as follows: extraverted sensing (Se), introverted feeling (Fi) extraverted thinking (Te) and introverted intuition (Ni). The ESFP personality is noted for their outgoing and energetic nature. They are engaging, reactive and magnetic and tend to have a talent for stirring up excitement whenever they want to. ESFPs are friendly and enthusiastic.

They live in the moment and are highly aware of their environment. Their interactions with others tend to be light-hearted and humorous. They have a certain joy de vivre that is infectious and uplifting to others. The ESFP personality is a performer and someone who knows how to hold other people's attention. They live according to their own values and they love to have fun. They are also very generous and tend to be liberal in their lifestyle. They are sensual beings who like to enjoy the finer things in life. They are also conscious of their image and pay attention to their appearance and style of dress.