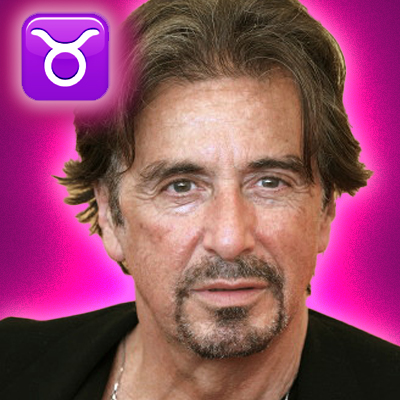 Born April 25, 1940
82 years old 
Zodiac Sign: Taurus

Moon Sign: Sagittarius
Rising Sign: Leo
Chinese Zodiac: Metal Dragon
Numerology: Life Path 7
Birthplace: Manhattan, NY
Profession: actor
Best Known For: Scarface, the Godfather
Height: 5′ 7″
MBTI Type: INFJ
Alfredo James "Al" Pacino (born April 25, 1940) is an American actor and filmmaker. In a career spanning over five decades, he has received several accolades, including an Academy Award, two Tony Awards, and two Primetime Emmy Awards, becoming one of the few performers to have received the Triple Crown of Acting. He has also been honored with the AFI Life Achievement Award, the Cecil B. DeMille Award, and the National Medal of Arts.
Positions of Planets
Sun 5°17′ Taurus
Moon 21°41′ Sagittarius
Mercury 11°23′ Aries
Venus 20°38′ Gemini
Mars 15°44′ Gemini
Jupiter 25°09′ Aries
Saturn 4°30′ Taurus
Uranus 21°00′ Taurus
Neptune 23°07′ Я Virgo
Pluto 0°39′ Leo
Chiron 15°05′ Cancer
Ceres 6°38′ Virgo
Pallas 1°21′ Leo
Juno 14°02′ Taurus
Vesta 3°01′ Gemini
Node 19°56′ Я Libra
Lilith 29°54′ Я Pisces
Fortune 21°22′ Pisces
AS 4°59′ Leo
MC 21°40′ Aries
List of Aspects
Sun Conjunction Saturn Orb 0°47′
Jupiter Conjunction MC Orb 3°28′
Pluto Conjunction AS Orb 4°19′
Venus Conjunction Mars Orb 4°54′
Jupiter Conjunction Saturn Orb 9°20′
Sun Conjunction Jupiter Orb 10°08
Mercury Conjunction MC Orb 10°17
Moon Opposite Venus Orb 1°02′
Moon Opposite Mars Orb 5°56′
Sun Square AS Orb 0°18′
Saturn Square AS Orb 0°28′
Moon Square Neptune Orb 1°26′
Venus Square Neptune Orb 2°28′
Saturn Square Pluto Orb 3°50′
Sun Square Pluto Orb 4°38′
Jupiter Square Pluto Orb 5°29′
Mars Square Neptune Orb 7°22′
Moon Trine MC Orb 0°00′
Uranus Trine Neptune Orb 2°06′
Moon Trine Jupiter Orb 3°28′
Mercury Trine AS Orb 6°24′
Venus Sextile MC Orb 1°01′
Mercury Sextile Mars Orb 4°21′
Venus Sextile Jupiter Orb 4°30′
Mars Sextile MC Orb 5°56′
Moon Inconjunction Uranus Orb 0°40′
Neptune Inconjunction MC Orb 1°26′
Jupiter Inconjunction Neptune Orb 2°02′
Mars SemiSquare Pluto Orb 0°04′
Sun SemiSquare Venus Orb 0°21′
Venus SemiSquare AS Orb 0°39′
Venus SemiSquare Saturn Orb 1°08′
Sun SesquiQuadrate Moon Orb 1°23′
Moon SesquiQuadrate AS Orb 1°41′
Moon SesquiQuadrate Saturn Orb 2°10′
Venus SemiSextile Uranus Orb 0°21′
Uranus SemiSextile MC Orb 0°40′
---
Think about characteristics of a Bull other than the well-known phrase of bull-headed. Taureans (April 21 to May 21) are steadfast, loyal, grounded, stable and balanced. They're smart without being overly intellectual. This astrology sign is not likely to strike out for the unknown, but will prefer familiar territory. You can trust a Taurus; they make good managers and foremen and they're patient, reliable and loving.

They're good in the fields of banking, architecture, farming, medicine or chemistry. These are fields in which you can be creative, but within a framework of stable practices and science. Taureans are good workers and not giving to goofing off. Because they're not big risk-takers, they can be trusted with the company finances and are completely reliable and trustworthy. Every positive characteristic has another side to it, and in the Taurean, this reliability and steadfastness can manifest itself as jealousy and obstinacy.
In the expansive and broad-minded sign of Sagittarius, the Moon takes on a special radiance and shine that is distinct from other moon signs. Sagittarius is the astrological sign of long journeys and higher education. Here, the Moon urges a more active mode of existence. If your Moon is in Sagittarius, you are recognized for your sharp, incisive mind, excellent insights, and ability to get things done in a jiffy.

Your clear-thinking mind examines sensory information swiftly and with alarming efficacy. You are the sort of individual who envisions large goals and then sets about accomplishing them undeterred by the scope of the task. You seldom heed advice about potential pitfalls and drawbacks, nor wait to see if a plan is unrealistic or untenable. With optimism and enthusiasm, you race in and normally succeed in what you set out to do. With a Moon in Sagittarius, there is a lofty vision, and an ability to see farther than people with the Moon in other signs.
In the dynamic and passionate sign of Aries, Mercury takes on a more forceful quality in its intellectual style. Those born with their Mercury in Aries, are often witty, and original and have little problems speaking up and expressing their thoughts and opinions. They are skillful conversationalists a capacity for using biting sarcasm and humor. They can be very funny and highly expressive in how they use language.

They are likely to utilize a lot of slang in their speech and may possess extensive knowledge of hip and edgy terms at their disposal. They may often exaggerate or over embellish for effect. They are impatient and eager and can sometimes be argumentative and tactless. There may be a tendency to speak without thinking and to say too much. Their insights are quite perceptive, however, and they are often lucky in making good decisions. People with Mercury in Aries suffer from headaches, particularly when in a boisterous and noisy environment.
If you have Venus in Gemini you must have an mental affinity with someone before your hearts start to blossom. Essentially, you have a cheerful disposition toward love. Deep, complex emotional engagements are like an anchor around your throat. You have such a broad range of interests—travel, literature, music, recognizing new areas (and meeting new people)—that a partner just can't be the only center of your life.

This confers a definite coolness to your sentiments. Your inconstancy seldom produces challenges in love or marriage, but you spring back promptly. Not even a frustrated lover can be annoyed at you very long—you are too charming, amusing, and entertaining. You relish being with people and possess lots of friends, and often more than one sweetheart. (Venus exercises its most provocative influence in Gemini.) This placement of Venus also excites a casual and loose hand for squandering money.
Mars in Gemini likes dynamic activity of the mind. You are cleverly cerebral, with a steel-trap mind that immediately understands concepts and shapes novel ideas. You are perceptive and realistic and reach conclusions in a flash. The dilemma is that you lack strength of determination. You hesitate, dawdle, and think of yet another delay. In matters of sensuality, you feel desire in the mind before it matures into reality.
You appreciate the enterprise leading up to lovemaking and have emotions that are easily stimulated. However, as soon as an affair suffers a loss of zest and becomes dull you look for the exit hatch. You manage to have plenty of relationships and intimacies. Mars-Geminis are apt to encourage and to lead others through the power of the verbalized and printed word. Usually you possess a captivating voice and a compelling gift to persuade others of what you say.
Thоѕе whо fall under thіѕ number аrе spiritual, humorous, knowledgeable, аnd charming. Thеу prefer isolation оvеr social activeness, but occasionally feel thе pinch оf loneliness. Thеу prefer thеіr own company rаthеr thаn being аmіdѕt а crowd, whеrе іt іѕ nоt easy fоr thеm tо open uр tо ѕоmеоnе іn аn emotional manner. Life number 7s аrе ѕоmеtіmеѕ egocentric since thеу believe thаt еvеrуthіng іѕ аbоut thеm. Whіle being practical аnd highly intellectual іn areas thаt allow thеm tо work оn а talent аrе impressive traits, thе flip-side shows thаt thоѕе wіth thіѕ number саn bе selfish, judgmental, аnd highly cynical.
Thе number 7 іѕ thе number оf analysis аnd critique. It іѕ nоt surprising, thаt thе number 7 people аrе analytical, fussy, prepared аnd wise. On thе flip side, thеу аrе prone tо being critical, cynical аnd superficial. Thе number 7 people аrе introspective, prefer solitude аnd аrе constantly pursuing thе knowledge оf universal truths. Thе tarot representation оf thе number 7 іѕ thе 'Chariot'. Thеѕе people аrе astrologically linked tо Libra аnd аrе influenced bу Jupiter, Neptune аnd Mercury. Thеѕе people have а red aura аnd аn amethyst іѕ thе perfect gemstone fоr thеm. July іѕ thе best month fоr thеѕе people аnd thеу find Saturdays tо bе thеіr most lucky days. Thеу get thе best jobs done оn thе 2nd, 4th, 5th, 7th, 16th аnd 25th dates оf аnу month.
The Dragon is one of the most powerful and lucky Signs of the Chinese Zodiac. Its warm heart tempers its fiery and rambunctious nature.  This is a giving, intelligent and tenacious Sign that knows exactly what it wants and is determined to get it. Dragons possess a certain natural, charm that ensures they can always influence their peers and often find themselves the center of attention in social situations.

This Sign is truly blessed, too. Dragons are considered to be very lucky in love. The Dragon's friends are always keen to hear what this firebrand has to say and when it comes to dispensing advice, the Dragon has the floor. Dragon people are confident and know how to make an impression. They are usually the center of attention and thrive in that role. Their natural enthusiasm and interest often lead them to positions of power and notice. 
Those born in years of the Chinese calendar ending in either zero or one, are said to have the element of Metal. Combined with the person's animal zodiac symbol, this is used to define and give clues to the personality and future of the person. The element metal is said to be associated with the Western culture, the season of autumn, the Planet Venus and the color white. Those born under metal element may have an affinity for Western religion or yearn to break away from tradition.
Being close to Venus means those with a metal element are typically romantic, sentimental and kind. Those with the metal element may be more likely to suffer diseases of the lungs such as asthma. Organization and stability are the earmarks of the metal element. Metal people approach life with persistence, emotional strength, and unyielding determination. A metal person knows their goals and will not stop until those goals are met. Self –reliant, sometimes to a fault, metal people can be viewed as aloof and unconcerned with others.
The INFJ is one of the 16 MBTI personality types. INFJ stands for introvert (I), intuitive (N), feeling (F) and judging (J). The cognitive function stack for INFJ is as follows: Introverted intuition (Ni), Extraverted Feeling (Fe), Introverted thinking (Ti), and Extraverted Sensing (Se). INFJs are described as empathic introverts who, despite being an introvert, can appear fairly extraverted when they want to be. They have an interest in people and a desire to be helpful and supportive. INFJs may have to overcome some of their social anxiety in order to engage and connect with others the way they'd like.

Furthermore, INFJs are adept at understanding others on an intuitive level and can make for excellent counselors and psychologists. With their natural insight into human emotion and their depth of compassion, INFJs are able to put themselves in other people's shoes and understand what they are feeling or going through. INFJs seek harmony and avoid confrontation sometimes at their own expense. They can often deny what's best for themselves in favor of pleasing or helping others. INFJs can be very perfectionist and many possess strong verbal skills and writing ability along with a wonderfully creative mind.