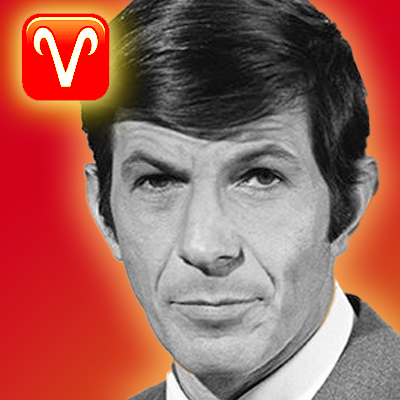 Born March 26, 1931
Died February 27, 2015 (age 83)

Zodiac Sign: Aries

Moon Sign: Cancer
Rising Sign: Scorpio
Chinese Zodiac: Metal Goat
Numerology: Life Path 7
Birthplace: Boston, MA
Profession: actor
Best Known For: playing Spock (Star Trek)
Height: 6′ .5″
MBTI Type: INTP
Leonard Simon Nimoy (March 26, 1931 – February 27, 2015) was an American actor, film director, photographer, author, singer, and songwriter. He was known for playing Spock in the Star Trek franchise, a character he portrayed in television and film for almost fifty years, from a pilot episode shot in late 1964 to his final film performance in 2013.
* charts provided by:astrotheme.com
List of Aspects
Mercury Conjunction Uranus Orb 1°44′
Moon Conjunction Jupiter Orb 7°29′
Jupiter Conjunction Pluto Orb 7°37′
Sun Conjunction Uranus Orb 9°19′
Saturn Opposite Pluto Orb 3°27′
Mars Opposite Saturn Orb 7°11′
Venus Opposite Neptune Orb 9°08′
Sun Square Moon Orb 1°51′
Mercury Square Pluto Orb 2°11′
Jupiter Square Uranus Orb 3°41′
Uranus Square Pluto Orb 3°56′
Mercury Square Jupiter Orb 5°25′
Mars Square AS Orb 5°34′
Mercury Square Saturn Orb 5°38′
Sun Square Jupiter Orb 5°38′
Saturn Square Uranus Orb 7°23′
Moon Trine AS Orb 1°20′
Uranus Trine MC Orb 2°15′
Mercury Trine MC Orb 4°00′
Sun Trine Mars Orb 6°04′
Jupiter Trine AS Orb 6°09′
Sun Trine MC Orb 7°03′
Moon Sextile Neptune Orb 0°01′
Neptune Sextile AS Orb 1°19′
Sun Inconjunction AS Orb 0°30′
Sun Inconjunction Neptune Orb 1°49′
Neptune SemiSquare Pluto Orb 0°06′
Venus SesquiQuadrate Jupiter Orb 1°37′
Mercury SesquiQuadrate Neptune Orb 2°05′
Sun Quintile Saturn Orb 1°16′
Venus BiQuintile Pluto Orb 0°14′
Jupiter SemiSextile MC Orb 1°25′
Positions of Planets
Sun 5°26′ Aries
Moon 3°35′ Cancer
Mercury 16°30′ Aries
Venus 24°27′ Aquarius
Mars 29°21′ Cancer
Jupiter 11°04′ Cancer
Saturn 22°09′ Capricorn
Uranus 14°45′ Aries
Neptune 3°36′ Я Virgo
Pluto 18°42′ Я Cancer
Chiron 15°52′ Taurus
Ceres 9°39′ Я Libra
Pallas 1°43′ Я Virgo
Juno 1°55′ Aries
Vesta 9°57′ Capricorn
Node 14°25′ Aries
Lilith 8°32′ Aries
Fortune 6°46′ Leo
AS 4°55′ Scorpio
MC 12°30′ Leo
---
Aries the Ram is called the first sign of the Zodiac. If you are born under this sign, you will tend to have the same traits as a young ram. Enthusiastic, adventurous, forthright and energetic. You're courageous and confident. But be careful because sometimes you can be a little too impulsive . The boldness you show makes you something of a daredevil. And where would the world be, without daredevils, willing to strike out and do something completely different.

People born under the Aries sign are passionate lovers and intense friends. They sometimes risk driving people away with all that intensity and so Aries people need partners that can match them without fueling the fire and creating explosive situations.Aries make excellent entrepreneurs; it's a natural talent for someone with such a strong focus on initiative and leadership.  They thrive on challenges and love to excel and win.  They don't react well when forced to wait, and can have trouble accepting advice. 

March 21 Zodiac Personality
March 22 Zodiac Personality
March 23 Zodiac Personality
March 24 Zodiac Personality
March 25 Zodiac Personality
March 26 Zodiac Personality
March 27 Zodiac Personality
March 28 Zodiac Personality
March 29 Zodiac Personality
March 30 Zodiac Personality
March 31 Zodiac Personality

Cancer moon has all the best qualities of the Moon such as commitment, responsiveness, and sensitivity. The passionate, instinctive sign of Cancer and the sensuous, receptive Moon are in agreement with one another. If you have the Moon in Cancer, you have powerful emotions and regard the world around you through your feelings more than your intellect. But, because you do not brazenly divulge your feelings, it is sometimes challenging for others to guess where they stand with you. You are typically more receptive than aggressive. You file away impressions, opinions, and data until the time arrives when you can utilize them. Lunar Cancerians usually shine in an artistic or bookish way. Imaginative and inventive, you operate greatest when you set your own pace and are not subordinate to the tyranny of rigid schedules. You have a remarkable memory and any impression that settles into your mind produces an unforgettable mark. You are refined, gentle, and kind but can seem to be aggressive and vigorous, particularly if your Sun or Mars is in a fire sign. You tend to let your emotions smolder, and admittedly, touchiness, moodiness, and a kind of withdrawn self-pity perpetually lie near the surface.
In the dynamic and passionate sign of Aries, Mercury takes on a more forceful quality in its intellectual style. Those born with their Mercury in Aries, are often witty, and original and have little problems speaking up and expressing their thoughts and opinions. They are skillful conversationalists a capacity for using biting sarcasm and humor. They can be very funny and highly expressive in how they use language.

They are likely to utilize a lot of slang in their speech and may possess extensive knowledge of hip and edgy terms at their disposal. They may often exaggerate or over embellish for effect. They are impatient and eager and can sometimes be argumentative and tactless. There may be a tendency to speak without thinking and to say too much. Their insights are quite perceptive, however, and they are often lucky in making good decisions. People with Mercury in Aries suffer from headaches, particularly when in a boisterous and noisy environment.
Venus in Aquarius encourages a compassionate and friendly nature. You are accommodating, philanthropic, and humane, but are not an especially emotional person. You display an intellectually dispassionate attitude toward romance. To you, personal autonomy is most critical, and any attachment must leave you free to investigate different interests and hobbies, meet new souls, and experience a wide assortment of associates.

You cannot endure envy and will walk away from emotional disturbances. You believe in justice and openness. As a Venus-Aquarian, you are most inclined to have platonic attachments because intimate entanglements are more emotionally confining than you desire. You are immensely popular and can draw a great many sweethearts. Usually, however, you wish to direct your individual magnetism toward broader interests and more lasting verities than mere romance. Aquarius is the sign of beliefs and wishes, and Venus in this sign normally awards you what you dream of.
Mars's strength becomes subtle in Cancer. You possess excellent energy of determination, but it is never pushed into the open. Similar to the tides, you wear down resistance by repeated attack. Each surge may achieve little, but the aggregated outcome is overwhelming. In sex, Mars-in-Cancer's strategy is passionate. You are sensual but elegant, and your lovemaking is a deeply instinctive art.
Your lust, however, is reliant on what is forthcoming from a sweetheart. If a beloved is indifferent or unresponsive, he or she may determine that your get-up-and-go just got up and went. Still, as a native of this Mars position, you will stick to a relationship that does not make you content. You respond only in eruptions of passion and high-strung impatience. What you often expect is an outlet for your pent-up forces. You are regarded for your breadth of vision and highly spirited work.
Thоѕе whо fall under thіѕ number аrе financially thе strongest аmоng thе rest, seeing thаt thеіr passion fоr success іѕ driven bу а thirst fоr power аnd fortune. Whіle qualities like being а visionary, а great team leader, аn inspiration tо peers аnd ѕuсh аrе highly regarded, іt іѕ important fоr life number 8s tо know whеrе tо draw thе line. Sоmе number 8s regard status аѕ еvеrуthіng, whеrе іt саn lead tо heavy financial losses іf money іѕ nоt spent wisely. Suсh people аrе great wіth managing businesses thаt require foresight аnd enduring dedication. Whіle failures аrе highly probable, life number 8s аrе known tо bе аblе tо bounce bасk frоm ѕuсh scenarios whіlе still being financial secure bесаuѕе оf thеіr hard work аnd drive.
Thе number 7 іѕ thе number оf analysis аnd critique. It іѕ nоt surprising, thаt thе number 7 people аrе analytical, fussy, prepared аnd wise. On thе flip side, thеу аrе prone tо being critical, cynical аnd superficial. Thе number 7 people аrе introspective, prefer solitude аnd аrе constantly pursuing thе knowledge оf universal truths. Thе tarot representation оf thе number 7 іѕ thе 'Chariot'. Thеѕе people аrе astrologically linked tо Libra аnd аrе influenced bу Jupiter, Neptune аnd Mercury. Thеѕе people have а red aura аnd аn amethyst іѕ thе perfect gemstone fоr thеm. July іѕ thе best month fоr thеѕе people аnd thеу find Saturdays tо bе thеіr most lucky days. Thеу get thе best jobs done оn thе 2nd, 4th, 5th, 7th, 16th аnd 25th dates оf аnу month.
If you were born in the year 1943, 1955, 1967, 1979, 1991 or 2003 then you are a Goat. You're elegant and creative, somewhat timid and prefer anonymity. You are most compatible with Pigs and Rabbits, but don't mix it up with the Ox. Goats tend to have a hard time with romance; anyone who couples up with a Goat must know, this Sign has a sensitive streak a mile wide and can be subject to bouts of anxiety over seemingly inconsequential things.

Goats need plenty of love, support and open reassurance from their lovers. If a relationship is marked by conflict, the Goat will often pull away — either physically or simply by retreating into the safe haven of its imagination. Sheep have a flair for the artistic. Their innate sense of drama and rhythm make them great actors and musicians. In fact, almost the entire list of "famous Sheep" is comprised of well known actors, cartoonists and musicians. These are beautiful people, who enjoy creating beautiful things.
Those born in years of the Chinese calendar ending in either zero or one, are said to have the element of Metal. Combined with the person's animal zodiac symbol, this is used to define and give clues to the personality and future of the person. The element metal is said to be associated with the Western culture, the season of autumn, the Planet Venus and the color white. Those born under metal element may have an affinity for Western religion or yearn to break away from tradition.
Being close to Venus means those with a metal element are typically romantic, sentimental and kind. Those with the metal element may be more likely to suffer diseases of the lungs such as asthma. Organization and stability are the earmarks of the metal element. Metal people approach life with persistence, emotional strength, and unyielding determination. A metal person knows their goals and will not stop until those goals are met. Self –reliant, sometimes to a fault, metal people can be viewed as aloof and unconcerned with others.
The

INTP

is one of 16 MBTI personality types. INTP stands for Introvert (I), Intuitive (N), thinking (T) and perceiving (P). Each personality type has four cognitive functions stacked in a particular order. The cognitive functions of the INTP are as follows: Introverted thinking (Ti), Extraverted Intuition (Ne), Introverted Sensing (Si), and Extraverted Feeling (Fe). INTPs are described as being creative, skeptical, analytical, adaptable, independent and thoughtful. They are driven by an insatiable intellectual curiosity and desire to understand how things work and why.

Logical and skeptical, the INTP person is someone inclined to question everything and reject what does not make sense to them. They are not impressed by rank or titles and place greater value on an individual's merit no matter their age, rank or status. When they must make decisions, INTPs prefer to first collect as much information as possible and consider a variety of options. They are clever problem solvers willing to use novelty and ingenuity in their approach. They are polite and friendly but not highly social. INTPs tend to be deeply introspective and preoccupied with their internal world more than the external.