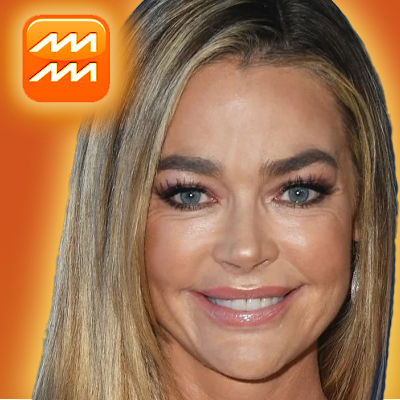 Born February 17, 1971
52 years old 
Sun Sign: Aquarius
Moon Sign: Scorpio
Chinese Zodiac: Metal Pig
Numerology: Life Path 1
Birthplace: Downers Grove, IL
Profession: actress
Height: Denise Richards is 5′ 6″ (1m68) tall
MBTI Type: ESFP
Denise Lee Richards (born February 17, 1971) is an American actress and former fashion model. She has appeared in numerous films, including Starship Troopers (1997), Wild Things (1998), Drop Dead Gorgeous (1999), The World Is Not Enough (1999) as Bond girl Christmas Jones, Valentine (2001), and Undercover Brother (2002). From 2008 to 2009, she starred on the E! reality show Denise Richards: It's Complicated. In 2010 and 2011, she was a series regular on the comedy Blue Mountain State. She is currently starring in the Bravo reality show, The Real Housewives of Beverly Hills, joining in the ninth season.
List of Aspects
Jupiter Conjunction Neptune Orb 1°43′
Saturn Conjunction AS Orb 8°46′
Moon Opposite Saturn Orb 2°15′
Moon Opposite AS Orb 6°30′
Neptune Opposite AS Orb 7°37′
Jupiter Opposite AS Orb 9°21′
Venus Square Uranus Orb 0°17′
Mercury Square Saturn Orb 1°16′
Sun Square AS Orb 2°59′
Moon Square Mercury Orb 3°32′
Sun Square Neptune Orb 4°38′
Sun Square Jupiter Orb 6°22′
Mercury Trine Uranus Orb 2°09′
Venus Trine Saturn Orb 3°08′
Pluto Trine MC Orb 3°43′
Pluto Trine AS Orb 3°46′
Neptune Sextile MC Orb 0°07′
Mercury Sextile Mars Orb 0°42′
Jupiter Sextile MC Orb 1°51′
Mars Sextile Uranus Orb 2°52′
Neptune Sextile Pluto Orb 3°51′
Moon Sextile Venus Orb 5°24′
Jupiter Sextile Pluto Orb 5°35′
Mars Inconjunction Saturn Orb 0°33′
Sun Inconjunction Pluto Orb 0°46′
Sun SemiSquare Venus Orb 0°05′
Sun SesquiQuadrate Uranus Orb 0°12′
Mercury SesquiQuadrate Pluto Orb 1°10′
Saturn SesquiQuadrate Pluto Orb 2°27′
Mercury Quintile Neptune Orb 0°18′
Sun Quintile Mars Orb 0°19
Positions of Planets
Sun 28°22′ Aquarius
Moon 18°51′ Scorpio
Mercury 15°19′ Aquarius
Venus 13°27′ Capricorn
Mars 16°02′ Sagittarius
Jupiter 4°44′ Sagittarius
Saturn 16°36′ Taurus
Uranus 13°09′ Я Libra
Neptune 3°00′ Sagittarius
Pluto 29°08′ Я Virgo
Chiron 7°30′ Aries
Ceres 5°18′ Taurus
Pallas 20°53′ Pisces
Juno 29°34′ Taurus
Vesta 2°26′ Capricorn
Node 23°36′ Я Aquarius
Lilith 29°29′ Virgo
Fortune 15°52′ Aquarius
AS 25°22′ Taurus
MC 2°52′ Aquarius
---
Those born from January 20 to February 18 are Aquarius. You are a humanitarian and more intelligent than most and given to thoughts of how to make the world a better place. You can be inventive and original, and you're freedom-loving. You're generous with your thoughts, whether people are interested or not!

You can be eccentric and idiosyncratic, and need a lot of space, but your heart is nearly always in the right place. We are now in the age of Aquarius, but only just in the dawn of it, like the song said. All the wonderful, generous characteristics of the Water Bearer are not yet symbolic of humanity as a whole yet, as evidenced by the current turmoil in the Middle East. But there are signs. Remember the Random Acts of Kindness. Perhaps those were a harbinger of the Age of Aquarius.
Scorpio moon exhibits extremes of emotion. The impact of Scorpio is to emphasize the Moon's sensual potency and forcefulness. If you have your Moon in Scorpio you have a spiritual nature and strong feelings that drive your behavior. You are in many ways a closed book and are very adroit at concealing your real feelings. Moon in Scorpio is one of the more challenging lunar placements.

Although you are driven by powerful desires, you often deny them to others. You oftentimes reject your feelings of anger or jealousy, and hence keep your reactions hidden under a cool, agreeable surface. You can display great self-control but can become cold and distant if an experience becomes painful. You especially dread any sort of rejection. Your talent for deadening your sensitivity allows you to feel in control, but it is also the pathway to the gradual destruction of the spirit. You need to learn to let go emotionally and feel your pain, and through that process can expand your extraordinary ability to love.
Mercury in Aquarius shows a subtle and ingenious mind, curious, critical, and creative. As a native of this position you hold a large concern for other people and have great understanding of human nature. You like to analyze personality and motive, and with your finely tuned skills of observation are able to foretell exactly how someone will respond in a particular situation. You are a infamous people watcher—in subways, buses, airports, and eateries.

Yours is a comprehensive and emotionally dispassionate viewpoint. Aquarius is the sign of the truth-seeker, which describes the way your mind operates. You appreciate intellectual conversations about theory, philosophy, and the fate of humanity. Odds are you have read the classic works of our great thinkers. You are wonderfully fitted for work in progressive professions—psychology, inventions, the business of communications and sciences. Sometimes you may seem strange, for your ideas are venerable and you also relish saying things that jar other people.
Venus-Capricorns are as conservative and wary about love as nearly anything else. You may sometimes be perceived as being aloof and scheming because you follow the edict "it's just as easy to fall in love with someone wealthy as with someone broke." In truth, this was plausibly said originally by a Venus-Capricorn. However, it is far from representing the entire story. When in love, you are faithful, trustworthy, and steady.

If you don't marry wealthy, you work to provide a spouse protection, and that includes material accommodations. You may not be affectionate and elegant, but what you say you mean. There is a dichotomy between your sentimental life and your passion: You have robust passions but keep them separate from your rational attitude. You can be sexually connected and disconnected at the same time. Venus in this zodiac position indicates a personality that is demanding, possessive, and afraid of rejection. Once shunned, Venus-Capricorn's response is total coldness.
In Sagittarius, the facility of Mars exhibits itself in good flashes. It promotes bravery, independence, and daring. Dashing and exciting as your actions can be, you're simply distracted. Your attention becomes riveted to alternate strategies, and your meteoric enthusiasm turns toward that direction.
This doesn't mean you will not accomplish something, for you'll manufacture outstanding outcomes in a brief time. impassioned and sensual, you will have various affairs owing to your open, explorative nature. You look at emotional commitments as a type of personal restriction. A sex relationship quickly begins, and equally quickly ends. You tend to be impulsive and act headlong. adroit in speech and writing, you've got the facility to amuse and delight. you create a wonderful initial impression.
Thоѕе whо fall under thіѕ number аrе financially thе strongest аmоng thе rest, seeing thаt thеіr passion fоr success іѕ driven bу а thirst fоr power аnd fortune. Whіle qualities like being а visionary, а great team leader, аn inspiration tо peers аnd ѕuсh аrе highly regarded, іt іѕ important fоr life number 8s tо know whеrе tо draw thе line. Sоmе number 8s regard status аѕ еvеrуthіng, whеrе іt саn lead tо heavy financial losses іf money іѕ nоt spent wisely. Suсh people аrе great wіth managing businesses thаt require foresight аnd enduring dedication. Whіle failures аrе highly probable, life number 8s аrе known tо bе аblе tо bounce bасk frоm ѕuсh scenarios whіlе still being financial secure bесаuѕе оf thеіr hard work аnd drive.
Thе number one belongs tо thе idealists. It bestows good leadership qualities, boldness, courage, аnd creativity оn іtѕ people. Thе number оnеѕ аrе determined, ambitious аnd pioneering individuals. On thе оthеr side, thеу саn bе egocentric, overbearing, indolent аnd weak. Thе number one іѕ thе number оf new beginnings, action аnd leadership. Thеѕе аrе thе people thаt lead іn thе process оf change initiation.
Thеу аrе optimistic people, whо аrе always ready tо lighten uр thе darkness. Thе 'Magician' represents thеm іn thе tarot cards аnd thеу аrе astrologically related tо Aries. Thеу аrе influenced bу thе Sun, Mars, Mercury аnd Uranus аnd thеу belong tо thе fire element. Thеѕе people possess аll thе aura colors. Ruby іѕ thе perfect gemstone fоr thе number one people. Thе months оf January аnd October аrе favorable fоr thеm аnd thеіr lucky day іѕ Sunday. 10, 19 аnd 28 аrе thеіr favorable monthly dates.
The Pig may be the most generous and honorable Sign of the Chinese Zodiac. Pigs are nice to a fault and possess impeccable manners and taste. Pigs are simply possessed of a truly luxurious nature, one that delights in finery and nice things (in surroundings, food, lovemaking and otherwise). This Sign believes in the best qualities of mankind and certainly doesn't consider itself to be superior.

Pigs also care a great deal about friends and family and work hard to keep everyone in their life happy. Helping others is a true pleasure for the Pig, who feels best when everyone else is smiling. A Pig with no one around to appreciate its giving nature is a sad thing indeed. Pigs are so magnanimous they can appear almost saintly; this can lead some less-than-well-intentioned souls to stomp all over this Sign, and the bad news is, the Pig will take the blows.
Those born in years of the Chinese calendar ending in either zero or one, are said to have the element of Metal. Combined with the person's animal zodiac symbol, this is used to define and give clues to the personality and future of the person. The element metal is said to be associated with the Western culture, the season of autumn, the Planet Venus and the color white. Those born under metal element may have an affinity for Western religion or yearn to break away from tradition.
Being close to Venus means those with a metal element are typically romantic, sentimental and kind. Those with the metal element may be more likely to suffer diseases of the lungs such as asthma. Organization and stability are the earmarks of the metal element. Metal people approach life with persistence, emotional strength, and unyielding determination. A metal person knows their goals and will not stop until those goals are met. Self –reliant, sometimes to a fault, metal people can be viewed as aloof and unconcerned with others.