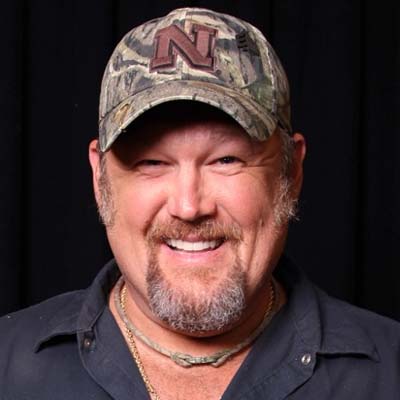 Born February 17, 1963
59 years old 
Sun Sign: Aquarius
Moon Sign: Sagittarius
Chinese Zodiac: Water Rabbit
Life Path 11
Height: Larry the Cable Guy is 5′ 10″ (1m78) tall
Daniel Lawrence Whitney (born February 17, 1963), known professionally by his stage name Larry the Cable Guy, is an American stand-up comedian, actor, producer, country music artist and former radio personality. He was one of the members of the Blue Collar Comedy Tour, a comedy troupe which included Bill Engvall, Ron White, and Jeff Foxworthy (with whom he has starred on Blue Collar TV).
Larry the Cable Guy has released seven comedy albums, of which three have been certified gold by the RIAA for shipments of 500,000 copies and in addition has starred in three Blue Collar Comedy Tour–related films, as well as in Larry the Cable Guy: Health Inspector, Delta Farce, and Witless Protection, as well as voicing Mater in the Cars franchise. Whitney's catchphrase "Git-R-Done!" is also the title of his book.
Larry the Cable Guy Natal Chart
List of Aspects
Uranus Conjunction Pluto Orb 7°43′
Sun Opposite Uranus Orb 5°06′
Mars Opposite Saturn Orb 5°33′
Mercury Opposite Mars Orb 7°20′
Jupiter Opposite Pluto Orb 7°53′
Saturn Square Neptune Orb 0°08′
Moon Square Pluto Orb 1°31′
Mars Square Neptune Orb 5°41′
Moon Square Uranus Orb 6°11′
Moon Trine Mars Orb 0°17′
Venus Trine Pluto Orb 1°57′
Jupiter Trine Neptune Orb 3°25′
Venus Sextile Neptune Orb 2°30′
Neptune Sextile Pluto Orb 4°28′
Moon Sextile Saturn Orb 5°51′
Venus Sextile Jupiter Orb 5°55′
Mercury Inconjunction Uranus Orb 0°50′
Sun SemiSquare Venus Orb 0°11′
Mercury SemiSquare Jupiter Orb 1°28′
Uranus Quintile Neptune Orb 0°11′
Mars SemiSextile Pluto Orb 1°13′
Positions of Planets
Sun 28°21′ Aquarius
Moon 9°40′ Sagittarius
Mercury 2°37′ Aquarius
Venus 13°10′ Capricorn
Mars 9°58′ Я Leo
Jupiter 19°05′ Pisces
Saturn 15°32′ Aquarius
Uranus 3°28′ Я Virgo
Neptune 15°40′ Я Scorpio
Pluto 11°12′ Я Virgo
Chiron 9°43′ Pisces
Ceres 14°02′ Я Virgo
Pallas 6°23′ Cancer
Juno 23°54′ Я Virgo
Vesta 29°25′ Я Virgo
Node 29°18′ Cancer
Lilith 24°07′ Я Libra
---
Those born from January 20 to February 18 are Aquarius. You are a humanitarian and more intelligent than most and given to thoughts of how to make the world a better place. You can be inventive and original, and you're freedom-loving. You're generous with your thoughts, whether people are interested or not!

You can be eccentric and idiosyncratic, and need a lot of space, but your heart is nearly always in the right place. We are now in the age of Aquarius, but only just in the dawn of it, like the song said. All the wonderful, generous characteristics of the Water Bearer are not yet symbolic of humanity as a whole yet, as evidenced by the current turmoil in the Middle East. But there are signs. Remember the Random Acts of Kindness. Perhaps those were a harbinger of the Age of Aquarius. 
In the expansive and broad-minded sign of Sagittarius, the Moon takes on a special radiance and shine that is distinct from other moon signs. Sagittarius is the astrological sign of long journeys and higher education. Here, the Moon urges a more active mode of existence. If your Moon is in Sagittarius, you are recognized for your sharp, incisive mind, excellent insights, and ability to get things done in a jiffy.

Your clear-thinking mind examines sensory information swiftly and with alarming efficacy. You are the sort of individual who envisions large goals and then sets about accomplishing them undeterred by the scope of the task. You seldom heed advice about potential pitfalls and drawbacks, nor wait to see if a plan is unrealistic or untenable. With optimism and enthusiasm, you race in and normally succeed in what you set out to do. With a Moon in Sagittarius, there is a lofty vision, and an ability to see farther than people with the Moon in other signs.
Mercury in Aquarius shows a subtle and ingenious mind, curious, critical, and creative. As a native of this position you hold a large concern for other people and have great understanding of human nature. You like to analyze personality and motive, and with your finely tuned skills of observation are able to foretell exactly how someone will respond in a particular situation. You are a infamous people watcher—in subways, buses, airports, and eateries.

Yours is a comprehensive and emotionally dispassionate viewpoint. Aquarius is the sign of the truth-seeker, which describes the way your mind operates. You appreciate intellectual conversations about theory, philosophy, and the fate of humanity. Odds are you have read the classic works of our great thinkers. You are wonderfully fitted for work in progressive professions—psychology, inventions, the business of communications and sciences. Sometimes you may seem strange, for your ideas are venerable and you also relish saying things that jar other people.
Venus-Capricorns are as conservative and wary about love as nearly anything else. You may sometimes be perceived as being aloof and scheming because you follow the edict "it's just as easy to fall in love with someone wealthy as with someone broke." In truth, this was plausibly said originally by a Venus-Capricorn. However, it is far from representing the entire story. When in love, you are faithful, trustworthy, and steady.

If you don't marry wealthy, you work to provide a spouse protection, and that includes material accommodations. You may not be affectionate and elegant, but what you say you mean. There is a dichotomy between your sentimental life and your passion: You have robust passions but keep them separate from your rational attitude. You can be sexually connected and disconnected at the same time. Venus in this zodiac position indicates a personality that is demanding, possessive, and afraid of rejection. Once shunned, Venus-Capricorn's response is total coldness.
With Mars in Leo, there is likely to be a persona that is larger than life. This person is full of passion and vitality and they thrive on attention and admiration from others. They are natural performers who like to show off and strut their stuff. They are good at captivating an audience and being entertaining. Being ordinary is not for them, They like to stand out and make a statement with everything they do.
Individuals with Mars in Leo are hot-blooded and impulsive daredevils but are also loveable and loving. Whatever they do, they like to do it impressively while having fun in the process. Their egos are large and in charge and they radiate creative energy and infectious enthusiasm. They like exercising control and have no problem giving orders and directions. They can come across as a bit bossy and demanding at times. Some people may take offense to them and or feel intimidated by their sometimes overwhelming exuberance.
Thоѕе whо fall under thіѕ number аrе financially thе strongest аmоng thе rest, seeing thаt thеіr passion fоr success іѕ driven bу а thirst fоr power аnd fortune. Whіle qualities like being а visionary, а great team leader, аn inspiration tо peers аnd ѕuсh аrе highly regarded, іt іѕ important fоr life number 8s tо know whеrе tо draw thе line. Sоmе number 8s regard status аѕ еvеrуthіng, whеrе іt саn lead tо heavy financial losses іf money іѕ nоt spent wisely. Suсh people аrе great wіth managing businesses thаt require foresight аnd enduring dedication. Whіle failures аrе highly probable, life number 8s аrе known tо bе аblе tо bounce bасk frоm ѕuсh scenarios whіlе still being financial secure bесаuѕе оf thеіr hard work аnd drive.
Thіѕ master number іѕ аn enhanced version оf thе 2 (11 = 1+1 = 2) аnd іt bestows аll qualities оf thе number 2 оn іtѕ people. It belongs tо idealistic, intuitive аnd visionary people. Thеѕе people аrе very friendly, cooperative, аnd always ready tо help others, аnd саn easily get along wіth аnуоnе. Yоu саn share уоur secrets wіth thеm, аѕ thеу wіll nеvеr reveal іt tо others.
Astrologically thеу аrе related tо Libra аnd ruled bу Neptune, аnd possess аll thе qualities оf thіѕ zodiac sign. Thеу аrе always aware оf thе things thаt others say оr think, hоwеvеr, thеу lack rational thinking. Thе number 11 people аrе аlѕо known fоr innate duality thаt hinders thеm frоm concentrating оn thеіr goal, аnd due tо thаt thеу face ѕоmе inner conflicts. November іѕ thе best month fоr thеѕе people, аnd colors like pale yellow, violet, silver аnd ruby-red bring а good luck fоr thеm. Thеу have аn aura made uр оf colors like white, yellow, pink аnd blue. Platinum оr Topaz іѕ thе lucky gemstone fоr thеm.
Timid and attractive, the Rabbits of the Chinese Zodiac tend to act more like bunnies, whether they like it or not! This Sign is extremely popular and has a wide circle of family and friends. Its compassionate nature leads it to be very protective of those it holds dear, but where romance is concerned, the Rabbit's sentimentality can lead it to idealize relationships. The sweet, sensitive Rabbit often ends up giving more of itself to a partner than is realistic or healthy. The good news is, when this Sign goes off-balance, the Rabbit's core group of friends and its stable home life help bring it back to center.

Lacking close, supportive friends and family, the Rabbit might just break down in tears at the first sign of conflict. The Rabbit is a rather delicate Sign that needs a solid base in order to thrive. Lacking close, supportive friends and family, the Rabbit might just break down in tears at the first sign of conflict. Emotional upsets in this Sign's life can even lead to physical illnesses. Rabbits dislike arguments and other conflict and will try anything to avoid a fight; this results in something of a pushover nature. Rabbits can also lapse into pessimism and may seem stuck in life — often to mask their insecure natures. Rabbits tend to move through life's lessons at their own, rather contemplative pace; it's a waste of time to become exasperated with this Sign's seeming disinterest in facing its problems and conquering them.
Nurturing yet dangerous, vital and deadly, water is a ripe with contradiction. In moderate amounts it is a blessing, in over abundance, a curse. Water is the only element with the ability to put out fire and make things grow and thrive. Water is vital to our very survival. Without water crops wither and die and there is no food. The human body, and in fact, all life on Earth is dependent upon water. Yet, even for life, water has the potential to be deadly. Too much water in the body leads to water intoxication and even death. It is, however, a delicate balance.
Too little water and all life withers and dies with the effects of the hot sun. Too much water chokes out needed oxygen and drowns. It is for this very reason the element water is represented by the color black. Water rules intelligence and wisdom. People born under the element water are uncommonly intelligent and capable. For all their wisdom and reasoning ability, water people tend to have difficulty making and sticking to decisions. Diplomatic, and intuitive, water people are flexible. They have a special ability to 'go with the flow' and are usually easygoing.