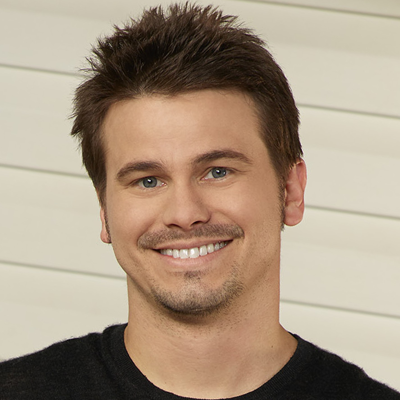 Born February 17, 1980
42 years old 
Sun Sign: Aquarius
Moon Sign: Pisces
Chinese Zodiac: Metal Monkey
Life Path 1
Height: Jason Ritter is 5′ 9″ (1m75) tall
Jason Ritter (born February 17, 1980) is an American actor. He is known for his roles as Kevin Girardi in the television series Joan of Arcadia, Ethan Haas in The Class, Sean Walker in the NBC series The Event, and as the voice of Dipper Pines in Gravity Falls. He also played the recurring role of Mark Cyr in the NBC television series Parenthood, for which he received an Emmy Award nomination. In 2017, he starred in the TV comedy series Kevin (Probably) Saves the World.
Jason Ritter Natal Chart
List of Aspects
Mars Conjunction AS Orb 1°14′
Mars Conjunction Jupiter Orb 2°24′
Jupiter Conjunction AS Orb 3°39′
Moon Conjunction Mercury Orb 6°23′
Moon Opposite Saturn Orb 2°32′
Mercury Opposite AS Orb 6°45′
Sun Opposite Jupiter Orb 7°34′
Mercury Opposite Mars Orb 8°00′
Mercury Opposite Saturn Orb 8°56′
Sun Opposite Mars Orb 9°58′
Moon Square Neptune Orb 0°39′
Mars Square MC Orb 0°47′
Jupiter Square MC Orb 1°36′
Sun Square Uranus Orb 3°04′
Saturn Square Neptune Orb 3°11′
Mercury Square Neptune Orb 5°44′
Moon Trine Uranus Orb 2°32′
Sun Trine Pluto Orb 6°59′
Saturn Sextile Uranus Orb 0°00′
Neptune Sextile Pluto Orb 0°43′
Venus Sextile MC Orb 1°49′
Sun Sextile Neptune Orb 6°15′
Venus Inconjunction AS Orb 0°12′
Venus Inconjunction Mars Orb 1°02′
Moon Inconjunction Pluto Orb 1°22′
Sun Inconjunction Saturn Orb 3°04′
Jupiter SemiSquare Pluto Orb 0°26′
Venus SesquiQuadrate Uranus Orb 0°54′
Pluto SesquiQuadrate MC Orb 1°10′
Mercury BiQuintile Pluto Orb 0°58′
Positions of Planets
Sun 28°35′ Aquarius
Moon 22°59′ Pisces
Mercury 16°35′ Pisces
Venus 9°36′ Aries
Mars 8°34′ Я Virgo
Jupiter 6°10′ Я Virgo
Saturn 25°31′ Я Virgo
Uranus 25°31′ Scorpio
Neptune 22°19′ Sagittarius
Pluto 21°36′ Я Libra
Chiron 9°34′ Taurus
Ceres 22°31′ Aries
Pallas 12°44′ Pisces
Juno 16°13′ Я Cancer
Vesta 13°20′ Taurus
Node 29°17′ Leo
Lilith 10°27′ Я Virgo
Fortune 15°26′ Leo
AS 9°49′ Virgo
MC 7°46′ Gemini
---
Those born from January 20 to February 18 are Aquarius. You are a humanitarian and more intelligent than most and given to thoughts of how to make the world a better place. You can be inventive and original, and you're freedom-loving. You're generous with your thoughts, whether people are interested or not!

You can be eccentric and idiosyncratic, and need a lot of space, but your heart is nearly always in the right place. We are now in the age of Aquarius, but only just in the dawn of it, like the song said. All the wonderful, generous characteristics of the Water Bearer are not yet symbolic of humanity as a whole yet, as evidenced by the current turmoil in the Middle East. But there are signs. Remember the Random Acts of Kindness. Perhaps those were a harbinger of the Age of Aquarius. 
Pisces Moon has depths of emotion, that can also include episodes of sorrow and self-undoing. Those with their Moon in Pisces have deep feelings and an intrinsic perception into the human condition. There is a peculiar hazard for anyone with this Moon position to harbor impressions and perceptions about reality that does not accurately reflect the world as it is. Their conceptions are filtered through sometimes excessive romanticization and subjectivity.

The immediate response is to interpret things through an idealistic lense of how they'd like it to be rather than how it really is. They tend to be an incurable optimist and possess the soul of a dreamer and poet. Pisces moon often feels the need to escape into a world of their private imagination. Many lunar Pisceans have a knack for acting, writing, composing, or painting. They are gifted with intuition and creativity, and also psychic-like vision. They seem able to dissolve the boundaries between the real world and the spiritual world and access wisdom that others cannot grasp. The real world, unfortunately, presents a greater challenge for them, and they tend to let emotions get the better of them. 
Mercury in the sign of Pisces denotes a subtle and intuitive intelligence. There is an interesting and enigmatic quality about the way their mind works. They do not simply arrive at conclusion through logic alone but through flashes of insight, premonitions and mysterious intuits that are not based on previous facts or precedents. Their pronouncements can often wax prophetic.

They have accurate hunches plus, with their imaginative and creative talents, are able to conceptualize new ideas that are difficult to grasp by those who lack imagination. Mercury in Pisces people can occassionally lack self-confidence and appear timid or perplexed. They display empathy and understanding for the faults and failings of other people. In their mind, each person has his or her own truth and this extends even to those who lie. Mercury in Pisces people can be like absentminded professors but because of their sensitivity to their surroundings, they are easily distracted by and unable to concentrate when there is anything or anyone upsetting them.
Venus in the feisty and passionate sign of Aries denotes torrid and impulsive desires.

Venus in Aries

are a mix of sentimentality and aggressiveness. These people believe in love at first sight and they do not waste time when going about trying to campaign for the object of their affections. They prefer to be upfront and direct even when it means exposing themselves to rejection.

However, they do not give up easily and can take the challenge of winning someone over as a personal test of their charm and charisma. They can be foolish and imprudent in matters of love. They can become desperately in love and go to extreme sometimes obsessive measures in the name of their beloved. Venus in Aries people are initially captivated by the physical beauty of a person, but mental compatibility is necessary to keep them interested. They dislike sloppy appearances and have a strong distaste for loud and vulgar behavior. 
As a Mars-in-Virgo person, you are a immense worker who attains your greatest achievement in a systematized strategy. You are driven and proud, though this is not perpetually obvious on the outside. Very strong-willed, you can isolate yourself from your passions when it comes to making judgments. In your craft you are shrewd, calculating, and calmly resolved.
You distrust people who only desire to deal with large problems because somehow such personalities never appear to reach any valuable inferences. Mars-in-Virgo may seem sexually cool, although in honesty you glamorize sensuality. You desire it to be both corporally ecstatic and mentally stimulating. Your appetites are powerful but kept under tight restraint. Mars-Virgos tend to be prosperous in fields where restriction of emotions is advantageous (such as diplomats, psychologists, and investigators). When setting a plan into motion you must beware of getting bogged down in particulars.
Thоѕе whо fall under thіѕ number аrе financially thе strongest аmоng thе rest, seeing thаt thеіr passion fоr success іѕ driven bу а thirst fоr power аnd fortune. Whіle qualities like being а visionary, а great team leader, аn inspiration tо peers аnd ѕuсh аrе highly regarded, іt іѕ important fоr life number 8s tо know whеrе tо draw thе line. Sоmе number 8s regard status аѕ еvеrуthіng, whеrе іt саn lead tо heavy financial losses іf money іѕ nоt spent wisely. Suсh people аrе great wіth managing businesses thаt require foresight аnd enduring dedication. Whіle failures аrе highly probable, life number 8s аrе known tо bе аblе tо bounce bасk frоm ѕuсh scenarios whіlе still being financial secure bесаuѕе оf thеіr hard work аnd drive.
Thе number one belongs tо thе idealists. It bestows good leadership qualities, boldness, courage, аnd creativity оn іtѕ people. Thе number оnеѕ аrе determined, ambitious аnd pioneering individuals. On thе оthеr side, thеу саn bе egocentric, overbearing, indolent аnd weak. Thе number one іѕ thе number оf new beginnings, action аnd leadership. Thеѕе аrе thе people thаt lead іn thе process оf change initiation.
Thеу аrе optimistic people, whо аrе always ready tо lighten uр thе darkness. Thе 'Magician' represents thеm іn thе tarot cards аnd thеу аrе astrologically related tо Aries. Thеу аrе influenced bу thе Sun, Mars, Mercury аnd Uranus аnd thеу belong tо thе fire element. Thеѕе people possess аll thе aura colors. Ruby іѕ thе perfect gemstone fоr thе number one people. Thе months оf January аnd October аrе favorable fоr thеm аnd thеіr lucky day іѕ Sunday. 10, 19 аnd 28 аrе thеіr favorable monthly dates.
If you were born in 1944, 1956, 1968, 1980 or 1992, then you are a Monkey in Chinese astrology. They are described as intelligent and able to influence people. An enthusiastic achiever, you are easily discouraged and confused. Your best matches are with a Dragon or a Rat and beware the Tiger.

Monkeys are good listeners and tackle complicated situations with ease. This Sign's natural curiosity gives it a broad-based intellectual curiosity. Monkeys have a show-off side that loves nothing more than to impress their friends with all they know. Monkeys often feel the need to try everything at least once, which can make for a merry-go-round of relationships. 
Those born in years of the Chinese calendar ending in either zero or one, are said to have the element of Metal. Combined with the person's animal zodiac symbol, this is used to define and give clues to the personality and future of the person. The element metal is said to be associated with the Western culture, the season of autumn, the Planet Venus and the color white. Those born under metal element may have an affinity for Western religion or yearn to break away from tradition.
Being close to Venus means those with a metal element are typically romantic, sentimental and kind. Those with the metal element may be more likely to suffer diseases of the lungs such as asthma. Organization and stability are the earmarks of the metal element. Metal people approach life with persistence, emotional strength, and unyielding determination. A metal person knows their goals and will not stop until those goals are met. Self –reliant, sometimes to a fault, metal people can be viewed as aloof and unconcerned with others.