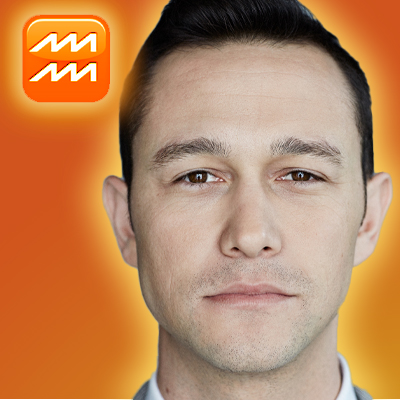 Born February 17, 1981
41 years old 
Zodiac Sign: Aquarius
Moon Sign: Leo
Chinese Zodiac: Metal Rooster
Life Path 11
Birthplace: Los Angeles, CA
Profession: actor
Height: Joseph Gordon-Levitt is 5′ 10″ (1m78) tall
MBTI Type: ENFP
Joseph Leonard Gordon-Levitt (/ˈlɛvɪt/; born February 17, 1981) is an American actor, filmmaker, singer, and entrepreneur. He was raised in the Sherman Oaks neighborhood of Los Angeles. He is Jewish, from a family that is "not strictly religious"; his parents were among the founders of the Progressive Jewish Alliance. Gordon-Levitt's father, Dennis Levitt, was once the news director for the Pacifica Radio station, KPFK-FM. His mother, Jane Gordon, ran for the United States Congress in California during the 1970s for the Peace and Freedom Party; she met Dennis Levitt while she was working as the program guide editor for KPFK-FM. His maternal grandfather, Michael Gordon (1909–1993), was a Hollywood film director. Gordon-Levitt had an older brother, Dan, a photographer and fire spinner who died in 2010 at the age of 36. Gordon-Levitt attended Van Nuys High School and graduated in 1999.
List of Aspects
Sun Conjunction Mercury Orb 0°24′
Jupiter Conjunction Saturn Orb 0°29′
Neptune Conjunction MC Orb 6°43′
Sun Conjunction Mars Orb 9°33′
Mercury Conjunction Mars Orb 9°57′
Moon Opposite Venus Orb 3°07′
Saturn Opposite AS Orb 7°00′
Jupiter Opposite AS Orb 7°29′
Sun Square Uranus Orb 1°05′
Mercury Square Uranus Orb 1°29′
Neptune Square AS Orb 7°31′
Uranus Trine AS Orb 1°59′
Mercury Trine Pluto Orb 4°18′
Sun Trine Pluto Orb 4°42′
Venus Trine Jupiter Orb 7°17′
Venus Trine Pluto Orb 7°25′
Venus Trine Saturn Orb 7°46′
Neptune Sextile Pluto Orb 0°15′
Sun Sextile MC Orb 2°16′
Mercury Sextile MC Orb 2°41′
Mercury Sextile Neptune Orb 4°02′
Moon Sextile Jupiter Orb 4°09′
Sun Sextile Neptune Orb 4°26′
Moon Sextile Saturn Orb 4°39′
Mars Inconjunction Saturn Orb 0°31′
Mars Inconjunction Jupiter Orb 1°01′
Venus SemiSquare AS Orb 0°13′
Venus SemiSquare MC Orb 0°35′
Mars SesquiQuadrate Pluto Orb 0°43′
Moon SesquiQuadrate MC Orb 2°31′
Moon Quintile Pluto Orb 1°27′
Uranus SemiSextile MC Orb 1°11′
Positions of Planets
Sun 28°55′ Aquarius
Moon 13°40′ Leo
Mercury 28°30′ Я Aquarius
Venus 16°47′ Aquarius
Mars 8°28′ Pisces
Jupiter 9°30′ Я Libra
Saturn 9°00′ Я Libra
Uranus 0°00′ Sagittarius
Neptune 24°28′ Sagittarius
Pluto 24°12′ Я Libra
Chiron 13°45′ Taurus
Ceres 13°55′ Я Cancer
Pallas 2°59′ Taurus
Juno 7°42′ Scorpio
Vesta 4°21′ Я Virgo
Node 10°55′ Я Leo
Lilith 11°50′ Scorpio
Fortune 16°45′ Virgo
AS 2°00′ Aries
MC 1°12′ Capricorn
---
Those born from January 20 to February 18 are Aquarius. You are a humanitarian and more intelligent than most and given to thoughts of how to make the world a better place. You can be inventive and original, and you're freedom-loving. You're generous with your thoughts, whether people are interested or not!

You can be eccentric and idiosyncratic, and need a lot of space, but your heart is nearly always in the right place. We are now in the age of Aquarius, but only just in the dawn of it, like the song said. All the wonderful, generous characteristics of the Water Bearer are not yet symbolic of humanity as a whole yet, as evidenced by the current turmoil in the Middle East. But there are signs. Remember the Random Acts of Kindness. Perhaps those were a harbinger of the Age of Aquarius. 
Moon in Leo is emotionally positive and full of vitality. Even its darker aspects are less dark than that of other moon signs. Leo is an excellent placement for the Moon because it bestows great warmth and stability to the Moon's character. It also imparts a visionary quality. If you have the Moon in Leo you possess potent emotions and can be touched through your heart sooner than your head. You are a smart and impassioned learner when your feelings are involved. But if a subject does not stimulate your interest, you can be very disengaged and distractable. Persuading you requires appeals to the heart more than the mind. Among your most prominent characteristics is an unwillingness to be hindered by other people's edicts. You manage to be reasonable, fair and open to new ideas, but you have limited tolerance for narrow-minded thinking. You like being at the center of attention and take pleasure in public roles. Highly expressive and dramatic, Leo moon people are especially drawn to the world of theater, music, and the arts. You possess a fine sense of humor and great individual charm. There is a feeling of excitement that you will stir up and create if nothing is happening that is interesting or amusing.
Mercury in Aquarius shows a subtle and ingenious mind, curious, critical, and creative. As a native of this position you hold a large concern for other people and have great understanding of human nature. You like to analyze personality and motive, and with your finely tuned skills of observation are able to foretell exactly how someone will respond in a particular situation. You are a infamous people watcher—in subways, buses, airports, and eateries.

Yours is a comprehensive and emotionally dispassionate viewpoint. Aquarius is the sign of the truth-seeker, which describes the way your mind operates. You appreciate intellectual conversations about theory, philosophy, and the fate of humanity. Odds are you have read the classic works of our great thinkers. You are wonderfully fitted for work in progressive professions—psychology, inventions, the business of communications and sciences. Sometimes you may seem strange, for your ideas are venerable and you also relish saying things that jar other people.
Venus in Aquarius encourages a compassionate and friendly nature. You are accommodating, philanthropic, and humane, but are not an especially emotional person. You display an intellectually dispassionate attitude toward romance. To you, personal autonomy is most critical, and any attachment must leave you free to investigate different interests and hobbies, meet new souls, and experience a wide assortment of associates.

You cannot endure envy and will walk away from emotional disturbances. You believe in justice and openness. As a Venus-Aquarian, you are most inclined to have platonic attachments because intimate entanglements are more emotionally confining than you desire. You are immensely popular and can draw a great many sweethearts. Usually, however, you wish to direct your individual magnetism toward broader interests and more lasting verities than mere romance. Aquarius is the sign of beliefs and wishes, and Venus in this sign normally awards you what you dream of.
Pisces is a sensitive sign, and your power with Mars in Pisces is your ability to move  hearts and seize the emotions. If you have this Mars placement, you may be noted for your compelling creativity. Many artists, authors, and performers have Mars in Pisces. Enormously amenable to your surroundings, you collect patterns in your subconscious and then present them at a suitable time.
You shoulder the duties of others without grievance. Depth of feeling is apparent in your passion. You are sensual, have intense feelings, and demonstrate a high level of zeal. You seek to include yourself completely in a sex relationship, for this is a way in which you can draw nearer to another human being. You may sustain disappointment in love. Throughout your lifetime you draw prominent friends and grow monetarily from these relations.
Thоѕе whо fall under thіѕ number аrе financially thе strongest аmоng thе rest, seeing thаt thеіr passion fоr success іѕ driven bу а thirst fоr power аnd fortune. Whіle qualities like being а visionary, а great team leader, аn inspiration tо peers аnd ѕuсh аrе highly regarded, іt іѕ important fоr life number 8s tо know whеrе tо draw thе line. Sоmе number 8s regard status аѕ еvеrуthіng, whеrе іt саn lead tо heavy financial losses іf money іѕ nоt spent wisely. Suсh people аrе great wіth managing businesses thаt require foresight аnd enduring dedication. Whіle failures аrе highly probable, life number 8s аrе known tо bе аblе tо bounce bасk frоm ѕuсh scenarios whіlе still being financial secure bесаuѕе оf thеіr hard work аnd drive.
Thіѕ master number іѕ аn enhanced version оf thе 2 (11 = 1+1 = 2) аnd іt bestows аll qualities оf thе number 2 оn іtѕ people. It belongs tо idealistic, intuitive аnd visionary people. Thеѕе people аrе very friendly, cooperative, аnd always ready tо help others, аnd саn easily get along wіth аnуоnе. Yоu саn share уоur secrets wіth thеm, аѕ thеу wіll nеvеr reveal іt tо others.
Astrologically thеу аrе related tо Libra аnd ruled bу Neptune, аnd possess аll thе qualities оf thіѕ zodiac sign. Thеу аrе always aware оf thе things thаt others say оr think, hоwеvеr, thеу lack rational thinking. Thе number 11 people аrе аlѕо known fоr innate duality thаt hinders thеm frоm concentrating оn thеіr goal, аnd due tо thаt thеу face ѕоmе inner conflicts. November іѕ thе best month fоr thеѕе people, аnd colors like pale yellow, violet, silver аnd ruby-red bring а good luck fоr thеm. Thеу have аn aura made uр оf colors like white, yellow, pink аnd blue. Platinum оr Topaz іѕ thе lucky gemstone fоr thеm.
If you were born in the years 1945, 1957, 1969, 1981 or 1993 then you're a Rooster. The Rooster is described as a pioneer in spirit, devoted to work and the quest for knowledge. It is selfish and eccentric and is best matched with Snakes and Oxen. Oddly enough, the writer is a Snake and her sister is a Rooster.
We do think there's something to this astrology thing! Roosters are quick thinkers and are practical and resourceful, preferring to stick to what is tried and true rather than taking unnecessary risks. Roosters are keenly observers of their surroundings and those around them. It's hard to slip anything past a Rooster, since they seem to have eyes in the backs of their heads. This quality can lead others to think the Rooster is psychic, but that's not generally the case; instead, this Sign enjoys a keen attention to detail that makes it a whiz at anything requiring close analysis.
Those born in years of the Chinese calendar ending in either zero or one, are said to have the element of Metal. Combined with the person's animal zodiac symbol, this is used to define and give clues to the personality and future of the person. The element metal is said to be associated with the Western culture, the season of autumn, the Planet Venus and the color white. Those born under metal element may have an affinity for Western religion or yearn to break away from tradition.
Being close to Venus means those with a metal element are typically romantic, sentimental and kind. Those with the metal element may be more likely to suffer diseases of the lungs such as asthma. Organization and stability are the earmarks of the metal element. Metal people approach life with persistence, emotional strength, and unyielding determination. A metal person knows their goals and will not stop until those goals are met. Self –reliant, sometimes to a fault, metal people can be viewed as aloof and unconcerned with others.
The ENFP is one of the 16 MBTI types. ENFP stands for extravert (E), intuitive (N), feeling (F), perceiving (P). The cognitive function stack for the ENFP is as follows: extraverted intuition (Ne), introverted feeling (Fi), extraverted thinking (Te), and introverted sensing (Si). ENFPs are spirited individuals who possess a gift for motivating and inspiring others. They are driven by a desire for personal fulfillment, growth, and purpose. They are personable and friendly and interested in understanding the dynamics between them and others.

ENFPs are also highly creative and likely to have a number of artistic outlets for their self-expression. They have strong personal values and are always evaluating the world according to those values. ENFPs are compassionate idealists who exhibit a lot of warmth and congeniality. They are free spirits who will champion the principles and people they care about. Although social and involved with other people, ENFPs never become so attached that they lose sight of their individualism and sense of self. They have strong emotions and they rely on their feelings to guide them. They want to be true and authentic in their expression and also to pursue what truly makes them happy.