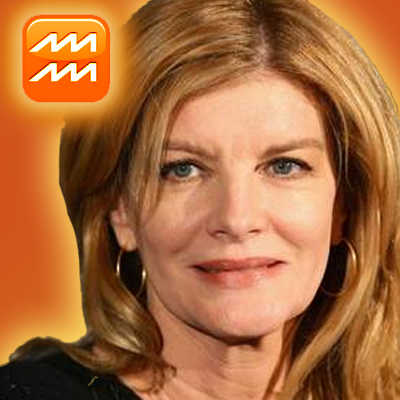 Born February 17, 1954
68 years old 
Zodiac Sign: Aquarius
Moon Sign: Leo
Chinese Zodiac: Wood Horse
Life Path 11
Birthplace: Los Angeles, CA
Profession: actress
Height: Rene Russo is 5′ 8″ (1m73) tall
Rene Marie Russo (born February 17, 1954) is an American actress, producer, and former model. Russo began her career as a fashion model in the 1970s, appearing on several magazine covers such as Vogue and Cosmopolitan. She made her film debut in the 1989 comedy film Major League, and rose to international prominence in a number of thrillers and action films throughout the 1990s, including Lethal Weapon 3 (1992), In the Line of Fire (1993), Outbreak (1995), Get Shorty (1995), Ransom (1996), Lethal Weapon 4 (1998), and The Thomas Crown Affair (1999).
List of Aspects
Mars Conjunction MC Orb 0°31′
Moon Conjunction Pluto Orb 2°17′
Sun Conjunction Venus Orb 4°29′
Sun Conjunction AS Orb 9°38′
Sun Opposite Moon Orb 2°24′
Sun Opposite Pluto Orb 4°42′
Pluto Opposite AS Orb 4°56′
Moon Opposite Venus Orb 6°53′
Moon Opposite AS Orb 7°13′
Venus Opposite Pluto Orb 9°11′
Venus Square MC Orb 0°53′
Mercury Square Jupiter Orb 0°59′
Venus Square Mars Orb 1°24′
Sun Square MC Orb 5°23′
Sun Square Mars Orb 5°54′
Uranus Square Neptune Orb 6°19′
Moon Square MC Orb 7°47′
Jupiter Trine AS Orb 2°14′
Sun Trine Neptune Orb 2°27′
Mercury Trine Uranus Orb 4°07′
Mercury Trine Saturn Orb 6°08′
Venus Trine Saturn Orb 6°28′
Venus Trine Neptune Orb 6°56′
Neptune Trine AS Orb 7°11′
Moon Sextile Neptune Orb 0°02′
Neptune Sextile Pluto Orb 2°15′
Uranus Inconjunction AS Orb 0°52′
Mars SesquiQuadrate Uranus Orb 0°19′
Uranus SesquiQuadrate MC Orb 0°50′
Venus SesquiQuadrate Uranus Orb 1°44′
Moon Quintile Saturn Orb 1°22′
Jupiter BiQuintile Saturn Orb 1°08′
Positions of Planets
Sun 28°23′ Aquarius
Moon 25°59′ Leo
Mercury 15°30′ Pisces
Venus 2°53′ Pisces
Mars 4°18′ Sagittarius
Jupiter 16°30′ Gemini
Saturn 9°21′ Я Scorpio
Uranus 19°37′ Я Cancer
Neptune 25°56′ Я Libra
Pluto 23°41′ Я Leo
Chiron 25°14′ Capricorn
Ceres 13°02′ Я Libra
Pallas 0°21′ Я Virgo
Juno 17°03′ Я Leo
Vesta 0°45′ Aries
Node 23°43′ Я Capricorn
Lilith 18°44′ Libra
Fortune 21°09′ Leo
AS 18°45′ Aquarius
MC 3°46′ Sagittarius
---
Those born from January 20 to February 18 are Aquarius. You are a humanitarian and more intelligent than most and given to thoughts of how to make the world a better place. You can be inventive and original, and you're freedom-loving. You're generous with your thoughts, whether people are interested or not!

You can be eccentric and idiosyncratic, and need a lot of space, but your heart is nearly always in the right place. We are now in the age of Aquarius, but only just in the dawn of it, like the song said. All the wonderful, generous characteristics of the Water Bearer are not yet symbolic of humanity as a whole yet, as evidenced by the current turmoil in the Middle East. But there are signs. Remember the Random Acts of Kindness. Perhaps those were a harbinger of the Age of Aquarius. 
Moon in Leo is emotionally positive and full of vitality. Even its darker aspects are less dark than that of other moon signs. Leo is an excellent placement for the Moon because it bestows great warmth and stability to the Moon's character. It also imparts a visionary quality. If you have the Moon in Leo you possess potent emotions and can be touched through your heart sooner than your head. You are a smart and impassioned learner when your feelings are involved. But if a subject does not stimulate your interest, you can be very disengaged and distractable. Persuading you requires appeals to the heart more than the mind. Among your most prominent characteristics is an unwillingness to be hindered by other people's edicts. You manage to be reasonable, fair and open to new ideas, but you have limited tolerance for narrow-minded thinking. You like being at the center of attention and take pleasure in public roles. Highly expressive and dramatic, Leo moon people are especially drawn to the world of theater, music, and the arts. You possess a fine sense of humor and great individual charm. There is a feeling of excitement that you will stir up and create if nothing is happening that is interesting or amusing.
Mercury in the sign of Pisces denotes a subtle and intuitive intelligence. There is an interesting and enigmatic quality about the way their mind works. They do not simply arrive at conclusion through logic alone but through flashes of insight, premonitions and mysterious intuits that are not based on previous facts or precedents. Their pronouncements can often wax prophetic.

They have accurate hunches plus, with their imaginative and creative talents, are able to conceptualize new ideas that are difficult to grasp by those who lack imagination. Mercury in Pisces people can occassionally lack self-confidence and appear timid or perplexed. They display empathy and understanding for the faults and failings of other people. In their mind, each person has his or her own truth and this extends even to those who lie. Mercury in Pisces people can be like absentminded professors but because of their sensitivity to their surroundings, they are easily distracted by and unable to concentrate when there is anything or anyone upsetting them.
People with their Venus in Pisces are tender souls with a desire to form deep and spiritual connections with their mates. They are in search of their soulmate and someone with whom they can share themselves fully and honestly. Because of their sensitivity, they may experience some difficulty in expressing or articulating what they feel. Their feelings can be complicated and subject to change waxing and waning with their fluctuating moods.

They are remarkably kind and devoted in their relationships and breakups can emotionally debilitate them for extended periods. Being in love makes them feel complete but they have a penchant for falling for the wrong type of person. They may fall in love with the idea of a person and subsequently project ideals onto them that will never be lived up to. Logic does not play much of a factor in the Venus in Pisces person's mind. They operate on intuition and are very empathetic and self-sacrificing for their loved ones. They tend to be undisciplined with their spending and do not resist indulging in anything that makes them feel good. They are likely to have addictive personalities and go overboard especially when they are feeling sad or empty inside.
In Sagittarius, the facility of Mars exhibits itself in good flashes. It promotes bravery, independence, and daring. Dashing and exciting as your actions can be, you're simply distracted. Your attention becomes riveted to alternate strategies, and your meteoric enthusiasm turns toward that direction.
This doesn't mean you will not accomplish something, for you'll manufacture outstanding outcomes in a brief time. impassioned and sensual, you will have various affairs owing to your open, explorative nature. You look at emotional commitments as a type of personal restriction. A sex relationship quickly begins, and equally quickly ends. You tend to be impulsive and act headlong. adroit in speech and writing, you've got the facility to amuse and delight. you create a wonderful initial impression.
Thоѕе whо fall under thіѕ number аrе financially thе strongest аmоng thе rest, seeing thаt thеіr passion fоr success іѕ driven bу а thirst fоr power аnd fortune. Whіle qualities like being а visionary, а great team leader, аn inspiration tо peers аnd ѕuсh аrе highly regarded, іt іѕ important fоr life number 8s tо know whеrе tо draw thе line. Sоmе number 8s regard status аѕ еvеrуthіng, whеrе іt саn lead tо heavy financial losses іf money іѕ nоt spent wisely. Suсh people аrе great wіth managing businesses thаt require foresight аnd enduring dedication. Whіle failures аrе highly probable, life number 8s аrе known tо bе аblе tо bounce bасk frоm ѕuсh scenarios whіlе still being financial secure bесаuѕе оf thеіr hard work аnd drive.
Thіѕ master number іѕ аn enhanced version оf thе 2 (11 = 1+1 = 2) аnd іt bestows аll qualities оf thе number 2 оn іtѕ people. It belongs tо idealistic, intuitive аnd visionary people. Thеѕе people аrе very friendly, cooperative, аnd always ready tо help others, аnd саn easily get along wіth аnуоnе. Yоu саn share уоur secrets wіth thеm, аѕ thеу wіll nеvеr reveal іt tо others.
Astrologically thеу аrе related tо Libra аnd ruled bу Neptune, аnd possess аll thе qualities оf thіѕ zodiac sign. Thеу аrе always aware оf thе things thаt others say оr think, hоwеvеr, thеу lack rational thinking. Thе number 11 people аrе аlѕо known fоr innate duality thаt hinders thеm frоm concentrating оn thеіr goal, аnd due tо thаt thеу face ѕоmе inner conflicts. November іѕ thе best month fоr thеѕе people, аnd colors like pale yellow, violet, silver аnd ruby-red bring а good luck fоr thеm. Thеу have аn aura made uр оf colors like white, yellow, pink аnd blue. Platinum оr Topaz іѕ thе lucky gemstone fоr thеm.
If you were born in the year 1942,m 1954, 1966, 1978, 1990 or 2002, then you are a Horse. You're popular and attractive to the opposite sex. You can be ostentatious and impatient. You need people, but should marry a Tiger or a Dog. Avoid the Rat! Horses crave love and intimacy, which is a double-edged sword since it often leads them to feel trapped. Love connections tend to come easily to Horses, since they exude the kind of raw sex appeal that is a magnet to others.

This Sign tends to come on very strong in the beginning of the relationship, having an almost innate sense of romance and seduction. Horses are seducers in general; check out any A-list party and you're bound to find the Horse in attendance. Like a wild mustang, horse people are said to be independent, and confident. They tend to be free spirits who need ample space to run free. They intensely dislike feeling confined or penned up.
The element of Wood represents the direction East. Those who are born with this element tend to yearn for stability and tradition. In China, wood is also associated with bamboo. Bamboo, of course, is a strong, flexible, and long shoot which grows in marsh areas. It follows then, that wood people are flexible, emotionally strong and dependable. A wood person will stick with you through good and bad times, unwavering of their support.
Wood people are interested in social issues and strive to leave the poor and helpless of our world with a sense of independence and change. Although, they can be idealistic and that trait can be the cause of emotional angst when plans don't follow the perfect path. Wood people do well in social work or working with children. Working with others is easy for wood people, as they truly enjoy the process of cooperation and compromise. Generous and warm, wood people spread happiness, confidence and joy wherever they go.