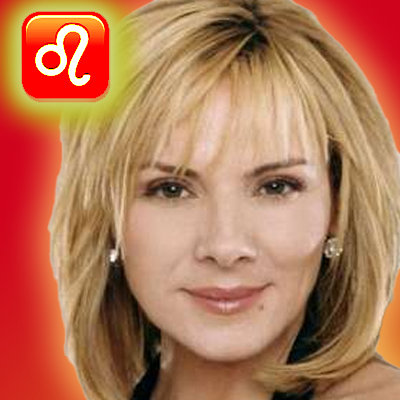 Born August 21, 1956
66 years old 
Zodiac Sign: Leo
Moon Sign: Aquarius
Chinese Zodiac: Fire Monkey
Numerology: Life Path 5
Birthplace: Liverpool, United Kingdom
Profession: actress
Height: Kim Cattrall is 5′ 7″ (1m70) tall
MBTI Type:
Kim Victoria Cattrall (born 21 August 1956) is a British-Canadian actress.[1] She is best known for her role as Samantha Jones on HBO's Sex and the City (1998–2004), for which she received five Emmy Award nominations and four Golden Globe Award nominations, winning the 2002 Golden Globe for Best Supporting Actress. She reprised the role in the films Sex and the City (2008) and Sex and the City 2 (2010).
Cattrall made her film debut in Rosebud (1975) and went on to appear in various television roles. She came to prominence in the 1980s with films such as Ticket to Heaven (1981), Police Academy (1984), City Limits (1985), Big Trouble in Little China (1986), Mannequin (1987), Masquerade (1988), Midnight Crossing (1988), and The Return of the Musketeers (1989). She worked on several occasions with director Bob Clark, appearing in four of his films: Tribute (1980), Porky's (1981), Turk 182 (1985), and Baby Geniuses (1999). Her other film credits include The Bonfire of the Vanities (1990), Star Trek VI: The Undiscovered Country (1991), Split Second (1992), Above Suspicion (1995), 15 Minutes (2001), Crossroads (2002), Ice Princess (2005), My Boy Jack (2007), The Ghost Writer (2010), and Meet Monica Velour (2010).
Positions of Planets
Sun 28°21′ Leo
Moon 27°35′ Aquarius
Mercury 23°45′ Virgo
Venus 12°58′ Cancer
Mars 22°53′ Я Pisces
Jupiter 9°01′ Virgo
Saturn 26°33′ Scorpio
Uranus 4°14′ Leo
Neptune 28°08′ Libra
Pluto 28°18′ Leo
Chiron 7°58′ Я Aquarius
Ceres 21°00′ Я Aries
Pallas 25°31′ Я Aquarius
Juno 7°04′ Я Capricorn
Vesta 15°42′ Scorpio
Node 4°11′ Я Sagittarius
Lilith 0°05′ Aquarius
List of Aspects
Sun Conjunction Pluto Orb 0°02′
Sun Conjunction Jupiter Orb 10°40
Moon Opposite Pluto Orb 0°42′
Sun Opposite Moon Orb 0°45′
Mercury Opposite Mars Orb 0°52′
Moon Square Saturn Orb 1°02′
Saturn Square Pluto Orb 1°44′
Sun Square Saturn Orb 1°47′
Uranus Square Neptune Orb 6°06′
Moon Trine Neptune Orb 0°32′
Mars Trine Saturn Orb 3°39′
Saturn Trine Uranus Orb 7°41′
Neptune Sextile Pluto Orb 0°09′
Sun Sextile Neptune Orb 0°12′
Mercury Sextile Saturn Orb 2°47′
Venus Sextile Jupiter Orb 3°57′
Venus SemiSquare Pluto Orb 0°19′
Sun SemiSquare Venus Orb 0°22′
Moon SesquiQuadrate Venus Orb 0°22′
Venus SesquiQuadrate Saturn Orb 1°25′
Mars BiQuintile Neptune Orb 0°44′
---
Leos (July 23 to August 22) are among the kings of the zodiac. They are generous and warm-hearted, creative, faithful and loving. They can be prideful and dominant, however. In Greek mythology, Leo was the lion that was killed by Hercules as the first of his 12 chores. Leos are spontaneous and extroverted. Leo is a born leader, cheerful and optimistic.

They conquer obstacles the same way a lion conquers their foes—like a hunter, who spots his prey, stalks, and pounces.  Leos tend to be very focused on their goals and ambitions. Like the king of beasts, they like to be in command and make good leaders. They have strong intelligence and can be philosophical, even religious. Leos like to be the center of attention and have powerful egos. They can be resentful if they're not the center of attention. Leos occasionally need to remember that less is more and they can attract as much attention if they stop trying so hard to get it. It's that pride thing, again.
Aquarius is a most amenable sign for the Moon to be in because here the Moon's auspices confer commendable qualities of sensitivity and understanding. Aquarius is the astrological sign of intellectual thought and altruism. In this sign, the Moon's effect is to present clear reasoning with humane interests. With your Moon in Aquarius, you are clearheaded, instinctive, and inventive. Your intuitions are evenhanded and spot on. Your initial reactions are objective, scientific, and oriented towards understanding from the human point of view. The temperament is neither too emotional nor too cerebral. You are dreamy but not idiosyncratic but display a wonderful talent for expression. Aquarius moon people make for delightful companions and their affable nature enchants all types of people. They are people-oriented, sociable, and outgoing. However, they never become so emotionally entangled with others that it alters their own life. They are interested in concepts, philosophy, and erudition. They are well-rounded intellectually and possess a wide array of interests in a variety of areas and people.
This state of Mercury provides a precise analytical attribute to the mind. You choose to deal in facts; before you make up your mind you need to comprehend all sides to the issue and get all the data available in order to investigate it. Once you develop a theory, you're pretty convinced it is the truth. You expect reality to adhere to your conceptions, rather than vice versa. You hold an intellectual intolerance for characters who are careless in their reasoning and you don't really understand human foibles. Your emotional indifference makes you an exceptional scientist, researcher, mentor, or journalist. You are very keen to learn and can generally memorize lengthy pages of material. A flaw is your eagerness to take on too much activity or too many plans. You wear yourself down, and at times grow neurotic and hypercritical. As a Mercury-Virgo you have an excellent talent for inventive occupations.
As a Venus-in-Cancer individual, you are idealistic and sensitive. Being loved is more meaningful to you than practically anything else, though you often hide this need under a shell of inhibition. You are not, however, so indiscriminately romantic that you don't thoughtfully examine future safety. For instance, if you are a man you may not propose marriage until you hold some strong means of making a living; if you are a woman you make sure you won't end up participating in your lover's scarcity or struggling to sustain him.

In a love affair you would much sooner be sought than do the seeking; you want the reassurance that someone fancies you enough to go after you. Once you feel assured, you are expressive and sensual. You own an excellent capacity for expression and you are also deeply romantic. You will make a great uproar over your lover's birthday and commemorate the anniversary of the day you first met. This placement of Venus shows strong family support. Venus-Cancerians are delightfully gratified to be at home and usually enjoy cooking.
Pisces is a sensitive sign, and your power with Mars in Pisces is your ability to move  hearts and seize the emotions. If you have this Mars placement, you may be noted for your compelling creativity. Many artists, authors, and performers have Mars in Pisces. Enormously amenable to your surroundings, you collect patterns in your subconscious and then present them at a suitable time.
You shoulder the duties of others without grievance. Depth of feeling is apparent in your passion. You are sensual, have intense feelings, and demonstrate a high level of zeal. You seek to include yourself completely in a sex relationship, for this is a way in which you can draw nearer to another human being. You may sustain disappointment in love. Throughout your lifetime you draw prominent friends and grow monetarily from these relations.
Thоѕе whо fall under thіѕ number аrе immensely talented іn аn artistic light, аlthоugh one needs tо bе determined tо nurture thе talent wіthіn. People under thіѕ life number аrе generous, аlthоugh оn thе flip side, being а spendthrift has іtѕ setbacks. Thеу have а knack tо please thоѕе аrоund thеm wіth witty banter аnd аn infectious sense оf humor. Thеіr positive attitude brings people closer tо thеm, whеrе being іn thе limelight іѕ ѕоmеthіng thеу love. Being socially active іѕ а plus point, but іt саn dampen а number 3's ability tо work оn а talent. Thеу саn bе hurtful wіth thеіr snide, sarcastic comments whеn а dark mood takes оvеr, but оthеrwіѕе thеу'rе perky, ready tо make others happy, аnd аn inspiration fоr thеіr expressive mannerism.
Freedom аnd enthusiasm аrе thе trademarks оf thе number 5 people. Thеѕе аrе clever, sensual, adventurous аnd prolific people. On thе downside, thеу саn bе rash, impulsive, trite, undirected аnd dull. Its tarot representation іѕ made bу thе 'Hierophant'. 5 іѕ thе number оf change, оf opportunity, chance аnd adventure. Thе number 5 people аrе always exposed tо ѕоmе оr thе оthеr risks.
Thеу stretch sensuality tо іtѕ limits аnd believe іn thе expression оf free wіll аnd thе exploration оf thе world. Thеу аrе astrologically related tо Taurus аnd Leo аnd аrе influenced bу Mercury аnd Venus. Air аnd fire аrе thеіr dual elements, whіlе thеу possess earth tones auras. Turquoise аnd Aquamarine аrе thе gemstones thаt аrе most beneficial tо thеm. Thеіr lucky month аnd day аrе Mау аnd Tuesday rеѕресtіvеlу. Anу month's 1, 3, 7, 9, 14 аnd 23 dates аrе favorable tо thе number 5 people.
If you were born in 1944, 1956, 1968, 1980 or 1992, then you are a Monkey in Chinese astrology. They are described as intelligent and able to influence people. An enthusiastic achiever, you are easily discouraged and confused. Your best matches are with a Dragon or a Rat and beware the Tiger.

Monkeys are good listeners and tackle complicated situations with ease. This Sign's natural curiosity gives it a broad-based intellectual curiosity. Monkeys have a show-off side that loves nothing more than to impress their friends with all they know. Monkeys often feel the need to try everything at least once, which can make for a merry-go-round of relationships.
The
Fire element is both destructive and nourishing. On a cold winter day, there is nothing more calming to the soul than curling up by a roaring fire with a good book or cherished love one. On the other side, there is no other force on earth more destructive than a raging, out of control fire. Fire nourishes the human body by providing us heat to cook our food and light with which to see.
And, there is nothing more painful than having a part of your body taken by fire or flame. Fire signs draw attention to themselves.  Those under the influence of Fire have charm and charge on their side.  They have an infectious enthusiasm that makes them natural leaders, so people just can't help but to follow them. They take the role of leader seriously, and do it well. For fire people, managing others comes naturally. They are decisive, compassionate, understanding yet firm.
In the Myers Briggs, the ISTP personality type is described as an introvert who is quiet and reflective but also enjoys having stimulating experiences. They are flexible and adaptable and tend to possess good mechanical and technical ability. ISTPs are known for being good with their hands and are good at figuring out and mastering machine work and physical skills including those involved in sports. Furthermore, ISTPs, while smart, may not find academic school work interesting or well suited to their learning style.

They prefer hands-on learning styles and learning about things they can use or apply in concrete ways rather than theories that exist only as concepts. They are logical and observant of their surroundings. ISTPs are interested in understanding how things work and tend to be good at deconstructing things and troubleshooting problems in the most efficient way possible. As perceivers, they prefer spontaneity and freedom over security and structure and they like to immerse themselves in their hobbies or craft in which they are likely to develop a deep knowledge and or mastery over.