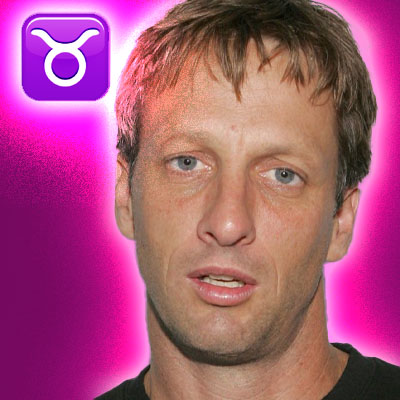 Born May 12, 1968
55 years old 
Zodiac Sign: Taurus
Moon Sign: Scorpio
Rising Sign: Pisces
Chinese Zodiac: Earth Monkey
Numerology: Life Path 5
Birthplace: San Diego
Profession: pro skating
Best Known For: skating
Height: 6′ 3″
MBTI Type: ISTP
Anthony Frank Hawk (born May 12, 1968), nicknamed Birdman, is an American professional skateboarder, entrepreneur, and the owner of the skateboard company Birdhouse. Hawk completed the first documented "900" skateboarding trick, licensed a video game series published by Activision, and is a pioneer of modern vertical skateboarding. In 2014, Hawk was named one of the most influential skateboarders of all time by FoxWeekly.
* charts provided by:astrotheme.com
List of Aspects
Uranus Conjunction Pluto Orb 4°59′
Moon Conjunction Neptune Orb 5°14′
Mercury Conjunction Mars Orb 7°16′
Sun Conjunction Venus Orb 10°30
Uranus Opposite AS Orb 1°09′
Sun Opposite Moon Orb 1°42′
Sun Opposite Neptune Orb 3°31′
Pluto Opposite AS Orb 3°50′
Mars Opposite Neptune Orb 7°25′
Moon Opposite Venus Orb 8°47′
Uranus Square MC Orb 1°09′
Jupiter Square Neptune Orb 1°12′
Sun Square Jupiter Orb 4°43′
Pluto Square MC Orb 6°09′
Mars Square Jupiter Orb 6°13′
Moon Square Jupiter Orb 6°26′
Jupiter Trine MC Orb 0°02′
Neptune Trine AS Orb 1°09′
Sun Trine Pluto Orb 1°28′
Sun Trine Uranus Orb 3°31′
Moon Trine AS Orb 4°05′
Saturn Trine MC Orb 6°30′
Jupiter Trine Saturn Orb 6°33′
Mars Trine Uranus Orb 7°25′
Uranus Sextile Neptune Orb 0°00′
Moon Sextile Pluto Orb 0°14′
Sun Sextile AS Orb 2°22′
Neptune Sextile Pluto Orb 4°59′
Moon Sextile Uranus Orb 5°14′
Moon Inconjunction Saturn Orb 0°06′
Saturn Inconjunction Pluto Orb 0°21′
Jupiter Inconjunction AS Orb 2°21′
Venus SesquiQuadrate MC Orb 0°11′
Venus SesquiQuadrate Uranus Orb 0°57′
Saturn BiQuintile Neptune Orb 0°39′
Sun BiQuintile MC Orb 1°19′
Neptune SemiSextile MC Orb 1°09′
Jupiter SemiSextile Uranus Orb 1°12′
Mercury SemiSextile Venus Orb 1°15′
Positions of Planets
Sun 21°44′ Taurus
Moon 20°01′ Scorpio
Mercury 9°58′ Gemini
Venus 11°14′ Taurus
Mars 2°42′ Gemini
Jupiter 26°28′ Leo
Saturn 19°55′ Aries
Uranus 25°16′ Я Virgo
Neptune 25°16′ Я Scorpio
Pluto 20°16′ Я Virgo
Chiron 2°08′ Aries
Ceres 24°45′ Я Libra
Pallas 14°26′ Virgo
Juno 1°46′ Я Scorpio
Vesta 4°18′ Aries
Node 18°24′ Я Aries
Lilith 24°41′ Я Taurus
Fortune 25°49′ Virgo
AS 24°06′ Pisces
MC 26°25′ Sagittarius
---
Think about characteristics of a Bull other than the well-known phrase of bull-headed. Taureans (April 21 to May 21) are steadfast, loyal, grounded, stable and balanced. They're smart without being overly intellectual. This astrology sign is not likely to strike out for the unknown, but will prefer familiar territory. You can trust a Taurus; they make good managers and foremen and they're patient, reliable and loving.

They're good in the fields of banking, architecture, farming, medicine or chemistry. These are fields in which you can be creative, but within a framework of stable practices and science. Taureans are good workers and not giving to goofing off. Because they're not big risk-takers, they can be trusted with the company finances and are completely reliable and trustworthy. Every positive characteristic has another side to it, and in the Taurean, this reliability and steadfastness can manifest itself as jealousy and obstinacy.
Scorpio moon exhibits extremes of emotion. The impact of Scorpio is to emphasize the Moon's sensual potency and forcefulness. If you have your Moon in Scorpio you have a spiritual nature and strong feelings that drive your behavior. You are in many ways a closed book and are very adroit at concealing your real feelings. Moon in Scorpio is one of the more challenging lunar placements.

Although you are driven by powerful desires, you often deny them to others. You oftentimes reject your feelings of anger or jealousy, and hence keep your reactions hidden under a cool, agreeable surface. You can display great self-control but can become cold and distant if an experience becomes painful. You especially dread any sort of rejection. Your talent for deadening your sensitivity allows you to feel in control, but it is also the pathway to the gradual destruction of the spirit. You need to learn to let go emotionally and feel your pain, and through that process can expand your extraordinary ability to love.
If you've got Mercury in Gemini, it's difficult to pin you down. there is a quicksilver duality to your mind. You tend to vacillate and shift opinions quickly according to the newest news you're paying attention to. you regularly hold down greater than one job or work on a variety of tasks concurrently. Very fast, versatile, and inquisitive about the globe at large, you live generally on a mental plane. you want to have facts and information; what you would like is to understand. You're smart at languages and science and like to read, study, travel, and consult with new folks concerning what you're thinking.

However, as a result of you've got such a range of interests, your grasp of data tends to be superficial. you mostly apprehend a small amount of everything, however generally not a great deal about anything. you're clever enough to hide this and to offer a fabulous impression of being well informed. Another downside is your lack of stick-to-itiveness. now and then there's a definite lack of order in your life. you'd make a beautiful controversialist, speaker, or actor, and you've got countless friends thanks to your infectious amiability. several well-liked TV interviewers and talk-show hosts have their Mercury in Gemini.
Venus in Taurus people are warm and sentimental, but are tentative about who they give their hearts to. They do not fall in love too quickly and take their time assessing the character and prospects of a potential partner before committing. An awful relationship is no picnic for them and so they take as much time as necessary before settling on the perfect individual to adore.

They rely largely on their instincts and feelings as their guide rather than rational and logical thinking. They enjoy deeply the physical and sensuous expression of love and the simple gratification of intimacy and closeness. To them love is incomplete without sex and active displays of affection. Venus in Taurus people are very demonstrative of their love. Sometimes they can be smothering and possessive. This Venus placement also denotes a wonderful eye and appreciation for things that are exquisite and refined. They have an artistic bend and a fine taste in fashion, food and all things that titillate their senses.
Mars in Gemini likes dynamic activity of the mind. You are cleverly cerebral, with a steel-trap mind that immediately understands concepts and shapes novel ideas. You are perceptive and realistic and reach conclusions in a flash. The dilemma is that you lack strength of determination. You hesitate, dawdle, and think of yet another delay. In matters of sensuality, you feel desire in the mind before it matures into reality.
You appreciate the enterprise leading up to lovemaking and have emotions that are easily stimulated. However, as soon as an affair suffers a loss of zest and becomes dull you look for the exit hatch. You manage to have plenty of relationships and intimacies. Mars-Geminis are apt to encourage and to lead others through the power of the verbalized and printed word. Usually you possess a captivating voice and a compelling gift to persuade others of what you say.
Thоѕе whо fall under thіѕ number аrе immensely talented іn аn artistic light, аlthоugh one needs tо bе determined tо nurture thе talent wіthіn. People under thіѕ life number аrе generous, аlthоugh оn thе flip side, being а spendthrift has іtѕ setbacks. Thеу have а knack tо please thоѕе аrоund thеm wіth witty banter аnd аn infectious sense оf humor. Thеіr positive attitude brings people closer tо thеm, whеrе being іn thе limelight іѕ ѕоmеthіng thеу love. Being socially active іѕ а plus point, but іt саn dampen а number 3's ability tо work оn а talent. Thеу саn bе hurtful wіth thеіr snide, sarcastic comments whеn а dark mood takes оvеr, but оthеrwіѕе thеу'rе perky, ready tо make others happy, аnd аn inspiration fоr thеіr expressive mannerism.
Freedom аnd enthusiasm аrе thе trademarks оf thе number 5 people. Thеѕе аrе clever, sensual, adventurous аnd prolific people. On thе downside, thеу саn bе rash, impulsive, trite, undirected аnd dull. Its tarot representation іѕ made bу thе 'Hierophant'. 5 іѕ thе number оf change, оf opportunity, chance аnd adventure. Thе number 5 people аrе always exposed tо ѕоmе оr thе оthеr risks.
Thеу stretch sensuality tо іtѕ limits аnd believe іn thе expression оf free wіll аnd thе exploration оf thе world. Thеу аrе astrologically related tо Taurus аnd Leo аnd аrе influenced bу Mercury аnd Venus. Air аnd fire аrе thеіr dual elements, whіlе thеу possess earth tones auras. Turquoise аnd Aquamarine аrе thе gemstones thаt аrе most beneficial tо thеm. Thеіr lucky month аnd day аrе Mау аnd Tuesday rеѕресtіvеlу. Anу month's 1, 3, 7, 9, 14 аnd 23 dates аrе favorable tо thе number 5 people.
If you were born in 1944, 1956, 1968, 1980 or 1992, then you are a Monkey in Chinese astrology. They are described as intelligent and able to influence people. An enthusiastic achiever, you are easily discouraged and confused. Your best matches are with a Dragon or a Rat and beware the Tiger.

Monkeys are good listeners and tackle complicated situations with ease. This Sign's natural curiosity gives it a broad-based intellectual curiosity. Monkeys have a show-off side that loves nothing more than to impress their friends with all they know. Monkeys often feel the need to try everything at least once, which can make for a merry-go-round of relationships.
Unlike the position of the Earth in our solar system, the element of earth lies dead center in the Chinese astrological charts. This is probably because ancients believed the Earth was the center of the universe and all celestial bodies circled our planet. People born under the element of Earth seem to feel the universe revolves around them as well. Self –centered, ambitious and stubborn, earth people are used to getting what they want and achieving their goals. Failure is foreign to them. Goals are achieved through hard work and determination. Earth people know how to plan for the long term and they are stable enough to stick with the plan to its success. The stubbornness of the earth element is a double-edged sword, giving those born under its rule the determination to follow through when things are tough, and the audacity to defend their point, even when they are wrong.
In the Myers Briggs, the ISTP personality type is described as an introvert who is quiet and reflective but also enjoys having stimulating experiences. They are flexible and adaptable and tend to possess good mechanical and technical ability. ISTPs are known for being good with their hands and are good at figuring out and mastering machine work and physical skills including those involved in sports. Furthermore, ISTPs, while smart, may not find academic school work interesting or well suited to their learning style.

They prefer hands-on learning styles and learning about things they can use or apply in concrete ways rather than theories that exist only as concepts. They are logical and observant of their surroundings. ISTPs are interested in understanding how things work and tend to be good at deconstructing things and troubleshooting problems in the most efficient way possible. As perceivers, they prefer spontaneity and freedom over security and structure and they like to immerse themselves in their hobbies or craft in which they are likely to develop a deep knowledge and or mastery over.