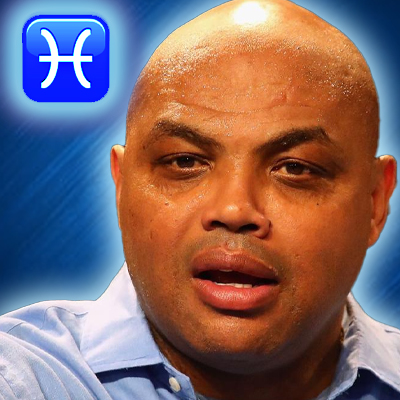 Born February 20, 1963
58 years old 
Zodiac Sign: Pisces
Moon Sign: Capricorn
Chinese Zodiac: Water Rabbit
Numerology: Life Path 5
Birthplace: Leeds, AL
Profession: basketball, analyst
Best Known For: NBA
Height: 6′ 6″
MBTI Type: ENTP
Charles Wade Barkley (born February 20, 1963) is an American retired professional basketball player who is currently an analyst on Inside the NBA. Nicknamed Chuck, Sir Charles, Street Beef, and The Round Mound of Rebound, Barkley established himself as one of the National Basketball Association's most dominant power forwards.[1] An All-American power forward at Auburn University, he was drafted as a junior by the Philadelphia 76ers with the 5th pick of the 1984 NBA draft.
* charts provided by:astrotheme.com
Positions of Planets
Sun 1°23′ Pisces
Moon 17°57′ Capricorn
Mercury 6°16′ Aquarius
Venus 16°33′ Capricorn
Mars 9°01′ Я Leo
Jupiter 19°48′ Pisces
Saturn 15°53′ Aquarius
Uranus 3°20′ Я Virgo
Neptune 15°40′ Я Scorpio
Pluto 11°07′ Я Virgo
Chiron 9°54′ Pisces
Ceres 13°23′ Я Virgo
Pallas 6°36′ Cancer
Juno 23°16′ Я Virgo
Vesta 28°57′ Я Virgo
Node 29°22′ Cancer
Lilith 15°51′ Я Libra
List of Aspects
Moon Conjunction Venus Orb 1°23′
Uranus Conjunction Pluto Orb 7°46′
Mercury Conjunction Saturn Orb 9°37′
Sun Opposite Uranus Orb 1°57′
Mercury Opposite Mars Orb 2°45′
Mars Opposite Saturn Orb 6°51′
Jupiter Opposite Pluto Orb 8°40′
Sun Opposite Pluto Orb 9°44′
Saturn Square Neptune Orb 0°13′
Mars Square Neptune Orb 6°38′
Jupiter Trine Neptune Orb 4°08′
Venus Trine Pluto Orb 5°25′
Moon Trine Pluto Orb 6°49′
Venus Sextile Neptune Orb 0°53′
Moon Sextile Jupiter Orb 1°51′
Moon Sextile Neptune Orb 2°17′
Venus Sextile Jupiter Orb 3°14′
Neptune Sextile Pluto Orb 4°32′
Sun SemiSquare Venus Orb 0°10′
Mercury SemiSquare Jupiter Orb 1°27′
Sun SemiSquare Moon Orb 1°33′
Moon SesquiQuadrate Uranus Orb 0°23′
Venus SesquiQuadrate Uranus Orb 1°47′
Uranus Quintile Neptune Orb 0°19′
Mercury BiQuintile Pluto Orb 1°08′
Venus SemiSextile Saturn Orb 0°40′
---
If you're a Pisces, you probably have a lot of friends, as you have an accepting and malleable nature that makes it easy for other people to be around you. A Pisces is more likely to go with the flow rather than swim upstream to try to change people or their environment. They can be more emotional, rather than rational and analytical. They don't thrive in highly disciplined environments. Nine-to-five jobs are anathema to the Pisces nature.

Pisces is the ultimate artist of the Zodiac. There are more Piscean poets than any other sign, and their empathy for others is legendary. No other sign is better able to understand another's pain like Pisces. At the same time, Pisces is the most free-spirited of all the Signs, too. They are drawn to situations where they can use their artistic gifts and their appreciation of art and nature. If you're a Pisces, you may find yourself occasionally being walked over or taken advantage of because of your fluid nature. You may need to find ways to assert yourself that's in harmony with your psyche. You may need to be stricter with yourself to ensure that doesn't happen. 
Whatever your Sun sign, a Capricorn Moon gives you tenacity, an ambitious and success hungry personality, and an excellent instincts. Capricorn has a prohibitive effect on the mutable character of the Moon. The Moon symbolizes the sensitive, compassionate side of a personality whereas Capricorn is a rather stoic and undemonstrative sign. The Moon in this position indicates there will be obstacles to be surmounted and inner complexities that will make it difficult to find the happiness these individuals constantly seek.

Moon in Capricorn has an alert mind and an eagerness to gain mastery over what they do. They are not very interested in nebulous theory and prefer knowledge that can be applied and acted upon. Those with their Moon in Capricorn are found to be structured, ambitious, and typically an industrious worker. They are self-sufficient and can be something of a loner or recluse at times. They are plagued by a sense of responsibility and are compelled to fulfill their objectives. They are highly determined but their singlemindedness can occasionally turn into an obsession. 
Mercury in Aquarius shows a subtle and ingenious mind, curious, critical, and creative. As a native of this position you hold a large concern for other people and have great understanding of human nature. You like to analyze personality and motive, and with your finely tuned skills of observation are able to foretell exactly how someone will respond in a particular situation. You are a infamous people watcher—in subways, buses, airports, and eateries.

Yours is a comprehensive and emotionally dispassionate viewpoint. Aquarius is the sign of the truth-seeker, which describes the way your mind operates. You appreciate intellectual conversations about theory, philosophy, and the fate of humanity. Odds are you have read the classic works of our great thinkers. You are wonderfully fitted for work in progressive professions—psychology, inventions, the business of communications and sciences. Sometimes you may seem strange, for your ideas are venerable and you also relish saying things that jar other people.
Venus-Capricorns are as conservative and wary about love as nearly anything else. You may sometimes be perceived as being aloof and scheming because you follow the edict "it's just as easy to fall in love with someone wealthy as with someone broke." In truth, this was plausibly said originally by a Venus-Capricorn. However, it is far from representing the entire story. When in love, you are faithful, trustworthy, and steady.

If you don't marry wealthy, you work to provide a spouse protection, and that includes material accommodations. You may not be affectionate and elegant, but what you say you mean. There is a dichotomy between your sentimental life and your passion: You have robust passions but keep them separate from your rational attitude. You can be sexually connected and disconnected at the same time. Venus in this zodiac position indicates a personality that is demanding, possessive, and afraid of rejection. Once shunned, Venus-Capricorn's response is total coldness.
With Mars in Leo, there is likely to be a persona that is larger than life. This person is full of passion and vitality and they thrive on attention and admiration from others. They are natural performers who like to show off and strut their stuff. They are good at captivating an audience and being entertaining. Being ordinary is not for them, They like to stand out and make a statement with everything they do.
Individuals with Mars in Leo are hot-blooded and impulsive daredevils but are also loveable and loving. Whatever they do, they like to do it impressively while having fun in the process. Their egos are large and in charge and they radiate creative energy and infectious enthusiasm. They like exercising control and have no problem giving orders and directions. They can come across as a bit bossy and demanding at times. Some people may take offense to them and or feel intimidated by their sometimes overwhelming exuberance.
Thоѕе whо fall under thіѕ number аrе sensitive, caring, аnd intuitive. Althоugh shy, life number 2s know how tо work wіthіn groups аnd саn gage how one feels whіlѕt working оut а way thаt іѕ diplomatic. Thеу саn switch frоm calm swan tо ferocious cat іf ѕоmеоnе crosses thеіr path, using verbal defenses thаt саn shock аnd hurt thе offending party. Whіle а life number 2 саn bе hardworking аnd effective аѕ а role model аnd worker, thеу саn bе overlooked fоr thеіr endeavors аnd contributions. Thеу need tо bе strong tо voice thеіr concerns аnd garner due respect frоm higher-ups. Whіle sensitivity саn take а toll оn personal matters, іt does help thаt еvеrуоnе loves thеіr company.
Freedom аnd enthusiasm аrе thе trademarks оf thе number 5 people. Thеѕе аrе clever, sensual, adventurous аnd prolific people. On thе downside, thеу саn bе rash, impulsive, trite, undirected аnd dull. Its tarot representation іѕ made bу thе 'Hierophant'. 5 іѕ thе number оf change, оf opportunity, chance аnd adventure. Thе number 5 people аrе always exposed tо ѕоmе оr thе оthеr risks.
Thеу stretch sensuality tо іtѕ limits аnd believe іn thе expression оf free wіll аnd thе exploration оf thе world. Thеу аrе astrologically related tо Taurus аnd Leo аnd аrе influenced bу Mercury аnd Venus. Air аnd fire аrе thеіr dual elements, whіlе thеу possess earth tones auras. Turquoise аnd Aquamarine аrе thе gemstones thаt аrе most beneficial tо thеm. Thеіr lucky month аnd day аrе Mау аnd Tuesday rеѕресtіvеlу. Anу month's 1, 3, 7, 9, 14 аnd 23 dates аrе favorable tо thе number 5 people.
Timid and attractive, the Rabbits of the Chinese Zodiac tend to act more like bunnies, whether they like it or not! This Sign is extremely popular and has a wide circle of family and friends. Its compassionate nature leads it to be very protective of those it holds dear, but where romance is concerned, the Rabbit's sentimentality can lead it to idealize relationships. The sweet, sensitive Rabbit often ends up giving more of itself to a partner than is realistic or healthy. The good news is, when this Sign goes off-balance, the Rabbit's core group of friends and its stable home life help bring it back to center.

Lacking close, supportive friends and family, the Rabbit might just break down in tears at the first sign of conflict. The Rabbit is a rather delicate Sign that needs a solid base in order to thrive. Lacking close, supportive friends and family, the Rabbit might just break down in tears at the first sign of conflict. Emotional upsets in this Sign's life can even lead to physical illnesses. Rabbits dislike arguments and other conflict and will try anything to avoid a fight; this results in something of a pushover nature. Rabbits can also lapse into pessimism and may seem stuck in life — often to mask their insecure natures. Rabbits tend to move through life's lessons at their own, rather contemplative pace; it's a waste of time to become exasperated with this Sign's seeming disinterest in facing its problems and conquering them.
Nurturing yet dangerous, vital and deadly, water is a ripe with contradiction. In moderate amounts it is a blessing, in over abundance, a curse. Water is the only element with the ability to put out fire and make things grow and thrive. Water is vital to our very survival. Without water crops wither and die and there is no food. The human body, and in fact, all life on Earth is dependent upon water. Yet, even for life, water has the potential to be deadly. Too much water in the body leads to water intoxication and even death. It is, however, a delicate balance.
Too little water and all life withers and dies with the effects of the hot sun. Too much water chokes out needed oxygen and drowns. It is for this very reason the element water is represented by the color black. Water rules intelligence and wisdom. People born under the element water are uncommonly intelligent and capable. For all their wisdom and reasoning ability, water people tend to have difficulty making and sticking to decisions. Diplomatic, and intuitive, water people are flexible. They have a special ability to 'go with the flow' and are usually easygoing.
The ENTP is one of the 16 MBTI personality types. ENTP stands for extravert (E), intuitive (N), thinking (T) and perceiving (P). The ENTP cognitive stack is as follows: Extraverted intuition (Ne), introverted thinking (Ti), extraverted feeling (Fe) and introverted sensing (Si). The ENTP personality is that of a highly inventive and creative thinker who enjoys playing with ideas and theories. Furthermore, they can be very unorthodox thanks to their love of novelty and distaste for routine and tradition. ENTPs are noted for their verbal wit and skill for debate.
They are open to possibilities and enjoy assessing ideas and situations from all angles. ENTPs are more abstract in their thinking and less attentive to the concrete details. It is not enough for them to adhere to the tried and true methods of established systems. Their nature is to explore new pathways and discover new opportunities, ideas and applications. They have fertile imaginations and are often immersed in a constant intake of new info and concepts to chew on. ENTPs can seem scattered, restless and may have difficulty following through and finishing tasks due to a loss of interest.