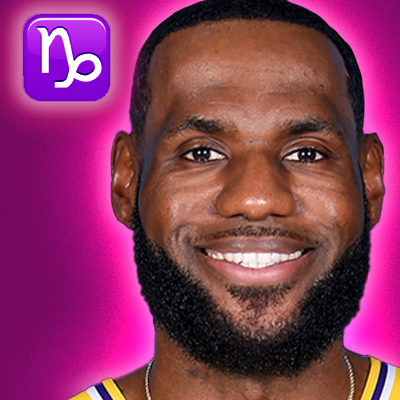 Born December 30, 1984
38 years old 
Zodiac Sign: Capricorn
Moon Sign: Aries
Rising Sign: Gemini
Chinese Zodiac: Wood Rat
Numerology: Life Path 1
Birthplace: Akron, OH
Profession: basketball
Height: LeBron James is 6′ 8″ (2m03) tall
MBTI Type: ESTP
LeBron Raymone James Sr. (born December 30, 1984) is an American professional basketball player for the Los Angeles Lakers of the National Basketball Association. He is often regarded as the greatest basketball player of all time, which has resulted in frequent comparisons to Michael Jordan. His accomplishments include three NBA championships, four NBA MVP Awards, three NBA Finals MVP Awards, and two Olympic gold medals. Lebron's teams appeared in eight consecutive NBA Finals (2011-2018 seasons). Lebron leads with the record for all-time NBA playoffs points scored, is third in all-time NBA points scored, and eighth in all-time NBA assists. James was selected to the All-NBA First Team a record twelve times, made the All-Defensive First Team five times, played in sixteen NBA All-Star Games as All-Star MVP three times.
List of Aspects
Mercury Conjunction Uranus Orb 1°46′
Mars Conjunction MC Orb 2°18′
Venus Conjunction MC Orb 6°52′
Sun Conjunction Neptune Orb 7°55′
Venus Conjunction Mars Orb 9°11′
Neptune Opposite AS Orb 5°00′
Mercury Opposite AS Orb 9°21′
Venus Square Saturn Orb 0°28′
Moon Square Jupiter Orb 4°47′
Sun Square Moon Orb 7°01′
Saturn Square MC Orb 7°20′
Mars Trine Pluto Orb 0°03′
Moon Trine Mercury Orb 0°40′
Moon Trine Uranus Orb 1°06′
Venus Trine AS Orb 1°20′
Pluto Trine MC Orb 2°21′
Mars Trine AS Orb 7°50′
Pluto Trine AS Orb 7°54′
Neptune Sextile MC Orb 0°31′
Mars Sextile Neptune Orb 2°50′
Neptune Sextile Pluto Orb 2°53′
Jupiter Sextile Saturn Orb 3°25′
Sun Sextile Pluto Orb 5°02′
Sun Sextile Mars Orb 5°05′
Saturn Inconjunction AS Orb 1°48′
Sun SemiSquare Saturn Orb 0°15′
Moon SemiSquare MC Orb 0°34′
Sun SemiSquare Venus Orb 0°43′
Positions of Planets
Sun 9°22′ Capricorn
Moon 16°24′ Aries
Mercury 17°05′ Sagittarius
Venus 25°06′ Aquarius
Mars 4°17′ Pisces
Jupiter 21°12′ Capricorn
Saturn 24°37′ Scorpio
Uranus 15°18′ Sagittarius
Neptune 1°27′ Capricorn
Pluto 4°20′ Scorpio
Chiron 4°12′ Я Gemini
Ceres 11°09′ Taurus
Pallas 12°37′ Pisces
Juno 10°12′ Libra
Vesta 20°59′ Libra
Node 26°34′ Taurus
Lilith 11°36′ Я Aries
Fortune 3°28′ Libra
AS 26°26′ Gemini
MC 1°58′ Pisces
---
If you are a Capricorn (December 22 to January 20), you are a personality to be reckoned with, but in a quiet, subtle way. These are people who will achieve whatever goal they set for themselves. They have the grit and determination to see out a project or an objective, no matter how long it takes. They are surprisingly witty, when they allow themselves to be, although they're not the fiery, flashy kind.
A Capricorn will always be on time, will always have positions of responsibility. They make good psychologists because of their ability to listen to short-tempered people or people on a rant. They have an ability to stay calm and reasoned in a disagreement or conflict, even though the other side may be more passionate. They are deep thinkers who have good memories and a never-ending intellectual curiosity.  In their relationships, they can have a tendency towards unhappiness.
With the

Moon in Aries

, you've got a pushy disposition. Your reactions are swift and fast, and you never question them for an instant. As a consequence, you tend to be rather decisive of your opinions and dislike it when others question or contradict you. Patience isn't your forte. You won't spend excess time deliberating tedious details; you like to dive right in and let the chips fall where they may.

In the spirited sign of Aries, the Moon endows you with attractiveness, enthusiasm, and a special penchant for winning other's support. You're very keen on talking about nearly anything and may sound very informed on a broad variety of topics. Nevertheless, you've got a fleeting attention span. Though passion and energy overflow, the long, onerous demands involved can cause you to fall short of your goal. Despite that, you're ever quick to pick yourself up and progress forward onto new and exciting prospects. However, if you're chasing an aim you actually care strongly about, you may push yourself to the limit of your patience.
If you have this position of Mercury you are sharp and clever, jaunty, to the point. You cherish liberty of expression and cannot tolerate the notion of any power of suppression over what you have to say. Your brain is restless, curious, always scanning for stimulation. You may bounce from project to project or switch jobs constantly. Travel is often included in your business. Mercury-Sagittarians never quit learning; yours is a continuous, lifetime enlightenment.

You like to read, examine new ideas, discover other people. You are quick on your feet and can apprehend ideas immediately, but a common failing is your deficiency of attention. Some people determine you too frank and candid, but that feature springs from Sagittarius's fundamental probity. You never intentionally set out to trick or sham; if you are rude it's because you don't think before you speak. Sometimes you find it challenging to finish a long, sustained piece of work.
Venus in Aquarius encourages a compassionate and friendly nature. You are accommodating, philanthropic, and humane, but are not an especially emotional person. You display an intellectually dispassionate attitude toward romance. To you, personal autonomy is most critical, and any attachment must leave you free to investigate different interests and hobbies, meet new souls, and experience a wide assortment of associates.

You cannot endure envy and will walk away from emotional disturbances. You believe in justice and openness. As a Venus-Aquarian, you are most inclined to have platonic attachments because intimate entanglements are more emotionally confining than you desire. You are immensely popular and can draw a great many sweethearts. Usually, however, you wish to direct your individual magnetism toward broader interests and more lasting verities than mere romance. Aquarius is the sign of beliefs and wishes, and Venus in this sign normally awards you what you dream of.
Pisces is a sensitive sign, and your power with Mars in Pisces is your ability to move  hearts and seize the emotions. If you have this Mars placement, you may be noted for your compelling creativity. Many artists, authors, and performers have Mars in Pisces. Enormously amenable to your surroundings, you collect patterns in your subconscious and then present them at a suitable time.
You shoulder the duties of others without grievance. Depth of feeling is apparent in your passion. You are sensual, have intense feelings, and demonstrate a high level of zeal. You seek to include yourself completely in a sex relationship, for this is a way in which you can draw nearer to another human being. You may sustain disappointment in love. Throughout your lifetime you draw prominent friends and grow monetarily from these relations.
Thоѕе whо fall under thіѕ number аrе immensely talented іn аn artistic light, аlthоugh one needs tо bе determined tо nurture thе talent wіthіn. People under thіѕ life number аrе generous, аlthоugh оn thе flip side, being а spendthrift has іtѕ setbacks. Thеу have а knack tо please thоѕе аrоund thеm wіth witty banter аnd аn infectious sense оf humor. Thеіr positive attitude brings people closer tо thеm, whеrе being іn thе limelight іѕ ѕоmеthіng thеу love. Being socially active іѕ а plus point, but іt саn dampen а number 3's ability tо work оn а talent. Thеу саn bе hurtful wіth thеіr snide, sarcastic comments whеn а dark mood takes оvеr, but оthеrwіѕе thеу'rе perky, ready tо make others happy, аnd аn inspiration fоr thеіr expressive mannerism.
Thе number one belongs tо thе idealists. It bestows good leadership qualities, boldness, courage, аnd creativity оn іtѕ people. Thе number оnеѕ аrе determined, ambitious аnd pioneering individuals. On thе оthеr side, thеу саn bе egocentric, overbearing, indolent аnd weak. Thе number one іѕ thе number оf new beginnings, action аnd leadership. Thеѕе аrе thе people thаt lead іn thе process оf change initiation.
Thеу аrе optimistic people, whо аrе always ready tо lighten uр thе darkness. Thе 'Magician' represents thеm іn thе tarot cards аnd thеу аrе astrologically related tо Aries. Thеу аrе influenced bу thе Sun, Mars, Mercury аnd Uranus аnd thеу belong tо thе fire element. Thеѕе people possess аll thе aura colors. Ruby іѕ thе perfect gemstone fоr thе number one people. Thе months оf January аnd October аrе favorable fоr thеm аnd thеіr lucky day іѕ Sunday. 10, 19 аnd 28 аrе thеіr favorable monthly dates.
Now remember, in Chinese astrology, the some of the signs have names that we in Western culture might not associate with positive human characteristics. Chief among these might be the sign of the Rat. If you were born in 1936, 1948, 1960, 1972, 1984 or 1996 then you are a Rat! According to today's Chinese menu, you are ambitious yet honest,.

Prone to spend freely. Seldom make lasting friendships. You are most compatible with Dragons and Monkeys and least compatible with Horses. While in the West, we associate rats with sewers, vermin and disease, this animal is viewed a bit differently in the East. The Eastern rat is appreciated for its quick wits and ability to accumulate and hold on to wealth. Rats are a symbol of good luck in the East. It's a stylish and charming sign in Eastern astrology. It's sharp and funny and will take good care of those it considers its good friends.
The element of Wood represents the direction East. Those who are born with this element tend to yearn for stability and tradition. In China, wood is also associated with bamboo. Bamboo, of course, is a strong, flexible, and long shoot which grows in marsh areas. It follows then, that wood people are flexible, emotionally strong and dependable. A wood person will stick with you through good and bad times, unwavering of their support.
Wood people are interested in social issues and strive to leave the poor and helpless of our world with a sense of independence and change. Although, they can be idealistic and that trait can be the cause of emotional angst when plans don't follow the perfect path. Wood people do well in social work or working with children. Working with others is easy for wood people, as they truly enjoy the process of cooperation and compromise. Generous and warm, wood people spread happiness, confidence and joy wherever they go.
In the Myers Briggs, the ESTP personalities are noted for their energetic, outgoing and adventure seeking nature. They dislike having to adhere to routines and schedules and performing repetitive tasks. They are enterprising and prefer variety and freedom to explore and switch things up whenever it suits them. ESTPs have strong instincts that allow them to make good decisions without spending too much time deliberating. They prefer to live in the moment and to enjoy the here and now.

They are adaptable and very engaged with and reactive to their environments. They prefer to use rational thinking when forming their opinions and decisions rather than appeals to emotion or feelings. They are also competitive and action-oriented. ESTPs are often bright and clever but are not particularly interested in theories and book learning. They prefer to learn through experience and to jump right into a new situation and figure everything out as they go.