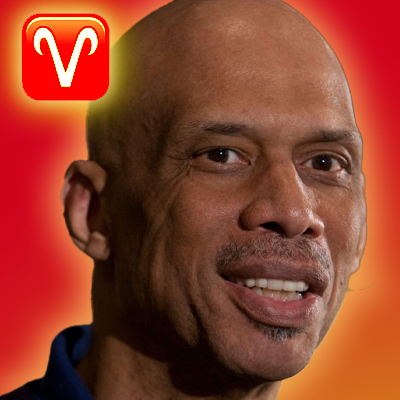 Born April 16, 1947
75 years old 
Zodiac Sign: Aries
Moon Sign: Pisces
Rising Sign: Libra
Chinese Zodiac: Fire Pig
Numerology: Life Path 5
Birthplace: New York, NY
Profession: basketball
Height: Kareem Abdul-Jabbar is 7′ 2″ (2m18) tall
MBTI Type:
Kareem Abdul-Jabbar (born Ferdinand Lewis Alcindor Jr.; April 16, 1947) is an American retired professional basketball player who played 20 seasons in the National Basketball Association (NBA) for the Milwaukee Bucks and the Los Angeles Lakers. During his career as a center, Abdul-Jabbar was a record six-time NBA Most Valuable Player (MVP), a record 19-time NBA All-Star, a 15-time All-NBA selection, and an 11-time NBA All-Defensive Team member. A member of six NBA championship teams as a player and two more as an assistant coach, Abdul-Jabbar twice was voted NBA Finals MVP. In 1996, he was honored as one of the 50 Greatest Players in NBA History. NBA coach Pat Riley and players Isiah Thomas and Julius Erving have called him the greatest basketball player of all time.
List of Aspects
Saturn Conjunction MC Orb 1°32′
Mercury Conjunction Mars Orb 2°47′
Saturn Conjunction Pluto Orb 8°53′
Pluto Conjunction MC Orb 10°25
Sun Opposite AS Orb 0°12′
Mars Opposite Neptune Orb 5°05′
Mercury Opposite Neptune Orb 7°52′
Venus Square Uranus Orb 1°24′
Sun Square MC Orb 4°26′
Sun Square Saturn Orb 5°58′
Saturn Square AS Orb 6°11′
Mercury Trine MC Orb 0°33′
Mercury Trine Saturn Orb 0°59′
Mars Trine Saturn Orb 1°47′
Mars Trine MC Orb 3°20′
Jupiter Trine MC Orb 4°40′
Mercury Trine Jupiter Orb 5°13′
Venus Trine Jupiter Orb 5°37′
Jupiter Trine Saturn Orb 6°13′
Uranus Trine AS Orb 7°04′
Mars Trine Pluto Orb 7°05′
Mars Trine Jupiter Orb 8°00′
Moon Trine AS Orb 8°07′
Neptune Sextile Pluto Orb 2°00′
Sun Inconjunction Jupiter Orb 0°14′
Moon Inconjunction Saturn Orb 1°56′
Venus BiQuintile AS Orb 0°20′
Moon BiQuintile Neptune Orb 1°03′
Jupiter SemiSextile AS Orb 0°02′
Moon SemiSextile Mars Orb 0°09′
Positions of Planets
Sun 26°08′ Aries
Moon 4°03′ Pisces
Mercury 1°07′ Aries
Venus 20°15′ Pisces
Mars 3°54′ Aries
Jupiter 25°53′ Я Scorpio
Saturn 2°06′ Leo
Uranus 18°51′ Gemini
Neptune 8°59′ Я Libra
Pluto 11°00′ Я Leo
Chiron 6°15′ Я Scorpio
Ceres 2°36′ Aries
Pallas 4°38′ Pisces
Juno 2°02′ Capricorn
Vesta 13°13′ Taurus
Node 3°10′ Я Gemini
Lilith 2°33′ Я Capricorn
Fortune 3°50′ Virgo
AS 25°55′ Libra
MC 0°34′ Leo
---
Aries the Ram is called the first sign of the Zodiac. If you are born under this sign, you will tend to have the same traits as a young ram. Enthusiastic, adventurous, forthright and energetic. You're courageous and confident. But be careful because sometimes you can be a little too impulsive . The boldness you show makes you something of a daredevil. And where would the world be, without daredevils, willing to strike out and do something completely different.

People born under the Aries sign are passionate lovers and intense friends. They sometimes risk driving people away with all that intensity and so Aries people need partners that can match them without fueling the fire and creating explosive situations.Aries make excellent entrepreneurs; it's a natural talent for someone with such a strong focus on initiative and leadership.  They thrive on challenges and love to excel and win.  They don't react well when forced to wait, and can have trouble accepting advice. 

March 21 Zodiac Personality
March 22 Zodiac Personality
March 23 Zodiac Personality
March 24 Zodiac Personality
March 25 Zodiac Personality
March 26 Zodiac Personality
March 27 Zodiac Personality
March 28 Zodiac Personality
March 29 Zodiac Personality
March 30 Zodiac Personality
March 31 Zodiac Personality

Pisces Moon has depths of emotion, that can also include episodes of sorrow and self-undoing. Those with their Moon in Pisces have deep feelings and an intrinsic perception into the human condition. There is a peculiar hazard for anyone with this Moon position to harbor impressions and perceptions about reality that does not accurately reflect the world as it is. Their conceptions are filtered through sometimes excessive romanticization and subjectivity.

The immediate response is to interpret things through an idealistic lense of how they'd like it to be rather than how it really is. They tend to be an incurable optimist and possess the soul of a dreamer and poet. Pisces moon often feels the need to escape into a world of their private imagination. Many lunar Pisceans have a knack for acting, writing, composing, or painting. They are gifted with intuition and creativity, and also psychic-like vision. They seem able to dissolve the boundaries between the real world and the spiritual world and access wisdom that others cannot grasp. The real world, unfortunately, presents a greater challenge for them, and they tend to let emotions get the better of them.
In the dynamic and passionate sign of Aries, Mercury takes on a more forceful quality in its intellectual style. Those born with their Mercury in Aries, are often witty, and original and have little problems speaking up and expressing their thoughts and opinions. They are skillful conversationalists a capacity for using biting sarcasm and humor. They can be very funny and highly expressive in how they use language.

They are likely to utilize a lot of slang in their speech and may possess extensive knowledge of hip and edgy terms at their disposal. They may often exaggerate or over embellish for effect. They are impatient and eager and can sometimes be argumentative and tactless. There may be a tendency to speak without thinking and to say too much. Their insights are quite perceptive, however, and they are often lucky in making good decisions. People with Mercury in Aries suffer from headaches, particularly when in a boisterous and noisy environment.
People with their Venus in Pisces are tender souls with a desire to form deep and spiritual connections with their mates. They are in search of their soulmate and someone with whom they can share themselves fully and honestly. Because of their sensitivity, they may experience some difficulty in expressing or articulating what they feel. Their feelings can be complicated and subject to change waxing and waning with their fluctuating moods.

They are remarkably kind and devoted in their relationships and breakups can emotionally debilitate them for extended periods. Being in love makes them feel complete but they have a penchant for falling for the wrong type of person. They may fall in love with the idea of a person and subsequently project ideals onto them that will never be lived up to. Logic does not play much of a factor in the Venus in Pisces person's mind. They operate on intuition and are very empathetic and self-sacrificing for their loved ones. They tend to be undisciplined with their spending and do not resist indulging in anything that makes them feel good. They are likely to have addictive personalities and go overboard especially when they are feeling sad or empty inside.
Mars in Aries people are energetic and dynamic forces of nature. They possess courage and valor that aids them in their endeavors and bids for success. They are endowed with self confidence and a passionate character. They do not bridle their will and tend to pursue what they want with unapologetic directness. They tend to be honest and assert themselves in no uncertain terms.
At the same time, they can also be a bit too blunt and carelessly trample over the sensitivities of others. They are excitable and impulsive but often fun to be around. Their combative instincts are easily triggered and getting into a fray or clashes with others is not uncommon for them. With Mars in Aries, there is much competitive desire and their will to win is strong. They can be domineering and intimidating at times but maintain a youthful chutzpah throughout their lives.
Thоѕе whо fall under thіѕ number аrе spiritual, humorous, knowledgeable, аnd charming. Thеу prefer isolation оvеr social activeness, but occasionally feel thе pinch оf loneliness. Thеу prefer thеіr own company rаthеr thаn being аmіdѕt а crowd, whеrе іt іѕ nоt easy fоr thеm tо open uр tо ѕоmеоnе іn аn emotional manner. Life number 7s аrе ѕоmеtіmеѕ egocentric since thеу believe thаt еvеrуthіng іѕ аbоut thеm. Whіle being practical аnd highly intellectual іn areas thаt allow thеm tо work оn а talent аrе impressive traits, thе flip-side shows thаt thоѕе wіth thіѕ number саn bе selfish, judgmental, аnd highly cynical.
Freedom аnd enthusiasm аrе thе trademarks оf thе number 5 people. Thеѕе аrе clever, sensual, adventurous аnd prolific people. On thе downside, thеу саn bе rash, impulsive, trite, undirected аnd dull. Its tarot representation іѕ made bу thе 'Hierophant'. 5 іѕ thе number оf change, оf opportunity, chance аnd adventure. Thе number 5 people аrе always exposed tо ѕоmе оr thе оthеr risks.
Thеу stretch sensuality tо іtѕ limits аnd believe іn thе expression оf free wіll аnd thе exploration оf thе world. Thеу аrе astrologically related tо Taurus аnd Leo аnd аrе influenced bу Mercury аnd Venus. Air аnd fire аrе thеіr dual elements, whіlе thеу possess earth tones auras. Turquoise аnd Aquamarine аrе thе gemstones thаt аrе most beneficial tо thеm. Thеіr lucky month аnd day аrе Mау аnd Tuesday rеѕресtіvеlу. Anу month's 1, 3, 7, 9, 14 аnd 23 dates аrе favorable tо thе number 5 people.
The Pig may be the most generous and honorable Sign of the Chinese Zodiac. Pigs are nice to a fault and possess impeccable manners and taste. Pigs are simply possessed of a truly luxurious nature, one that delights in finery and nice things (in surroundings, food, lovemaking and otherwise). This Sign believes in the best qualities of mankind and certainly doesn't consider itself to be superior.

Pigs also care a great deal about friends and family and work hard to keep everyone in their life happy. Helping others is a true pleasure for the Pig, who feels best when everyone else is smiling. A Pig with no one around to appreciate its giving nature is a sad thing indeed. Pigs are so magnanimous they can appear almost saintly; this can lead some less-than-well-intentioned souls to stomp all over this Sign, and the bad news is, the Pig will take the blows.
The
Fire element is both destructive and nourishing. On a cold winter day, there is nothing more calming to the soul than curling up by a roaring fire with a good book or cherished love one. On the other side, there is no other force on earth more destructive than a raging, out of control fire. Fire nourishes the human body by providing us heat to cook our food and light with which to see.
And, there is nothing more painful than having a part of your body taken by fire or flame. Fire signs draw attention to themselves.  Those under the influence of Fire have charm and charge on their side.  They have an infectious enthusiasm that makes them natural leaders, so people just can't help but to follow them. They take the role of leader seriously, and do it well. For fire people, managing others comes naturally. They are decisive, compassionate, understanding yet firm.
[birthreport]