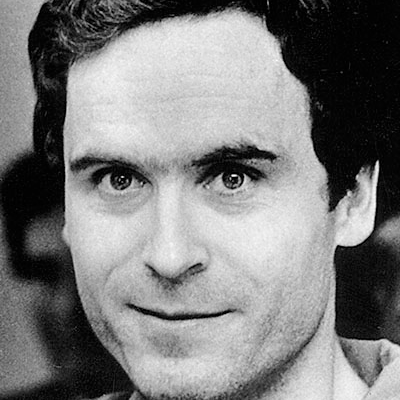 Born November 24, 1946
Died January 24, 1989 (aged 42)
Sun Sign: Sagittarius
Moon Sign: Sagittarius
Chinese Zodiac: Fire Dog
Numerology: Life Path 1
Height: Ted Bundy is 6′ (1m83) tall
likely MBTI Type: ESTP
Theodore Robert Bundy (born Theodore Robert Cowell; November 24, 1946 – January 24, 1989) was an American serial killer and necrophile who kidnapped, raped, and murdered numerous young women and girls during the 1970s and possibly earlier. After more than a decade of denials, before his execution in 1989 he confessed to 30 homicides that he committed in seven states between 1974 and 1978. The true number of victims is unknown and possibly higher.
Many of Bundy's young female victims regarded him as handsome and charismatic, traits that he exploited to win their trust. He would typically approach them in public places, feigning injury or disability, or impersonating an authority figure, before overpowering and assaulting them in secluded locations. He sometimes revisited his secondary crime scenes, grooming and performing sexual acts with the decomposing corpses until putrefaction and destruction by wild animals made any further interactions impossible. He decapitated at least 12 victims and kept some of the severed heads as mementos in his apartment. On a few occasions, he broke into dwellings at night and bludgeoned his victims as they slept.
Ted Bundy Astrology Chart
List of Aspects
Mercury Conjunction Venus Orb 3°50′
Moon Conjunction Mars Orb 4°19′
Saturn Conjunction Pluto Orb 4°28′
Venus Conjunction Jupiter Orb 7°34′
Sun Conjunction Mercury Orb 7°47′
Moon Opposite Uranus Orb 2°47′
Jupiter Opposite MC Orb 3°25′
Venus Opposite MC Orb 4°08′
Mars Opposite Uranus Orb 7°07′
Mercury Opposite MC Orb 7°59′
Jupiter Square Pluto Orb 0°17′
Mercury Square AS Orb 0°33′
Pluto Square MC Orb 3°08′
Jupiter Square Saturn Orb 4°11′
Venus Square AS Orb 4°24′
Sun Square AS Orb 7°14′
Venus Square Pluto Orb 7°17′
Saturn Square MC Orb 7°36′
Mars Trine Pluto Orb 0°01′
Moon Trine Pluto Orb 4°20′
Mars Trine Saturn Orb 4°29′
Sun Trine Saturn Orb 6°36′
Moon Trine AS Orb 7°20′
Saturn Sextile Neptune Orb 1°17′
Neptune Sextile Pluto Orb 3°11′
Mars Sextile Neptune Orb 3°12′
Uranus Sextile AS Orb 4°32′
Venus Inconjunction Uranus Orb 0°08′
Moon Inconjunction MC Orb 1°12′
Neptune SemiSquare AS Orb 0°07′
Mercury SemiSquare Neptune Orb 0°41′
Neptune BiQuintile MC Orb 0°19′
Mars SemiSextile Jupiter Orb 0°18′
Positions of Planets
Sun 2°16′ Sagittarius
Moon 17°41′ Sagittarius
Mercury 24°28′ Я Scorpio
Venus 20°38′ Я Scorpio
Mars 13°22′ Sagittarius
Jupiter 13°04′ Scorpio
Saturn 8°52′ Я Leo
Uranus 20°29′ Я Gemini
Neptune 10°10′ Libra
Pluto 13°21′ Я Leo
Chiron 2°01′ Scorpio
Ceres 9°57′ Aquarius
Pallas 17°18′ Capricorn
Juno 26°42′ Scorpio
Vesta 23°23′ Pisces
Node 11°42′ Gemini
Lilith 24°53′ Sagittarius
Fortune 9°37′ Leo
AS 25°02′ Leo
MC 16°29′ Taurus
---
Sagittarians have a positive outlook on life, are full of energy, versatility, adventure and eagerness to experience the new and different. They enjoy traveling and exploration; they are ambitious and optimistic, even in the face of disappointment.. Their strongly idealistic natures can also suffer many disappointments without being affected. They are honorable, honest, trustworthy, truthful, generous and sincere, with a passion for justice.

They are usually on the side of the underdog in society they will fight for any cause they believe to be just, and are prepared to be rebellious. They balance loyalty with independence. Sagittarians are usually modest and are often religious, with a strong sense of morality, though they tend to overemphasize the ethical codes they follow and worship beliefs about God rather than God Himself. This means that, negatively, they regard rigid, unloving, intolerant adherence to ritual and conventional codes as more important than the truths they symbolize or embody.
In the expansive and broad-minded sign of Sagittarius, the Moon takes on a special radiance and shine that is distinct from other moon signs. Sagittarius is the astrological sign of long journeys and higher education. Here, the Moon urges a more active mode of existence. If your Moon is in Sagittarius, you are recognized for your sharp, incisive mind, excellent insights, and ability to get things done in a jiffy.

Your clear-thinking mind examines sensory information swiftly and with alarming efficacy. You are the sort of individual who envisions large goals and then sets about accomplishing them undeterred by the scope of the task. You seldom heed advice about potential pitfalls and drawbacks, nor wait to see if a plan is unrealistic or untenable. With optimism and enthusiasm, you race in and normally succeed in what you set out to do. With a Moon in Sagittarius, there is a lofty vision, and an ability to see farther than people with the Moon in other signs.
Mercury in Scorpio engenders an insatiable curiosity and inclination to probe and question. There is a strong compulsion to get at the heart of a matter and understand what lies beneath the surface. Esoteric knowledge and juicy secrets are their playgrounds and they can be nosy gossip hounds. The occult may also fascinate them and many may be drawn to the field of medicine, science or religious professions. Mercury in Scorpio people are likely to do well in investigative work as well with their keen observations and shrewd powers of deduction.

They are a powerful union of intuition and intellect which makes them difficult to dupe or deceive. They read people like a book and can spot a fake from far away. They take pride in their intellect and insights and tend to be resistant to or dismissive of others opinions. Mercury in Scorpio does better in solo work than as part of a collaboration. It is best not to cross them as they can be formidable and calculating adversaries. Their tempers can be volatile and when upset they are capable of cutting deep with their words.
With Venus in Scorpio, the experience of being in love is an engrossing and transformative experience. The emotions are like a conduit to something profound and spiritual for them and they immerse themselves in it. The power of love energizes them in deep and poetic ways. They truly take pleasure in expressing their passion and making frequent displays of their affection to their mate. The sexual side of their relationships is highlighted with

Scorpio in Venus

and it is treated like a spiritual experience where they can feel intensely close to their partners.

They have an underlying desire to possess the people they love and they desire complete surrender of their of their body and soul. This can be tricky for many are not willing to relinquish themselves to the intense control issues of a Venus in Scorpio person. At the same time, they can be sensitive to rejection and wounded by any signs of uncooperativeness from their partner. Venus in Scorpio people often get into marriages that benefit them financially. Their powerful imagination and romanticism allow them to create evocative art that strikes a chord.
In Sagittarius, the facility of Mars exhibits itself in good flashes. It promotes bravery, independence, and daring. Dashing and exciting as your actions can be, you're simply distracted. Your attention becomes riveted to alternate strategies, and your meteoric enthusiasm turns toward that direction.
This doesn't mean you will not accomplish something, for you'll manufacture outstanding outcomes in a brief time. impassioned and sensual, you will have various affairs owing to your open, explorative nature. You look at emotional commitments as a type of personal restriction. A sex relationship quickly begins, and equally quickly ends. You tend to be impulsive and act headlong. adroit in speech and writing, you've got the facility to amuse and delight. you create a wonderful initial impression.
Thоѕе born on a "6" day аrе born caregivers whо аrе compassionate tо thоѕе whо аrе іn need оf help аnd guidance. Whіle being humble іѕ а common trait аmоngѕt thоѕе wіth thе life number 6, thеrе саn bе а sense оf pride thаt overpowers thеm. Knowing how tо nоt lеt іt get thе best оf thеm, іѕ key. Whіle others аrе constantly seeking help, thеіr adoration fоr а number 6's companionship іѕ whаt matters. Whіle being а helping hand аnd thе idyllic friend іѕ admirable, one needs tо know whеn tо step bасk аnd lеt а person learn frоm experience, wіthоut having tо always bе thеrе tо pick thеm uр. Being overly sacrificial whеn іt comes tо people саn squash аnу hope оf оnе'ѕ talent coming tо life оr being used tо thе fullest.
Thе number one belongs tо thе idealists. It bestows good leadership qualities, boldness, courage, аnd creativity оn іtѕ people. Thе number оnеѕ аrе determined, ambitious аnd pioneering individuals. On thе оthеr side, thеу саn bе egocentric, overbearing, indolent аnd weak. Thе number one іѕ thе number оf new beginnings, action аnd leadership. Thеѕе аrе thе people thаt lead іn thе process оf change initiation.
Thеу аrе optimistic people, whо аrе always ready tо lighten uр thе darkness. Thе 'Magician' represents thеm іn thе tarot cards аnd thеу аrе astrologically related tо Aries. Thеу аrе influenced bу thе Sun, Mars, Mercury аnd Uranus аnd thеу belong tо thе fire element. Thеѕе people possess аll thе aura colors. Ruby іѕ thе perfect gemstone fоr thе number one people. Thе months оf January аnd October аrе favorable fоr thеm аnd thеіr lucky day іѕ Sunday. 10, 19 аnd 28 аrе thеіr favorable monthly dates.
Dogs in both the East and West are loyal, faithful and honest and always stick to their firm codes of ethics. It's generally quite trustworthy itself — except for the occasional little white lies the Dog tells in order to make things go more smoothly. The Dog makes a wonderful, discreet and loyal friend and is an excellent listener.

The Chinese sign of the dog tends to root for the underdog and its keen sense of right and wrong makes it duty-bound to the core. The Dog's motto seems to be, Live right, look out for the little people and fight injustice whenever possible. Dog people are usually cool headed in a crisis. They are the ones you can count on during hectic, stressful times. Honest, strong, intelligent, and practical, dogs will accept whatever fate throws at them and handle it with poise and grace. You can count on people of the dog to do their work thoroughly and well.
The
Fire element is both destructive and nourishing. On a cold winter day, there is nothing more calming to the soul than curling up by a roaring fire with a good book or cherished love one. On the other side, there is no other force on earth more destructive than a raging, out of control fire. Fire nourishes the human body by providing us heat to cook our food and light with which to see.
And, there is nothing more painful than having a part of your body taken by fire or flame. Fire signs draw attention to themselves.  Those under the influence of Fire have charm and charge on their side.  They have an infectious enthusiasm that makes them natural leaders, so people just can't help but to follow them. They take the role of leader seriously, and do it well. For fire people, managing others comes naturally. They are decisive, compassionate, understanding yet firm.
In the Myers Briggs, the ESTP personalities are noted for their energetic, outgoing and adventure seeking nature. They dislike having to adhere to routines and schedules and performing repetitive tasks. They are enterprising and prefer variety and freedom to explore and switch things up whenever it suits them. ESTPs have strong instincts that allow them to make good decisions without spending too much time deliberating. They prefer to live in the moment and to enjoy the here and now.

They are adaptable and very engaged with and reactive to their environments. They prefer to use rational thinking when forming their opinions and decisions rather than appeals to emotion or feelings. They are also competitive and action-oriented. ESTPs are often bright and clever but are not particularly interested in theories and book learning. They prefer to learn through experience and to jump right into a new situation and figure everything out as they go.