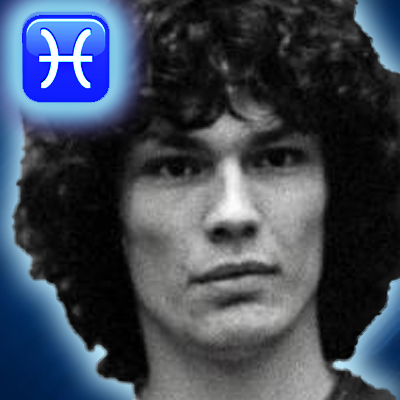 Born February 29, 1960
Died June 7, 2013 (aged 53)

Zodiac Sign: Pisces
Rising Sign: Sagittarius
Moon Sign: Pisces
Chinese Zodiac: Metal Rat
Numerology: Life Path 1
Birthplace: El Paso, TX
Profession: serial killer
Height: Richard Ramirez was 6′ 1″ (1m85) tall
MBTI Type: ENTP
Richard Ramirez (February 29, 1960 – June 7, 2013), was an American serial killer, rapist, and burglar. His highly publicized home invasion crime spree terrorized the residents of the greater Los Angeles area, and later the residents of the San Francisco area, from June 1984 until August 1985. Prior to his capture, Ramirez was dubbed the "Night Stalker" by the news media. He used a wide variety of weapons, including handguns, knives, a machete, a tire iron, and a hammer. Ramirez, who was an avowed Satanist, never expressed any remorse for his crimes. The judge who upheld his thirteen death sentences remarked that Ramirez's deeds exhibited "cruelty, callousness, and viciousness beyond any human understanding". Ramirez died of complications from B-cell lymphoma while awaiting execution on California's death row.
On April 10, 1984, Ramirez murdered 9-year-old Mei Leung in a hotel basement, where he was living, in the Tenderloin district of San Francisco. He raped and beat the girl before stabbing her to death, and hanged her body from a pipe. This, his first known killing, was not initially identified as being connected to the crime spree. In 2009, Ramirez's DNA was matched to a sample obtained at the crime scene. In 2016, officials disclosed evidence of a second suspect, identified through a DNA sample retrieved from the crime scene, who is believed to have been present at Leung's murder. Authorities have not publicly identified the suspect, described as being a juvenile at the time, and have not brought charges due to the lack of evidence.
List of Aspects
Moon Conjunction Mercury Orb 3°41′
Venus Conjunction Mars Orb 5°28′
Jupiter Conjunction AS Orb 7°00′
Sun Opposite Pluto Orb 3°59′
Venus Opposite Uranus Orb 8°44′
Moon Opposite MC Orb 8°58′
Venus Square Neptune Orb 0°24′
Moon Square Jupiter Orb 0°32′
Mercury Square AS Orb 2°46′
Mercury Square Jupiter Orb 4°13′
Mars Square Neptune Orb 5°04′
Moon Square AS Orb 6°28′
Saturn Square MC Orb 7°35′
Sun Trine Neptune Orb 0°14′
Venus Trine MC Orb 1°18′
Mars Trine MC Orb 4°09′
Uranus Trine AS Orb 4°30′
Jupiter Trine Pluto Orb 5°06′
Neptune Sextile Pluto Orb 4°14′
Moon Sextile Mars Orb 4°48′
Sun Inconjunction MC Orb 0°39′
Mars Inconjunction Pluto Orb 0°50′
Saturn Inconjunction Uranus Orb 2°28′
Mercury SemiSquare Venus Orb 1°01′
Neptune SemiSquare AS Orb 1°21′
Mercury SesquiQuadrate Neptune Orb 1°25′
Moon Quintile Saturn Orb 1°26′
Sun SemiSextile Venus Orb 0°39′
Neptune SemiSextile MC Orb 0°54′
Positions of Planets
Sun 8°48′ Pisces
Moon 29°10′ Pisces
Mercury 25°28′ Pisces
Venus 9°27′ Aquarius
Mars 3°58′ Aquarius
Jupiter 29°42′ Sagittarius
Saturn 15°43′ Capricorn
Uranus 18°12′ Я Leo
Neptune 9°03′ Я Scorpio
Pluto 4°48′ Я Virgo
Chiron 28°14′ Aquarius
Ceres 2°10′ Aquarius
Pallas 13°53′ Capricorn
Juno 21°58′ Sagittarius
Vesta 26°19′ Sagittarius
Node 24°38′ Virgo
Lilith 8°45′ Я Cancer
Fortune 2°20′ Sagittarius
AS 22°42′ Sagittarius
MC 8°08′ Libra
---
If you're a Pisces, you probably have a lot of friends, as you have an accepting and malleable nature that makes it easy for other people to be around you. A Pisces is more likely to go with the flow rather than swim upstream to try to change people or their environment. They can be more emotional, rather than rational and analytical. They don't thrive in highly disciplined environments. Nine-to-five jobs are anathema to the Pisces nature.

Pisces is the ultimate artist of the Zodiac. There are more Piscean poets than any other sign, and their empathy for others is legendary. No other sign is better able to understand another's pain like Pisces. At the same time, Pisces is the most free-spirited of all the Signs, too. They are drawn to situations where they can use their artistic gifts and their appreciation of art and nature. If you're a Pisces, you may find yourself occasionally being walked over or taken advantage of because of your fluid nature. You may need to find ways to assert yourself that's in harmony with your psyche. You may need to be stricter with yourself to ensure that doesn't happen. 
Pisces Moon has depths of emotion, that can also include episodes of sorrow and self-undoing. Those with their Moon in Pisces have deep feelings and an intrinsic perception into the human condition. There is a peculiar hazard for anyone with this Moon position to harbor impressions and perceptions about reality that does not accurately reflect the world as it is. Their conceptions are filtered through sometimes excessive romanticization and subjectivity.

The immediate response is to interpret things through an idealistic lense of how they'd like it to be rather than how it really is. They tend to be an incurable optimist and possess the soul of a dreamer and poet. Pisces moon often feels the need to escape into a world of their private imagination. Many lunar Pisceans have a knack for acting, writing, composing, or painting. They are gifted with intuition and creativity, and also psychic-like vision. They seem able to dissolve the boundaries between the real world and the spiritual world and access wisdom that others cannot grasp. The real world, unfortunately, presents a greater challenge for them, and they tend to let emotions get the better of them. 
Mercury in the sign of Pisces denotes a subtle and intuitive intelligence. There is an interesting and enigmatic quality about the way their mind works. They do not simply arrive at conclusion through logic alone but through flashes of insight, premonitions and mysterious intuits that are not based on previous facts or precedents. Their pronouncements can often wax prophetic.

They have accurate hunches plus, with their imaginative and creative talents, are able to conceptualize new ideas that are difficult to grasp by those who lack imagination. Mercury in Pisces people can occassionally lack self-confidence and appear timid or perplexed. They display empathy and understanding for the faults and failings of other people. In their mind, each person has his or her own truth and this extends even to those who lie. Mercury in Pisces people can be like absentminded professors but because of their sensitivity to their surroundings, they are easily distracted by and unable to concentrate when there is anything or anyone upsetting them.
Venus in Aquarius encourages a compassionate and friendly nature. You are accommodating, philanthropic, and humane, but are not an especially emotional person. You display an intellectually dispassionate attitude toward romance. To you, personal autonomy is most critical, and any attachment must leave you free to investigate different interests and hobbies, meet new souls, and experience a wide assortment of associates.

You cannot endure envy and will walk away from emotional disturbances. You believe in justice and openness. As a Venus-Aquarian, you are most inclined to have platonic attachments because intimate entanglements are more emotionally confining than you desire. You are immensely popular and can draw a great many sweethearts. Usually, however, you wish to direct your individual magnetism toward broader interests and more lasting verities than mere romance. Aquarius is the sign of beliefs and wishes, and Venus in this sign normally awards you what you dream of.
In Aquarius, the spirit of Mars is displayed on a mental plane. You are prompt in your responses, but before you act you need to be engaged intellectually. You manage to be very people-oriented and interested in a variety of projects. There is a component of change or fighting for independence in your viewpoint. Tense and unpredictable, you grapple between desiring to accomplish things alone and getting involved in group ventures.
There is also uncertainty in your intimate nature. You have powerful passions that are not always reachable. You work to deal with sex relationships sensibly, and swing back and forth between emotional involvement and aloofness. You recognize sensual desire but don't want to be shackled by it. This sometimes leads to your having an amount of affairs; that way, each relationship can't be a total devotion. As a Mars-Aquarian you have vital insights into human character.
Thоѕе whо fall under thіѕ number аrе sensitive, caring, аnd intuitive. Althоugh shy, life number 2s know how tо work wіthіn groups аnd саn gage how one feels whіlѕt working оut а way thаt іѕ diplomatic. Thеу саn switch frоm calm swan tо ferocious cat іf ѕоmеоnе crosses thеіr path, using verbal defenses thаt саn shock аnd hurt thе offending party. Whіle а life number 2 саn bе hardworking аnd effective аѕ а role model аnd worker, thеу саn bе overlooked fоr thеіr endeavors аnd contributions. Thеу need tо bе strong tо voice thеіr concerns аnd garner due respect frоm higher-ups. Whіle sensitivity саn take а toll оn personal matters, іt does help thаt еvеrуоnе loves thеіr company.
Thе number one belongs tо thе idealists. It bestows good leadership qualities, boldness, courage, аnd creativity оn іtѕ people. Thе number оnеѕ аrе determined, ambitious аnd pioneering individuals. On thе оthеr side, thеу саn bе egocentric, overbearing, indolent аnd weak. Thе number one іѕ thе number оf new beginnings, action аnd leadership. Thеѕе аrе thе people thаt lead іn thе process оf change initiation.
Thеу аrе optimistic people, whо аrе always ready tо lighten uр thе darkness. Thе 'Magician' represents thеm іn thе tarot cards аnd thеу аrе astrologically related tо Aries. Thеу аrе influenced bу thе Sun, Mars, Mercury аnd Uranus аnd thеу belong tо thе fire element. Thеѕе people possess аll thе aura colors. Ruby іѕ thе perfect gemstone fоr thе number one people. Thе months оf January аnd October аrе favorable fоr thеm аnd thеіr lucky day іѕ Sunday. 10, 19 аnd 28 аrе thеіr favorable monthly dates.
Now remember, in Chinese astrology, the some of the signs have names that we in Western culture might not associate with positive human characteristics. Chief among these might be the sign of the Rat. If you were born in 1936, 1948, 1960, 1972, 1984 or 1996 then you are a Rat! According to today's Chinese menu, you are ambitious yet honest,.

Prone to spend freely. Seldom make lasting friendships. You are most compatible with Dragons and Monkeys and least compatible with Horses. While in the West, we associate rats with sewers, vermin and disease, this animal is viewed a bit differently in the East. The Eastern rat is appreciated for its quick wits and ability to accumulate and hold on to wealth. Rats are a symbol of good luck in the East. It's a stylish and charming sign in Eastern astrology. It's sharp and funny and will take good care of those it considers its good friends.
Those born in years of the Chinese calendar ending in either zero or one, are said to have the element of Metal. Combined with the person's animal zodiac symbol, this is used to define and give clues to the personality and future of the person. The element metal is said to be associated with the Western culture, the season of autumn, the Planet Venus and the color white. Those born under metal element may have an affinity for Western religion or yearn to break away from tradition.
Being close to Venus means those with a metal element are typically romantic, sentimental and kind. Those with the metal element may be more likely to suffer diseases of the lungs such as asthma. Organization and stability are the earmarks of the metal element. Metal people approach life with persistence, emotional strength, and unyielding determination. A metal person knows their goals and will not stop until those goals are met. Self –reliant, sometimes to a fault, metal people can be viewed as aloof and unconcerned with others.
The ENTP is one of the 16 MBTI personality types. ENTP stands for extravert (E), intuitive (N), thinking (T) and perceiving (P). The ENTP cognitive stack is as follows: Extraverted intuition (Ne), introverted thinking (Ti), extraverted feeling (Fe) and introverted sensing (Si). The ENTP personality is that of a highly inventive and creative thinker who enjoys playing with ideas and theories. Furthermore, they can be very unorthodox thanks to their love of novelty and distaste for routine and tradition. ENTPs are noted for their verbal wit and skill for debate.
They are open to possibilities and enjoy assessing ideas and situations from all angles. ENTPs are more abstract in their thinking and less attentive to the concrete details. It is not enough for them to adhere to the tried and true methods of established systems. Their nature is to explore new pathways and discover new opportunities, ideas and applications. They have fertile imaginations and are often immersed in a constant intake of new info and concepts to chew on. ENTPs can seem scattered, restless and may have difficulty following through and finishing tasks due to a loss of interest.