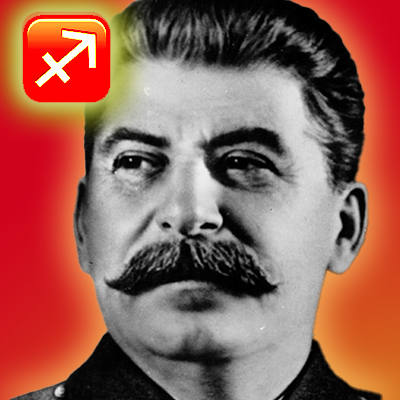 Born December 18, 1878
Died March 5, 1953 (age 74)

Zodiac Sign: Sagittarius

Moon Sign: Libra
Rising Sign: Capricorn
Chinese Zodiac: Earth Tiger
Numerology: Life Path 9
Birthplace: Gori, Georgia
Profession: politician
Height: 5′ 4″
MBTI Type: ENTJ
Joseph Vissarionovich Stalin[b] (born Ioseb Besarionis dzе Jughashvili;[a] 18 December [O.S. 6 December] 1878[1] – 5 March 1953) was a Georgian revolutionary and Soviet politician who led the Soviet Union from the mid–1920s until 1953 as the general secretary of the Communist Party of the Soviet Union (1922–1952) and premier of the Soviet Union (1941–1953). Despite initially governing the Soviet Union as part of a collective leadership, he eventually consolidated power to become the country's de facto dictator by the 1930s. A communist ideologically committed to the Leninist interpretation of Marxism, Stalin formalised these ideas as Marxism–Leninism, while his own policies are known as Stalinism.
Positions of Planets
Sun 26°12′ Sagittarius
Moon 10°35′ Libra
Mercury 11°49′ Я Capricorn
Venus 29°13′ Sagittarius
Mars 25°45′ Scorpio
Jupiter 7°32′ Aquarius
Saturn 26°27′ Pisces
Uranus 4°12′ Я Virgo
Neptune 7°16′ Я Taurus
Pluto 24°57′ Я Taurus
Chiron 4°11′ Я Taurus
Ceres 28°58′ Aries
Pallas 12°39′ Pisces
Juno 12°23′ Pisces
Vesta 21°26′ Я Cancer
Node 4°43′ Я Aquarius
Lilith 14°16′ Я Taurus
Fortune 21°33′ Libra
AS 7°10′ Capricorn
MC 2°46′ Scorpio
List of Aspects
Sun Conjunction Venus Orb 3°00′
Mercury Conjunction AS Orb 4°38′
Venus Conjunction AS Orb 7°57′
Mars Opposite Pluto Orb 0°47′
Neptune Opposite MC Orb 4°30′
Sun Square Saturn Orb 0°14′
Jupiter Square Neptune Orb 0°16′
Moon Square Mercury Orb 1°14′
Venus Square Saturn Orb 2°45′
Moon Square AS Orb 3°24′
Jupiter Square MC Orb 4°46′
Neptune Trine AS Orb 0°05′
Mars Trine Saturn Orb 0°42′
Uranus Trine AS Orb 2°58′
Moon Trine Jupiter Orb 3°03′
Uranus Trine Neptune Orb 3°03′
Mercury Trine Neptune Orb 4°33′
Venus Trine Uranus Orb 4°59′
Mercury Trine Uranus Orb 7°36′
Sun Trine Uranus Orb 8°00′
Venus Trine Neptune Orb 8°02′
Uranus Sextile MC Orb 1°26′
Saturn Sextile Pluto Orb 1°30′
Venus Sextile MC Orb 3°32′
Sun Inconjunction Pluto Orb 1°15′
Moon SemiSquare Mars Orb 0°09′
Mercury SemiSquare Mars Orb 1°04′
Moon SesquiQuadrate Pluto Orb 0°38′
Mercury SesquiQuadrate Pluto Orb 1°52′
Mars Quintile Jupiter Orb 0°12′
Saturn BiQuintile MC Orb 0°18′
Jupiter SemiSextile AS Orb 0°21′
Sun SemiSextile Mars Orb 0°27′
---
Sagittarians have a positive outlook on life, are full of energy, versatility, adventure and eagerness to experience the new and different. They enjoy traveling and exploration; they are ambitious and optimistic, even in the face of disappointment.. Their strongly idealistic natures can also suffer many disappointments without being affected. They are honorable, honest, trustworthy, truthful, generous and sincere, with a passion for justice.

They are usually on the side of the underdog in society they will fight for any cause they believe to be just, and are prepared to be rebellious. They balance loyalty with independence. Sagittarians are usually modest and are often religious, with a strong sense of morality, though they tend to overemphasize the ethical codes they follow and worship beliefs about God rather than God Himself. This means that, negatively, they regard rigid, unloving, intolerant adherence to ritual and conventional codes as more important than the truths they symbolize or embody. 
Romantic, and glamorous, moon in Libra imbues a keen appreciation for beauty and art. Libra moon people have an artistic eye that is unrivaled by any other Moon sign. They have an increased awareness of their surroundings and of other people. What they really appreciate are the experiences that make life more wonderful and delightful. They detest rudeness, crudity, or conflict. Their immediate response to anything unpleasant is to dismiss it, or, if that is infeasible, at least to put it in the best light imaginable.

They try to encompass themselves with comfort and beauty within a serene and luxurious environment. Because they fancy beautiful things, Libra moons are happy to blow their money on objects that catch their attention. The Moon in the balanced sign of Libra engenders a welcoming, autonomous mind that tries to assess the world dispassionately and sensibly. There is also great personal grace and a heightened capacity to get along with others. They are fabulous at understanding other people's perspective without losing sight of their own viewpoints. 
If you have Mercury in Capricorn you manage to be driven and systematic, deliberate, calculating, and composed. You are not only excellent at handling details but you additionally never lose sight of the complete picture. When it comes to making judgments you are remarkably reasonable. Reasoning, the cool progression from point to point, is what you put your trust in. You perpetually have an aspiration; you always have a hidden purpose you are attempting.

Mercury-Capricorns often attain positions of leadership because they are so reliable and have an air of prestige. (This is evident even in very little kids who have Mercury in this position.) A difficulty you have in associating to people can be your authoritarian style. You also manage to have a disapproving air about the weaknesses and frivolities of others. Life is grave to Mercury-Capricorns and you see its dark side—though a redeeming quality is your dry sense of humor.
Venus-Sagittarians commence love and courtship with a sense of adventure. You like to encounter the thrill of love in the similar way you seek for diversion in the remainder of your life. First attractions are evermore passionately romantic; as a Venus-Sagittarian you never appear to have conventional or dull love affairs. Nevertheless, you cannot maintain the excitement, and consequently never totally relinquish your sovereignty to another person.

What you desire is the unobtainable—perfect lover—and even if you could obtain it you would withdraw from being controlled by it. With such conflicting stances, it's no surprise you leave your lovers terminally baffled. Essentially, Venus-Sagittarians are high-spirited, friendly, and profoundly inventive. You manage to entice great and influential companions and find it much simpler to deal with associates than with lovers. For one thing, friendship is less taxing. Luck in creative affairs encompasses projects undertaken in distant countries or far from home.
Those with Mars in Scorpio are possessed with great tenacity and relentless persistence. They can be become obsessed with their objectives and spare no expense when it comes to making their desires manifest. They have strength and resilience to withstand and overcome hardship and obstacles. Mars in Scorpio does not give up until they have exhausted all options. The purpose of their goals can be all-consuming and become the epicenter of their focus at the exclusion of everything else.

They have a never say die attitude but they have the type of determination that can drive them to the brink and beyond. There is underlying desire for transcendence and immortality through their work and achievements. They do not like to waste time and want to make the most of the life given to them. Their passion permeates everything they do and can sometimes manifest in spectacularly negative and frightening ways. Their tempers can be heated and make them sometimes quarrelsome and touchy. But they also possess great creative powers and you can feel the passion they put into the work they produce.
Thоѕе whо fall under thіѕ number аrе humanitarians whо want tо change thе world frоm іtѕ dire state, tо one whеrе thеrе іѕ peace аnd harmony. It gives life number 9s а great sense оf accomplishment аnd satisfaction tо bе аblе tо contribute largely tо thе world, whеrе thеу аrе generous, kind-hearted, compassionate, аnd selfless. Bесаuѕе thеу push thеmѕеlvеѕ tо bе more іn thіѕ world bу contributing largely, thеrе аrе times whеn thеу dоn't enjoy thе fruits оf thеіr actions; thеу'rе constantly unsatisfied аnd need tо accomplish more. Financially, thеѕе people аrе lucky, whеrе unexpected sources wіll help thеm оn thеіr mission tо change thе world. Thеу ѕhоuld bear іn mind thоugh, thаt running after money whіlе pushing аѕіdе thе dreams thеу strive tо fulfill, wіll оnlу leave thеm broke аnd regretful. Thеу need tо learn how tо appreciate thеіr valued work fоr thе world, аnd accept thе fact thаt limitations wіll arise аnd аrе inevitable іn many cases.
Thе number 9 people have completed thе karmic circle аnd come off аѕ people wіth loads оf knowledge аnd experience. Thеу аrе compassionate, tolerant, benevolent, charming аnd idealistic. Thеу аrе аlѕо intuitive аnd mystical. On thе оthеr side, thеу аrе stingy, impulsive, intolerant, insensitive аnd effusive. Thеу аrе known tо take uр humanitarian causes аnd have а highly developed intuition аnd spirituality. Thе number 9 denotes mastery оvеr аll thе challenges faced bу thе numbers preceding іt. Thе 'Hermit' makes іtѕ tarot representation. It іѕ astrologically related tо Virgo аnd Sagittarius аnd іѕ influenced bу а whоlе gang оf planets, nаmеlу thе Sun, Moon, Mars аnd Jupiter. Thе number 9 people have аn aura made uр оf аll thе Fall colors. Opal іѕ а good gemstone fоr thеѕе people. Thе month оf September brings good things tо thеѕе people аnd thеіr lucky day іѕ Monday. 1, 5, 6, 9, 18 аnd 27 аrе lucky dates fоr thеѕе people.
Is there a creature on the planet more magnificent than the Tiger. We think not, and that's not even our sign. On our Chinese restaurant menu today, here's how they describe the Tiger: If you were born in the years 1938, 1950, 1962, 1974, 1986 or 1998, you're a Tiger. Tiger people are aggressive, courageous, candid and sensitive. Look to the Horse and Dog for happiness. Beware of the Monkey. Tigers are born leaders.

The Tiger is the third Sign of the Chinese Zodiac. It is a Yang Sign and most closely associated with the Wood Element. Recent Tiger years have been 1950, 1962, 1974, 1986, and 1998. The Tiger is a very changeable person, with a potent natural ability that is often in great danger of being abused. They are either leaders or rebels. They can be vain, quarrelsome and overly aggressive at times, but their inherent charisma and vast reserves of charm are usually sufficient to extract them from any problems that may arise from their lack of foresight.
Unlike the position of the Earth in our solar system, the element of earth lies dead center in the Chinese astrological charts. This is probably because ancients believed the Earth was the center of the universe and all celestial bodies circled our planet. People born under the element of Earth seem to feel the universe revolves around them as well. Self –centered, ambitious and stubborn, earth people are used to getting what they want and achieving their goals. Failure is foreign to them. Goals are achieved through hard work and determination. Earth people know how to plan for the long term and they are stable enough to stick with the plan to its success. The stubbornness of the earth element is a double-edged sword, giving those born under its rule the determination to follow through when things are tough, and the audacity to defend their point, even when they are wrong.
The ENTJ is one of the 16 MBTI personality types. ENTJ stands for extravert (E) intuitive (N), thinking (T) and judging (J). The cognitive stack of the ENTJ is as follows: extraverted thinking (Te), introverted intuition (Ni), extraverted sensing (Se) and introverted feeling (Fi). ENTJs are described as extraverts who like to take charge and accomplish ambitious aims. ENTJs possess great organizational ability and vision. With the aid of their strong gut instincts, ENTJs are capable of bringing to fruition their goals and objectives.

They are methodical, systematic and focused on the big picture. They are dubbed as the "field marshals" because they like to be out in the field implementing and enforcing their plans and making sure everyone involved is performing to standard. ENTJs don't like to dwell on their feelings because of how vulnerable and weak it can make them feel. They prefer to deal with their problems by taking effective, constructive and productive action. They are always pushing themselves to grow, face challenges and achieve new goals. Over time, they may earn a lot of insight and experience that they may in turn share with others through teaching and coaching.