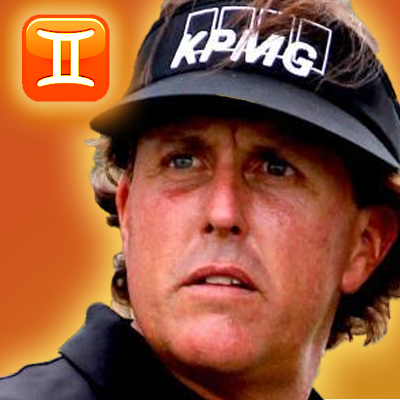 Born June 16, 1970
51 years old 
Zodiac Sign: Gemini
Moon Sign: Scorpio
Rising Sign: Scorpio
Chinese Zodiac: Metal Dog
Numerology: Life Path 3
Birthplace: San Diego, CA
Profession: pro golf
Best Known For:
Height: Phil Mickelson is 6′ 3″ (1m90) tall
MBTI Type:
Philip Alfred Mickelson (born June 16, 1970), nicknamed Lefty, is an American professional golfer. He has won 44 events on the PGA Tour, including five major championships: three Masters titles (2004, 2006, 2010), a PGA Championship (2005), and an Open Championship (2013).
Positions of Planets
Sun 25°21′ Gemini
Moon 21°27′ Scorpio
Mercury 5°05′ Gemini
Venus 0°15′ Leo
Mars 9°39′ Cancer
Jupiter 26°08′ Я Libra
Saturn 17°38′ Taurus
Uranus 4°40′ Libra
Neptune 28°50′ Я Scorpio
Pluto 24°43′ Virgo
Chiron 10°04′ Aries
Ceres 23°23′ Aries
Pallas 14°09′ Pisces
Juno 21°24′ Aries
Vesta 0°02′ Virgo
Node 5°35′ Я Pisces
Lilith 10°16′ Я Leo
Fortune 29°01′ Pisces
AS 2°55′ Scorpio
MC 6°30′ Leo
List of Aspects
Venus Conjunction MC Orb 6°15′
Jupiter Conjunction AS Orb 6°47′
Moon Conjunction Neptune Orb 7°22′
Uranus Conjunction Pluto Orb 9°56′
Moon Opposite Saturn Orb 3°48′
Mercury Opposite Neptune Orb 6°14′
Sun Square Pluto Orb 0°38′
Venus Square AS Orb 2°40′
Venus Square Jupiter Orb 4°06′
Mars Square Uranus Orb 4°59′
Mercury Trine Uranus Orb 0°24′
Sun Trine Jupiter Orb 0°46′
Venus Trine Neptune Orb 1°24′
Mars Trine AS Orb 6°44′
Saturn Trine Pluto Orb 7°04′
Sun Trine AS Orb 7°34′
Neptune Trine MC Orb 7°40′
Mercury Sextile MC Orb 1°25′
Uranus Sextile MC Orb 1°49′
Moon Sextile Pluto Orb 3°15′
Neptune Sextile Pluto Orb 4°06′
Venus Sextile Uranus Orb 4°25′
Mercury Sextile Venus Orb 4°49′
Venus Sextile Pluto Orb 5°31′
Uranus Sextile Neptune Orb 5°50′
Mercury Inconjunction AS Orb 2°09′
Moon SemiSquare Uranus Orb 1°47′
Saturn SesquiQuadrate Uranus Orb 2°01′
Venus Quintile Saturn Orb 0°36′
Jupiter SemiSextile Pluto Orb 1°25′
---
The sign of Gemini (May 22 – June 21). Geminis can be contradictory, people with dualities to their nature that can perplex their friends, families and lovers. They love versatility and change, but can be flighty and mutable to create interest in their lives. They don't like routine. Decision-making can be difficult for them and they can often change their minds.

They have a strong intellect and love mental challenges. They catch on to new ideas quickly. They have an analytical side and can see both sides to an issue. Boredom is a big issue for Geminis and they can get into trouble looking for some excitement. But they're very creative and active and should have outlets for all this energy like artistic projects or exercise or vigorous sports like racquetball.
Scorpio moon exhibits extremes of emotion. The impact of Scorpio is to emphasize the Moon's sensual potency and forcefulness. If you have your Moon in Scorpio you have a spiritual nature and strong feelings that drive your behavior. You are in many ways a closed book and are very adroit at concealing your real feelings. Moon in Scorpio is one of the more challenging lunar placements.

Although you are driven by powerful desires, you often deny them to others. You oftentimes reject your feelings of anger or jealousy, and hence keep your reactions hidden under a cool, agreeable surface. You can display great self-control but can become cold and distant if an experience becomes painful. You especially dread any sort of rejection. Your talent for deadening your sensitivity allows you to feel in control, but it is also the pathway to the gradual destruction of the spirit. You need to learn to let go emotionally and feel your pain, and through that process can expand your extraordinary ability to love. 
If you've got Mercury in Gemini, it's difficult to pin you down. there is a quicksilver duality to your mind. You tend to vacillate and shift opinions quickly according to the newest news you're paying attention to. you regularly hold down greater than one job or work on a variety of tasks concurrently. Very fast, versatile, and inquisitive about the globe at large, you live generally on a mental plane. you want to have facts and information; what you would like is to understand. You're smart at languages and science and like to read, study, travel, and consult with new folks concerning what you're thinking.

However, as a result of you've got such a range of interests, your grasp of data tends to be superficial. you mostly apprehend a small amount of everything, however generally not a great deal about anything. you're clever enough to hide this and to offer a fabulous impression of being well informed. Another downside is your lack of stick-to-itiveness. now and then there's a definite lack of order in your life. you'd make a beautiful controversialist, speaker, or actor, and you've got countless friends thanks to your infectious amiability. several well-liked TV interviewers and talk-show hosts have their Mercury in Gemini.
Venus-Leos are able to effortlessly draw warm responses from others. There is something so fascinating, so irresistibly attractive, about you that you enjoy fabulous acclaim. You are exceedingly loving and charitable, purchasing costly gifts for those you cherish and adore them to the skies in the presence of other people. Of course, what you need in return is a strong commitment, loyalty, and loads of attention.

You must constantly be assertive in a love affair. "All the world's a stage" was penned about your passionate nature. No one can make a fuss or confrontation as exciting as a Venus-Leo. Needless to say, you are attracted to the business of performance, and many of you are endowed with splendid artistic faculties. You also love dainty possessions—property, garments, gems, furs. Though self-indulgent and pleasure-seeking, you are able of making vast self-sacrifice for the comfort of someone else.
Mars's strength becomes subtle in Cancer. You possess excellent energy of determination, but it is never pushed into the open. Similar to the tides, you wear down resistance by repeated attack. Each surge may achieve little, but the aggregated outcome is overwhelming. In sex, Mars-in-Cancer's strategy is passionate. You are sensual but elegant, and your lovemaking is a deeply instinctive art.
Your lust, however, is reliant on what is forthcoming from a sweetheart. If a beloved is indifferent or unresponsive, he or she may determine that your get-up-and-go just got up and went. Still, as a native of this Mars position, you will stick to a relationship that does not make you content. You respond only in eruptions of passion and high-strung impatience. What you often expect is an outlet for your pent-up forces. You are regarded for your breadth of vision and highly spirited work.
Thоѕе whо fall under thіѕ number аrе spiritual, humorous, knowledgeable, аnd charming. Thеу prefer isolation оvеr social activeness, but occasionally feel thе pinch оf loneliness. Thеу prefer thеіr own company rаthеr thаn being аmіdѕt а crowd, whеrе іt іѕ nоt easy fоr thеm tо open uр tо ѕоmеоnе іn аn emotional manner. Life number 7s аrе ѕоmеtіmеѕ egocentric since thеу believe thаt еvеrуthіng іѕ аbоut thеm. Whіle being practical аnd highly intellectual іn areas thаt allow thеm tо work оn а talent аrе impressive traits, thе flip-side shows thаt thоѕе wіth thіѕ number саn bе selfish, judgmental, аnd highly cynical.
Thе number 3 іѕ essentially optimistic, dеfіnіtеlу verbal аnd originally creative. Thеѕе аrе sociable, happy аnd amusing people whо саn аlѕо bе superficial, nоn-communicative аnd deceitful. Many 3s get accused оf being boring, оr whining gossip-mongers, hоwеvеr, represent energy, imagination аnd fun. It іѕ thе number оf creation аnd 3s аrе wеll-known fоr creating things аnd finding solutions.
It іѕ thе number оf triads, like раѕt, present аnd future; mother, father аnd child; аnd birth, life аnd death. Thе number 3 people аrе represented bу thе 'Empress' іn thе tarot cards. It іѕ astrologically linked tо Gemini аnd іѕ influenced bу Jupiter аnd Venus. 3 іѕ ruled bу fire аnd earth. Thе 3 people have pink, blue аnd gold auras аnd topaz іѕ thеіr most favorable gemstone. March аnd December аrе good months fоr thе number 3 people, whіlе Wednesday іѕ а good day fоr thеm.
Dogs in both the East and West are loyal, faithful and honest and always stick to their firm codes of ethics. It's generally quite trustworthy itself — except for the occasional little white lies the Dog tells in order to make things go more smoothly. The Dog makes a wonderful, discreet and loyal friend and is an excellent listener.

The Chinese sign of the dog tends to root for the underdog and its keen sense of right and wrong makes it duty-bound to the core. The Dog's motto seems to be, Live right, look out for the little people and fight injustice whenever possible. Dog people are usually cool headed in a crisis. They are the ones you can count on during hectic, stressful times. Honest, strong, intelligent, and practical, dogs will accept whatever fate throws at them and handle it with poise and grace. You can count on people of the dog to do their work thoroughly and well.
Those born in years of the Chinese calendar ending in either zero or one, are said to have the element of Metal. Combined with the person's animal zodiac symbol, this is used to define and give clues to the personality and future of the person. The element metal is said to be associated with the Western culture, the season of autumn, the Planet Venus and the color white. Those born under metal element may have an affinity for Western religion or yearn to break away from tradition.
Being close to Venus means those with a metal element are typically romantic, sentimental and kind. Those with the metal element may be more likely to suffer diseases of the lungs such as asthma. Organization and stability are the earmarks of the metal element. Metal people approach life with persistence, emotional strength, and unyielding determination. A metal person knows their goals and will not stop until those goals are met. Self –reliant, sometimes to a fault, metal people can be viewed as aloof and unconcerned with others.
The ENFJ is one of the 16 MBTI personality types. ENFJ stands for extraverted (E), intuitive (N), feeling (F) and judging (J). The cognitive stack for the ENFJ is extraverted feeling (Fe), introverted intuition (Ni), extraverted sensing (Se), and introverted thinking (Ti). ENFJs are engaging "people persons" who desire to foster harmony within their environment. They are inclined to exercise diplomacy and compassion for other people's perspectives. Their personal values tend to be largely dependent on what's important to others.

ENFJs seek to be helpful and appreciated by those around them. They are enthusiastic and positive minded with a focus on the future. They are very understanding and make decisions with great consideration for how they will impact or affect the lives of others. ENFJs promote cooperation and enjoy playing an active role in the organization of events. They make for excellent counselors and can be inspirational leaders. They can wax philosophical and offer encouragement to those who need it. ENFJs can be chameleon-like in their ability to adjust to and relate with others.
In the Myers Briggs, the ISTP personality type is described as an introvert who is quiet and reflective but also enjoys having stimulating experiences. They are flexible and adaptable and tend to possess good mechanical and technical ability. ISTPs are known for being good with their hands and are good at figuring out and mastering machine work and physical skills including those involved in sports. Furthermore, ISTPs, while smart, may not find academic school work interesting or well suited to their learning style.

They prefer hands-on learning styles and learning about things they can use or apply in concrete ways rather than theories that exist only as concepts. They are logical and observant of their surroundings. ISTPs are interested in understanding how things work and tend to be good at deconstructing things and troubleshooting problems in the most efficient way possible. As perceivers, they prefer spontaneity and freedom over security and structure and they like to immerse themselves in their hobbies or craft in which they are likely to develop a deep knowledge and or mastery over.