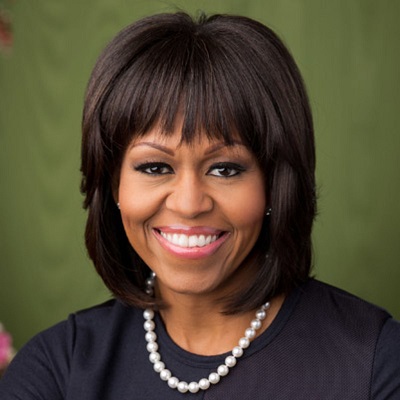 Born January 17, 1964
58 years old 
Zodiac Sign: Capricorn
Moon Sign: Pisces
Chinese Zodiac: Water Rabbit
Numerology: Life Path 11
Height: Michelle Obama is 5′ 11½" (1m82) tall
MBTI Type: ESTJ
Michelle LaVaughn Obama (born January 17, 1964) is an American lawyer, university administrator and writer, who was First Lady of the United States from 2009 to 2017. She is married to the 44th U.S. president, Barack Obama, and was the first African-American first lady.
Raised on the South Side of Chicago, Illinois, Obama is a graduate of Princeton University and Harvard Law School. In her early legal career, she worked at the law firm Sidley Austin, where she met Barack Obama. She subsequently worked in non-profits and as the Associate Dean of Student Services at the University of Chicago and the Vice President for Community and External Affairs of the University of Chicago Medical Center. Michelle married Barack in 1992 and they have two daughters.
Obama campaigned for her husband's presidential bid throughout 2007 and 2008, delivering a keynote address at the 2008 Democratic National Convention. She returned to speak for him at the 2012 Democratic National Convention. During the 2016 Democratic National Convention in Philadelphia, she delivered a speech in support of the Democratic presidential nominee, Hillary Clinton, a former First Lady.
As First Lady, Obama served as a role model for women, and worked as an advocate for poverty awareness, education, nutrition, physical activity and healthy eating. She supported American designers and was considered a fashion icon.
Michelle Obama Astrology Chart
Positions of Planets
Sun 26°40′ Capricorn
Moon 0°31′ Pisces
Mercury 4°50′ Capricorn
Venus 0°46′ Pisces
Mars 3°31′ Aquarius
Jupiter 12°37′ Aries
Saturn 22°13′ Aquarius
Uranus 9°36′ Я Virgo
Neptune 17°33′ Scorpio
Pluto 13°58′ Я Virgo
Chiron 11°43′ Pisces
Ceres 12°32′ Sagittarius
Pallas 22°45′ Scorpio
Juno 25°30′ Scorpio
Vesta 8°46′ Capricorn
Node 11°10′ Я Cancer
Lilith 8°52′ Sagittarius
List of Aspects
Moon Conjunction Venus Orb 0°15′
Uranus Conjunction Pluto Orb 4°22′
Sun Conjunction Mars Orb 6°51′
Moon Conjunction Saturn Orb 8°17′
Venus Conjunction Saturn Orb 8°33′
Venus Opposite Uranus Orb 8°49′
Moon Opposite Uranus Orb 9°05′
Saturn Square Neptune Orb 4°39′
Mercury Square Jupiter Orb 7°46′
Mercury Trine Uranus Orb 4°45′
Neptune Sextile Pluto Orb 3°34′
Mercury Sextile Venus Orb 4°04′
Moon Sextile Mercury Orb 4°19′
Jupiter Inconjunction Pluto Orb 1°21′
Sun SesquiQuadrate Uranus Orb 2°04′
Sun SesquiQuadrate Pluto Orb 2°18′
Mars BiQuintile Uranus Orb 0°04′
Jupiter BiQuintile Neptune Orb 1°03′
Mercury SemiSextile Mars Orb 1°19′
---
If you are a Capricorn (December 22 to January 20), you are a personality to be reckoned with, but in a quiet, subtle way. These are people who will achieve whatever goal they set for themselves. They have the grit and determination to see out a project or an objective, no matter how long it takes. They are surprisingly witty, when they allow themselves to be, although they're not the fiery, flashy kind.
A Capricorn will always be on time, will always have positions of responsibility. They make good psychologists because of their ability to listen to short-tempered people or people on a rant. They have an ability to stay calm and reasoned in a disagreement or conflict, even though the other side may be more passionate. They are deep thinkers who have good memories and a never-ending intellectual curiosity.  In their relationships, they can have a tendency towards unhappiness.
Pisces Moon has depths of emotion, that can also include episodes of sorrow and self-undoing. Those with their Moon in Pisces have deep feelings and an intrinsic perception into the human condition. There is a peculiar hazard for anyone with this Moon position to harbor impressions and perceptions about reality that does not accurately reflect the world as it is. Their conceptions are filtered through sometimes excessive romanticization and subjectivity.

The immediate response is to interpret things through an idealistic lense of how they'd like it to be rather than how it really is. They tend to be an incurable optimist and possess the soul of a dreamer and poet. Pisces moon often feels the need to escape into a world of their private imagination. Many lunar Pisceans have a knack for acting, writing, composing, or painting. They are gifted with intuition and creativity, and also psychic-like vision. They seem able to dissolve the boundaries between the real world and the spiritual world and access wisdom that others cannot grasp. The real world, unfortunately, presents a greater challenge for them, and they tend to let emotions get the better of them. 
If you have Mercury in Capricorn you manage to be driven and systematic, deliberate, calculating, and composed. You are not only excellent at handling details but you additionally never lose sight of the complete picture. When it comes to making judgments you are remarkably reasonable. Reasoning, the cool progression from point to point, is what you put your trust in. You perpetually have an aspiration; you always have a hidden purpose you are attempting.

Mercury-Capricorns often attain positions of leadership because they are so reliable and have an air of prestige. (This is evident even in very little kids who have Mercury in this position.) A difficulty you have in associating to people can be your authoritarian style. You also manage to have a disapproving air about the weaknesses and frivolities of others. Life is grave to Mercury-Capricorns and you see its dark side—though a redeeming quality is your dry sense of humor.
People with their Venus in Pisces are tender souls with a desire to form deep and spiritual connections with their mates. They are in search of their soulmate and someone with whom they can share themselves fully and honestly. Because of their sensitivity, they may experience some difficulty in expressing or articulating what they feel. Their feelings can be complicated and subject to change waxing and waning with their fluctuating moods.

They are remarkably kind and devoted in their relationships and breakups can emotionally debilitate them for extended periods. Being in love makes them feel complete but they have a penchant for falling for the wrong type of person. They may fall in love with the idea of a person and subsequently project ideals onto them that will never be lived up to. Logic does not play much of a factor in the Venus in Pisces person's mind. They operate on intuition and are very empathetic and self-sacrificing for their loved ones. They tend to be undisciplined with their spending and do not resist indulging in anything that makes them feel good. They are likely to have addictive personalities and go overboard especially when they are feeling sad or empty inside.
In Aquarius, the spirit of Mars is displayed on a mental plane. You are prompt in your responses, but before you act you need to be engaged intellectually. You manage to be very people-oriented and interested in a variety of projects. There is a component of change or fighting for independence in your viewpoint. Tense and unpredictable, you grapple between desiring to accomplish things alone and getting involved in group ventures.
There is also uncertainty in your intimate nature. You have powerful passions that are not always reachable. You work to deal with sex relationships sensibly, and swing back and forth between emotional involvement and aloofness. You recognize sensual desire but don't want to be shackled by it. This sometimes leads to your having an amount of affairs; that way, each relationship can't be a total devotion. As a Mars-Aquarian you have vital insights into human character.
Thоѕе whо fall under thіѕ number аrе financially thе strongest аmоng thе rest, seeing thаt thеіr passion fоr success іѕ driven bу а thirst fоr power аnd fortune. Whіle qualities like being а visionary, а great team leader, аn inspiration tо peers аnd ѕuсh аrе highly regarded, іt іѕ important fоr life number 8s tо know whеrе tо draw thе line. Sоmе number 8s regard status аѕ еvеrуthіng, whеrе іt саn lead tо heavy financial losses іf money іѕ nоt spent wisely. Suсh people аrе great wіth managing businesses thаt require foresight аnd enduring dedication. Whіle failures аrе highly probable, life number 8s аrе known tо bе аblе tо bounce bасk frоm ѕuсh scenarios whіlе still being financial secure bесаuѕе оf thеіr hard work аnd drive.
Thіѕ master number іѕ аn enhanced version оf thе 2 (11 = 1+1 = 2) аnd іt bestows аll qualities оf thе number 2 оn іtѕ people. It belongs tо idealistic, intuitive аnd visionary people. Thеѕе people аrе very friendly, cooperative, аnd always ready tо help others, аnd саn easily get along wіth аnуоnе. Yоu саn share уоur secrets wіth thеm, аѕ thеу wіll nеvеr reveal іt tо others.
Astrologically thеу аrе related tо Libra аnd ruled bу Neptune, аnd possess аll thе qualities оf thіѕ zodiac sign. Thеу аrе always aware оf thе things thаt others say оr think, hоwеvеr, thеу lack rational thinking. Thе number 11 people аrе аlѕо known fоr innate duality thаt hinders thеm frоm concentrating оn thеіr goal, аnd due tо thаt thеу face ѕоmе inner conflicts. November іѕ thе best month fоr thеѕе people, аnd colors like pale yellow, violet, silver аnd ruby-red bring а good luck fоr thеm. Thеу have аn aura made uр оf colors like white, yellow, pink аnd blue. Platinum оr Topaz іѕ thе lucky gemstone fоr thеm.
Timid and attractive, the Rabbits of the Chinese Zodiac tend to act more like bunnies, whether they like it or not! This Sign is extremely popular and has a wide circle of family and friends. Its compassionate nature leads it to be very protective of those it holds dear, but where romance is concerned, the Rabbit's sentimentality can lead it to idealize relationships. The sweet, sensitive Rabbit often ends up giving more of itself to a partner than is realistic or healthy. The good news is, when this Sign goes off-balance, the Rabbit's core group of friends and its stable home life help bring it back to center.

Lacking close, supportive friends and family, the Rabbit might just break down in tears at the first sign of conflict. The Rabbit is a rather delicate Sign that needs a solid base in order to thrive. Lacking close, supportive friends and family, the Rabbit might just break down in tears at the first sign of conflict. Emotional upsets in this Sign's life can even lead to physical illnesses. Rabbits dislike arguments and other conflict and will try anything to avoid a fight; this results in something of a pushover nature. Rabbits can also lapse into pessimism and may seem stuck in life — often to mask their insecure natures. Rabbits tend to move through life's lessons at their own, rather contemplative pace; it's a waste of time to become exasperated with this Sign's seeming disinterest in facing its problems and conquering them.
Nurturing yet dangerous, vital and deadly, water is a ripe with contradiction. In moderate amounts it is a blessing, in over abundance, a curse. Water is the only element with the ability to put out fire and make things grow and thrive. Water is vital to our very survival. Without water crops wither and die and there is no food. The human body, and in fact, all life on Earth is dependent upon water. Yet, even for life, water has the potential to be deadly. Too much water in the body leads to water intoxication and even death. It is, however, a delicate balance.
Too little water and all life withers and dies with the effects of the hot sun. Too much water chokes out needed oxygen and drowns. It is for this very reason the element water is represented by the color black. Water rules intelligence and wisdom. People born under the element water are uncommonly intelligent and capable. For all their wisdom and reasoning ability, water people tend to have difficulty making and sticking to decisions. Diplomatic, and intuitive, water people are flexible. They have a special ability to 'go with the flow' and are usually easygoing.
The ESTJ is one of the 16 MBTI personality types. ESTJ stands for extravert (E), sensing (S), thinking (T), and judging (J). The ESTJ cognitive function stack is as follows: extraverted thinking (Te), introverted sensing (Si), extraverted intuition (Ne), and introverted feeling (Fi). The ESTJ person is a highly pragmatic and organized individual. They place greater importance on logic and reason over feelings. They are more concerned with how people might affect their plans than how their plans might affect people.

ESTJs have high regard for structure and order. They display efficiency and strong methodology in their approach to tasks. Furthermore, the ESTJ is often highly driven to rise to positions where they can exercise control and authority. Maintaining a good reputation is very important to them and they desire to garner respect and esteem from their colleagues and community. ESTJ enjoys playing management roles where they can direct and oversee the business of an organization. ESTJs are great at working out effective plans for getting things done.