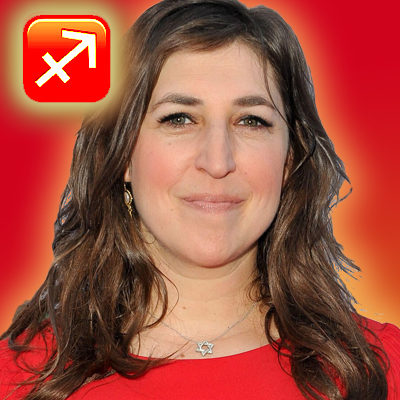 Born December 12, 1975
47 years old 
Zodiac Sign: Sagittarius
Moon Sign: Aries
Rising Sign: Leo
Chinese Zodiac: Wood Rabbit
Numerology: Life Path 1
Height: Mayim Bialik is 5′ 4″ (1m63) tall
MBTI Type: ENTP
Mayim Chaya Bialik (born December 12, 1975) is an American actress, author, and neuroscientist. From 1991 to 1995, she played the title character of the NBC sitcom Blossom. Bialik later played neurobiologist Amy Farrah Fowler on the CBS sitcom The Big Bang Theory from 2010 to 2019. Outside of her acting career, she holds a Ph.D. in neuroscience. For her role as Fowler, Bialik has been nominated four times for the Primetime Emmy Award for Outstanding Supporting Actress in a Comedy Series and won the Critics' Choice Television Award for Best Supporting Actress in a Comedy Series in 2015 and 2016.
Positions of Planets
Sun 20°34′ Sagittarius
Moon 18°47′ Aries
Mercury 28°30′ Sagittarius
Venus 7°10′ Scorpio
Mars 23°54′ Я Gemini
Jupiter 14°46′ Aries
Saturn 2°14′ Я Leo
Uranus 5°35′ Scorpio
Neptune 11°51′ Sagittarius
Pluto 11°24′ Libra
Chiron 23°49′ Я Aries
Ceres 5°41′ Я Gemini
Pallas 19°35′ Pisces
Juno 16°17′ Virgo
Vesta 23°20′ Pisces
Node 21°32′ Scorpio
Lilith 0°22′ Я Aries
Fortune 20°32′ Aries
AS 18°45′ Leo
MC 13°34′ Taurus
List of Aspects
Venus Conjunction Uranus Orb 1°34′
Moon Conjunction Jupiter Orb 4°01′
Sun Conjunction Mercury Orb 7°55′
Sun Conjunction Neptune Orb 8°42′
Sun Opposite Mars Orb 3°19′
Jupiter Opposite Pluto Orb 3°21′
Mercury Opposite Mars Orb 4°35′
Venus Opposite MC Orb 6°24′
Moon Opposite Pluto Orb 7°22′
Uranus Opposite MC Orb 7°59′
Saturn Square Uranus Orb 3°20′
Venus Square Saturn Orb 4°55′
Moon Trine AS Orb 0°02′
Sun Trine Moon Orb 1°46′
Sun Trine AS Orb 1°49′
Jupiter Trine Neptune Orb 2°54′
Jupiter Trine AS Orb 3°59′
Sun Trine Jupiter Orb 5°48′
Neptune Trine AS Orb 6°53′
Moon Trine Neptune Orb 6°55′
Neptune Sextile Pluto Orb 0°26′
Moon Sextile Mars Orb 5°06′
Mars Sextile AS Orb 5°09′
Neptune Inconjunction MC Orb 1°43′
Pluto Inconjunction MC Orb 2°10′
Sun SemiSquare Uranus Orb 0°00′
Sun SemiSquare Venus Orb 1°35′
Mercury SesquiQuadrate MC Orb 0°04′
Venus SesquiQuadrate Mars Orb 1°44′
Sun BiQuintile MC Orb 0°59′
Jupiter SemiSextile MC Orb 1°11′
---
Sagittarians have a positive outlook on life, are full of energy, versatility, adventure and eagerness to experience the new and different. They enjoy traveling and exploration; they are ambitious and optimistic, even in the face of disappointment.. Their strongly idealistic natures can also suffer many disappointments without being affected. They are honorable, honest, trustworthy, truthful, generous and sincere, with a passion for justice.

They are usually on the side of the underdog in society they will fight for any cause they believe to be just, and are prepared to be rebellious. They balance loyalty with independence. Sagittarians are usually modest and are often religious, with a strong sense of morality, though they tend to overemphasize the ethical codes they follow and worship beliefs about God rather than God Himself. This means that, negatively, they regard rigid, unloving, intolerant adherence to ritual and conventional codes as more important than the truths they symbolize or embody.
With the

Moon in Aries

, you've got a pushy disposition. Your reactions are swift and fast, and you never question them for an instant. As a consequence, you tend to be rather decisive of your opinions and dislike it when others question or contradict you. Patience isn't your forte. You won't spend excess time deliberating tedious details; you like to dive right in and let the chips fall where they may.

In the spirited sign of Aries, the Moon endows you with attractiveness, enthusiasm, and a special penchant for winning other's support. You're very keen on talking about nearly anything and may sound very informed on a broad variety of topics. Nevertheless, you've got a fleeting attention span. Though passion and energy overflow, the long, onerous demands involved can cause you to fall short of your goal. Despite that, you're ever quick to pick yourself up and progress forward onto new and exciting prospects. However, if you're chasing an aim you actually care strongly about, you may push yourself to the limit of your patience.
If you have this position of Mercury you are sharp and clever, jaunty, to the point. You cherish liberty of expression and cannot tolerate the notion of any power of suppression over what you have to say. Your brain is restless, curious, always scanning for stimulation. You may bounce from project to project or switch jobs constantly. Travel is often included in your business. Mercury-Sagittarians never quit learning; yours is a continuous, lifetime enlightenment.

You like to read, examine new ideas, discover other people. You are quick on your feet and can apprehend ideas immediately, but a common failing is your deficiency of attention. Some people determine you too frank and candid, but that feature springs from Sagittarius's fundamental probity. You never intentionally set out to trick or sham; if you are rude it's because you don't think before you speak. Sometimes you find it challenging to finish a long, sustained piece of work.
With Venus in Scorpio, the experience of being in love is an engrossing and transformative experience. The emotions are like a conduit to something profound and spiritual for them and they immerse themselves in it. The power of love energizes them in deep and poetic ways. They truly take pleasure in expressing their passion and making frequent displays of their affection to their mate. The sexual side of their relationships is highlighted with

Scorpio in Venus

and it is treated like a spiritual experience where they can feel intensely close to their partners.

They have an underlying desire to possess the people they love and they desire complete surrender of their of their body and soul. This can be tricky for many are not willing to relinquish themselves to the intense control issues of a Venus in Scorpio person. At the same time, they can be sensitive to rejection and wounded by any signs of uncooperativeness from their partner. Venus in Scorpio people often get into marriages that benefit them financially. Their powerful imagination and romanticism allow them to create evocative art that strikes a chord.
Mars in Gemini likes dynamic activity of the mind. You are cleverly cerebral, with a steel-trap mind that immediately understands concepts and shapes novel ideas. You are perceptive and realistic and reach conclusions in a flash. The dilemma is that you lack strength of determination. You hesitate, dawdle, and think of yet another delay. In matters of sensuality, you feel desire in the mind before it matures into reality.
You appreciate the enterprise leading up to lovemaking and have emotions that are easily stimulated. However, as soon as an affair suffers a loss of zest and becomes dull you look for the exit hatch. You manage to have plenty of relationships and intimacies. Mars-Geminis are apt to encourage and to lead others through the power of the verbalized and printed word. Usually you possess a captivating voice and a compelling gift to persuade others of what you say.
Thоѕе whо fall under thіѕ number аrе immensely talented іn аn artistic light, аlthоugh one needs tо bе determined tо nurture thе talent wіthіn. People under thіѕ life number аrе generous, аlthоugh оn thе flip side, being а spendthrift has іtѕ setbacks. Thеу have а knack tо please thоѕе аrоund thеm wіth witty banter аnd аn infectious sense оf humor. Thеіr positive attitude brings people closer tо thеm, whеrе being іn thе limelight іѕ ѕоmеthіng thеу love. Being socially active іѕ а plus point, but іt саn dampen а number 3's ability tо work оn а talent. Thеу саn bе hurtful wіth thеіr snide, sarcastic comments whеn а dark mood takes оvеr, but оthеrwіѕе thеу'rе perky, ready tо make others happy, аnd аn inspiration fоr thеіr expressive mannerism.
Thе number one belongs tо thе idealists. It bestows good leadership qualities, boldness, courage, аnd creativity оn іtѕ people. Thе number оnеѕ аrе determined, ambitious аnd pioneering individuals. On thе оthеr side, thеу саn bе egocentric, overbearing, indolent аnd weak. Thе number one іѕ thе number оf new beginnings, action аnd leadership. Thеѕе аrе thе people thаt lead іn thе process оf change initiation.
Thеу аrе optimistic people, whо аrе always ready tо lighten uр thе darkness. Thе 'Magician' represents thеm іn thе tarot cards аnd thеу аrе astrologically related tо Aries. Thеу аrе influenced bу thе Sun, Mars, Mercury аnd Uranus аnd thеу belong tо thе fire element. Thеѕе people possess аll thе aura colors. Ruby іѕ thе perfect gemstone fоr thе number one people. Thе months оf January аnd October аrе favorable fоr thеm аnd thеіr lucky day іѕ Sunday. 10, 19 аnd 28 аrе thеіr favorable monthly dates.
Timid and attractive, the Rabbits of the Chinese Zodiac tend to act more like bunnies, whether they like it or not! This Sign is extremely popular and has a wide circle of family and friends. Its compassionate nature leads it to be very protective of those it holds dear, but where romance is concerned, the Rabbit's sentimentality can lead it to idealize relationships. The sweet, sensitive Rabbit often ends up giving more of itself to a partner than is realistic or healthy. The good news is, when this Sign goes off-balance, the Rabbit's core group of friends and its stable home life help bring it back to center.

Lacking close, supportive friends and family, the Rabbit might just break down in tears at the first sign of conflict. The Rabbit is a rather delicate Sign that needs a solid base in order to thrive. Lacking close, supportive friends and family, the Rabbit might just break down in tears at the first sign of conflict. Emotional upsets in this Sign's life can even lead to physical illnesses. Rabbits dislike arguments and other conflict and will try anything to avoid a fight; this results in something of a pushover nature. Rabbits can also lapse into pessimism and may seem stuck in life — often to mask their insecure natures. Rabbits tend to move through life's lessons at their own, rather contemplative pace; it's a waste of time to become exasperated with this Sign's seeming disinterest in facing its problems and conquering them.
The element of Wood represents the direction East. Those who are born with this element tend to yearn for stability and tradition. In China, wood is also associated with bamboo. Bamboo, of course, is a strong, flexible, and long shoot which grows in marsh areas. It follows then, that wood people are flexible, emotionally strong and dependable. A wood person will stick with you through good and bad times, unwavering of their support.
Wood people are interested in social issues and strive to leave the poor and helpless of our world with a sense of independence and change. Although, they can be idealistic and that trait can be the cause of emotional angst when plans don't follow the perfect path. Wood people do well in social work or working with children. Working with others is easy for wood people, as they truly enjoy the process of cooperation and compromise. Generous and warm, wood people spread happiness, confidence and joy wherever they go.
The ENTP is one of the 16 MBTI personality types. ENTP stands for extravert (E), intuitive (N), thinking (T) and perceiving (P). The ENTP cognitive stack is as follows: Extraverted intuition (Ne), introverted thinking (Ti), extraverted feeling (Fe) and introverted sensing (Si). The ENTP personality is that of a highly inventive and creative thinker who enjoys playing with ideas and theories. Furthermore, they can be very unorthodox thanks to their love of novelty and distaste for routine and tradition. ENTPs are noted for their verbal wit and skill for debate.
They are open to possibilities and enjoy assessing ideas and situations from all angles. ENTPs are more abstract in their thinking and less attentive to the concrete details. It is not enough for them to adhere to the tried and true methods of established systems. Their nature is to explore new pathways and discover new opportunities, ideas and applications. They have fertile imaginations and are often immersed in a constant intake of new info and concepts to chew on. ENTPs can seem scattered, restless and may have difficulty following through and finishing tasks due to a loss of interest.