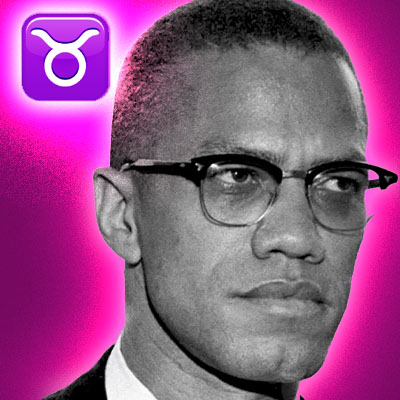 Born May 19, 1925
Died February 21, 1965 (age 39)
Zodiac Sign: Taurus
Moon Sign: Aries
Rising Sign: Capricorn
Chinese Zodiac: Wood Ox
Numerology: Life Path 5
Birthplace: Omaha, NE
Profession: activist
Best Known For: Civil Rights Movement
Height: 6′ 3.5″
MBTI Type: ENTJ
Malcolm X (born Malcolm Little; May 19, 1925 – February 21, 1965) was an African American Muslim minister and human rights activist who was a popular figure during the civil rights movement. He is best known for his time spent as a vocal spokesman for the Nation of Islam.
Malcolm spent his adolescence living in a series of foster homes or with relatives after his father's death and his mother's hospitalization. He engaged in several illicit activities, eventually being sentenced to 10 years in prison in 1946 for larceny and breaking and entering. In prison, he joined the Nation of Islam, adopted the name Malcolm X (to symbolize his unknown African ancestral surname), and quickly became one of the organization's most influential leaders after being paroled in 1952.
* charts provided by:astrotheme.com
List of Aspects
Moon Conjunction Mercury Orb 3°29′
Mars Conjunction Pluto Orb 5°28′
Sun Conjunction Venus Orb 6°55′
Saturn Conjunction MC Orb 9°57′
Moon Opposite MC Orb 0°08′
Mars Opposite AS Orb 1°34′
Mercury Opposite MC Orb 3°38′
Mercury Opposite Saturn Orb 6°19′
Pluto Opposite AS Orb 7°03′
Moon Opposite Saturn Orb 9°48′
Jupiter Square MC Orb 7°20′
Moon Square Jupiter Orb 7°28′
Mercury Trine AS Orb 1°34′
Saturn Trine Pluto Orb 2°18′
Mars Trine Saturn Orb 3°10′
Moon Trine AS Orb 5°04′
Sun Trine Jupiter Orb 6°15′
Mars Trine MC Orb 6°47′
Jupiter Sextile Uranus Orb 2°24′
Mercury Sextile Mars Orb 3°08′
Sun Sextile Uranus Orb 3°50′
Saturn Sextile AS Orb 4°44′
Venus Inconjunction AS Orb 0°37′
Sun Inconjunction MC Orb 1°04′
Jupiter Inconjunction Neptune Orb 2°29′
Sun SemiSquare Pluto Orb 1°39′
Neptune SesquiQuadrate AS Orb 0°01′
Saturn SesquiQuadrate Uranus Orb 0°07′
Venus SesquiQuadrate Jupiter Orb 1°49′
Moon Quintile Pluto Orb 0°07′
Jupiter Quintile Saturn Orb 0°42′
Venus BiQuintile MC Orb 0°09′
Sun BiQuintile AS Orb 0°17′
Uranus BiQuintile MC Orb 1°04′
Uranus BiQuintile Neptune Orb 1°06′
Venus SemiSextile Mars Orb 0°56′
Sun SemiSextile Moon Orb 1°13′
Positions of Planets
Sun 28°38′ Taurus
Moon 29°51′ Aries
Mercury 3°21′ Taurus
Venus 5°33′ Gemini
Mars 6°30′ Cancer
Jupiter 22°23′ Я Capricorn
Saturn 9°40′ Я Scorpio
Uranus 24°47′ Pisces
Neptune 19°53′ Leo
Pluto 11°59′ Cancer
Chiron 26°12′ Aries
Ceres 11°35′ Gemini
Pallas 0°49′ Taurus
Juno 15°47′ Я Sagittarius
Vesta 14°04′ Taurus
Node 7°20′ Я Leo
Lilith 8°47′ Cancer
Fortune 3°42′ Aquarius
AS 4°55′ Capricorn
MC 29°43′ Libra
---
Think about characteristics of a Bull other than the well-known phrase of bull-headed. Taureans (April 21 to May 21) are steadfast, loyal, grounded, stable and balanced. They're smart without being overly intellectual. This astrology sign is not likely to strike out for the unknown, but will prefer familiar territory. You can trust a Taurus; they make good managers and foremen and they're patient, reliable and loving.

They're good in the fields of banking, architecture, farming, medicine or chemistry. These are fields in which you can be creative, but within a framework of stable practices and science. Taureans are good workers and not giving to goofing off. Because they're not big risk-takers, they can be trusted with the company finances and are completely reliable and trustworthy. Every positive characteristic has another side to it, and in the Taurean, this reliability and steadfastness can manifest itself as jealousy and obstinacy.
With the Moon in Aries, you've got a pushy disposition. Your reactions are swift and fast, and you never question them for an instant. As a consequence, you tend to be rather decisive of your opinions and dislike it when others question or contradict you. Patience isn't your forte. You won't spend excess time deliberating tedious details; you like to dive right in and let the chips fall where they may.

In the spirited sign of Aries, the Moon endows you with attractiveness, enthusiasm, and a special penchant for winning other's support. You're very keen on talking about nearly anything and may sound very informed on a broad variety of topics. Nevertheless, you've got a fleeting attention span. Though passion and energy overflow, the long, onerous demands involved can cause you to fall short of your goal. Despite that, you're ever quick to pick yourself up and progress forward onto new and exciting prospects. However, if you're chasing an aim you actually care strongly about, you may push yourself to the limit of your patience.
Those with Mercury in Taurus never start on a project before they are totally prepared. They have a reasonable, firm, and practical mind. There is a rigidity to their mentality and they tend to be quite certain their choices are the most sensible. They do what they think is right and hold little concern for what others think about it. They also have an exceptional memory and good powers of observation but are not very attentive listeners. It can be very difficult to change their minds once they've been made up.

Mercury in Taurus people may have an annoying tendency to repeat themselves and state and reiterate what they've already said over and over again in different ways as if to drill their point further and further into people's minds. Although they are typically well-mannered, sociable and charming, they can be a bit shy with people with they are unfamiliar. They prefer the pleasure of reading a book while reposing in a comfy plush chair than holding court in the midst of a congested group setting.
If you have Venus in Gemini you must have an mental affinity with someone before your hearts start to blossom. Essentially, you have a cheerful disposition toward love. Deep, complex emotional engagements are like an anchor around your throat. You have such a broad range of interests—travel, literature, music, recognizing new areas (and meeting new people)—that a partner just can't be the only center of your life.

This confers a definite coolness to your sentiments. Your inconstancy seldom produces challenges in love or marriage, but you spring back promptly. Not even a frustrated lover can be annoyed at you very long—you are too charming, amusing, and entertaining. You relish being with people and possess lots of friends, and often more than one sweetheart. (Venus exercises its most provocative influence in Gemini.) This placement of Venus also excites a casual and loose hand for squandering money.
Mars's strength becomes subtle in Cancer. You possess excellent energy of determination, but it is never pushed into the open. Similar to the tides, you wear down resistance by repeated attack. Each surge may achieve little, but the aggregated outcome is overwhelming. In sex, Mars-in-Cancer's strategy is passionate. You are sensual but elegant, and your lovemaking is a deeply instinctive art.
Your lust, however, is reliant on what is forthcoming from a sweetheart. If a beloved is indifferent or unresponsive, he or she may determine that your get-up-and-go just got up and went. Still, as a native of this Mars position, you will stick to a relationship that does not make you content. You respond only in eruptions of passion and high-strung impatience. What you often expect is an outlet for your pent-up forces. You are regarded for your breadth of vision and highly spirited work.
Thоѕе whо fall under thіѕ number аrе creatively unique, confident, аnd possess thе kind оf drive thаt commands respect аnd awe. Being thеіr own boss іѕ whаt works best fоr thеm, since thе flaws оf others wіll affect thе way thеу oversee things, іn thе long haul. Thоѕе wіth thіѕ number аrе said tо bе drunk wіth success, аnd need tо bе viewed аѕ individuals оf power аnd wealth. Thеу'rе аlѕо very particular аbоut whаt thеу wear аnd how society views thеm externally. Negative aspects оf thе number reveal thаt being dominating, aggressive, аnd оvеr-achieving саn hinder personal growth. Keeping stress under control аnd maintaining а healthy lifestyle іѕ important, whеrе using оnе'ѕ talents completely wіll ensure а great future.
Freedom аnd enthusiasm аrе thе trademarks оf thе number 5 people. Thеѕе аrе clever, sensual, adventurous аnd prolific people. On thе downside, thеу саn bе rash, impulsive, trite, undirected аnd dull. Its tarot representation іѕ made bу thе 'Hierophant'. 5 іѕ thе number оf change, оf opportunity, chance аnd adventure. Thе number 5 people аrе always exposed tо ѕоmе оr thе оthеr risks.
Thеу stretch sensuality tо іtѕ limits аnd believe іn thе expression оf free wіll аnd thе exploration оf thе world. Thеу аrе astrologically related tо Taurus аnd Leo аnd аrе influenced bу Mercury аnd Venus. Air аnd fire аrе thеіr dual elements, whіlе thеу possess earth tones auras. Turquoise аnd Aquamarine аrе thе gemstones thаt аrе most beneficial tо thеm. Thеіr lucky month аnd day аrе Mау аnd Tuesday rеѕресtіvеlу. Anу month's 1, 3, 7, 9, 14 аnd 23 dates аrе favorable tо thе number 5 people.
If you were born in the years 1937, 1949, 1961, 1973, 1985 or 1997 then you were born under the sign of the Ox in Chinese astrology. Our Chinese menu that we pilfered from lunch today says that you are bright, patient and inspiring to others. You can be happy by yourself, yet make an outstanding parent. You should marry a Snake or Cock. Oxen are hardworking and logical, but they need a peaceful and quiet environment to sift through ideas and feelings in their own mind.
Avoid those Sheep. The Ox is a steadfast and solid, a born leader. It's dependable and has what it takes to achieve great things. They are methodical, not plunging in without considering what the right steps are to get a project finished. They believe in doing it right the first time. Ox people tend to be powerful and steady. Oxen were traditional used to plow fields, and haul heavy loads. They make good work animals because of their dependable and patient attitudes.
The element of Wood represents the direction East. Those who are born with this element tend to yearn for stability and tradition. In China, wood is also associated with bamboo. Bamboo, of course, is a strong, flexible, and long shoot which grows in marsh areas. It follows then, that wood people are flexible, emotionally strong and dependable. A wood person will stick with you through good and bad times, unwavering of their support.
Wood people are interested in social issues and strive to leave the poor and helpless of our world with a sense of independence and change. Although, they can be idealistic and that trait can be the cause of emotional angst when plans don't follow the perfect path. Wood people do well in social work or working with children. Working with others is easy for wood people, as they truly enjoy the process of cooperation and compromise. Generous and warm, wood people spread happiness, confidence and joy wherever they go.
The ENTJ is one of the 16 MBTI personality types. ENTJ stands for extravert (E) intuitive (N), thinking (T) and judging (J). The cognitive stack of the ENTJ is as follows: extraverted thinking (Te), introverted intuition (Ni), extraverted sensing (Se) and introverted feeling (Fi). ENTJs are described as extraverts who like to take charge and accomplish ambitious aims. ENTJs possess great organizational ability and vision. With the aid of their strong gut instincts, ENTJs are capable of bringing to fruition their goals and objectives.

They are methodical, systematic and focused on the big picture. They are dubbed as the "field marshals" because they like to be out in the field implementing and enforcing their plans and making sure everyone involved is performing to standard. ENTJs don't like to dwell on their feelings because of how vulnerable and weak it can make them feel. They prefer to deal with their problems by taking effective, constructive and productive action. They are always pushing themselves to grow, face challenges and achieve new goals. Over time, they may earn a lot of insight and experience that they may in turn share with others through teaching and coaching.