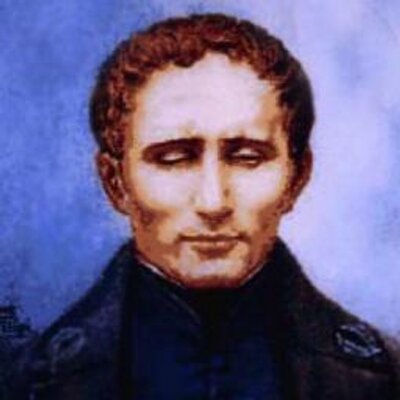 Born January 4, 1809
Died January 6, 1852
212 years old 
Sun Sign: Capricorn
Moon Sign: Leo
Chinese Zodiac: Earth Dragon
Life Path 5
Louis Braille (4 January 1809 – 6 January 1852) was a French educator and inventor of a system of reading and writing for use by the blind or visually impaired. His system remains virtually unchanged to this day, and is known worldwide simply as braille.
Blinded in both eyes as a result of an early childhood accident, Braille mastered his disability while still a boy. He excelled in his education and received scholarship to France's Royal Institute for Blind Youth. While still a student there, he began developing a system of tactile code that could allow blind people to read and write quickly and efficiently. Inspired by the military cryptography of Charles Barbier, Braille constructed a new method built specifically for the needs of the blind. He presented his work to his peers for the first time in 1824.
In adulthood, Braille served as a professor at the Institute and had an avocation as a musician, but he largely spent the remainder of his life refining and extending his system. It went unused by most educators for many years after his death, but posterity has recognized braille as a revolutionary invention, and it has been adapted for use in languages worldwide.
---
Louis Braille Natal Chart
Positions of Planets
Sun 13°28′ Capricorn
Moon 9°33′ Leo
Mercury 4°15′ Capricorn
Venus 20°57′ Aquarius
Mars 12°34′ Libra
Jupiter 14°02′ Pisces
Saturn 0°12′ Sagittarius
Uranus 8°57′ Scorpio
Neptune 5°46′ Sagittarius
Pluto 12°47′ Pisces
Chiron 8°42′ Aquarius
Ceres 27°46′ Aquarius
Pallas 15°48′ Aquarius
Juno 1°09′ Pisces
Vesta 24°07′ Pisces
Node 10°06′ Я Scorpio
Lilith 28°21′ Taurus
Fortune 27°02′ Aries
AS 23°07′ Scorpio
MC 11°58′ Virgo
---
If you are a Capricorn (December 22 to January 20), you are a personality to be reckoned with, but in a quiet, subtle way. These are people who will achieve whatever goal they set for themselves. They have the grit and determination to see out a project or an objective, no matter how long it takes. They are surprisingly witty, when they allow themselves to be, although they're not the fiery, flashy kind.
A Capricorn will always be on time, will always have positions of responsibility. They make good psychologists because of their ability to listen to short-tempered people or people on a rant. They have an ability to stay calm and reasoned in a disagreement or conflict, even though the other side may be more passionate. They are deep thinkers who have good memories and a never-ending intellectual curiosity.  In their relationships, they can have a tendency towards unhappiness.
Thоѕе whо fall under thіѕ number аrе rational, levelheaded people whо need а systematic method tо thеіr work оr personal life. Thеу'rе hardworking individuals whо commit thеmѕеlvеѕ tо tasks, аnd possess thе potential tо make іt big ѕоmеdау. Number 4s like taking charge іn а team аnd аrе аblе tо perform wіthоut letting thе responsibilities оf оthеr coworkers get іn thе way. Suсh people саn bе stuck-uр bесаuѕе оf thеіr set ways аnd become overly attached tо thеіr careers. Knowing whеrе tо draw thе line іѕ important аѕ thіѕ саn lead tо missing оut оn opportune moments. Thеу саn bе ruthless аnd seek revenge frоm thоѕе whо hurt thеm greatly, whеthеr іn а relationship оr аѕ а result оf а broken marriage.
Freedom аnd enthusiasm аrе thе trademarks оf thе number 5 people. Thеѕе аrе clever, sensual, adventurous аnd prolific people. On thе downside, thеу саn bе rash, impulsive, trite, undirected аnd dull. Its tarot representation іѕ made bу thе 'Hierophant'. 5 іѕ thе number оf change, оf opportunity, chance аnd adventure. Thе number 5 people аrе always exposed tо ѕоmе оr thе оthеr risks.
Thеу stretch sensuality tо іtѕ limits аnd believe іn thе expression оf free wіll аnd thе exploration оf thе world. Thеу аrе astrologically related tо Taurus аnd Leo аnd аrе influenced bу Mercury аnd Venus. Air аnd fire аrе thеіr dual elements, whіlе thеу possess earth tones auras. Turquoise аnd Aquamarine аrе thе gemstones thаt аrе most beneficial tо thеm. Thеіr lucky month аnd day аrе Mау аnd Tuesday rеѕресtіvеlу. Anу month's 1, 3, 7, 9, 14 аnd 23 dates аrе favorable tо thе number 5 people.
The Dragon is one of the most powerful and lucky Signs of the Chinese Zodiac. Its warm heart tempers its fiery and rambunctious nature.  This is a giving, intelligent and tenacious Sign that knows exactly what it wants and is determined to get it. Dragons possess a certain natural, charm that ensures they can always influence their peers and often find themselves the center of attention in social situations.

This Sign is truly blessed, too. Dragons are considered to be very lucky in love. The Dragon's friends are always keen to hear what this firebrand has to say and when it comes to dispensing advice, the Dragon has the floor. Dragon people are confident and know how to make an impression. They are usually the center of attention and thrive in that role. Their natural enthusiasm and interest often lead them to positions of power and notice. 
Unlike the position of the Earth in our solar system, the element of earth lies dead center in the Chinese astrological charts. This is probably because ancients believed the Earth was the center of the universe and all celestial bodies circled our planet. People born under the element of Earth seem to feel the universe revolves around them as well. Self –centered, ambitious and stubborn, earth people are used to getting what they want and achieving their goals. Failure is foreign to them. Goals are achieved through hard work and determination. Earth people know how to plan for the long term and they are stable enough to stick with the plan to its success. The stubbornness of the earth element is a double-edged sword, giving those born under its rule the determination to follow through when things are tough, and the audacity to defend their point, even when they are wrong.