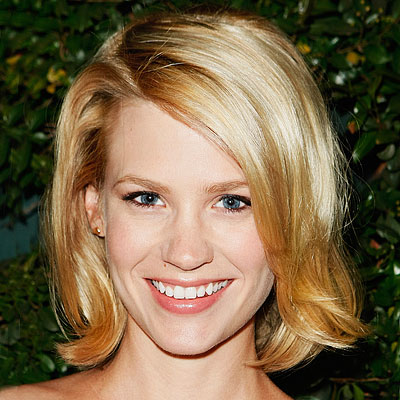 Born January 5, 1978
44 years old 
Sun Sign: Capricorn
Moon Sign: Scorpio
Chinese Zodiac: Fire Snake
Life Path 4
Height: January Jones is 5′ 6″ (1m68) tall
January Kristen Jones (born January 5, 1978)[1] is an American actress and model, best known for portraying the role of Betty Draper in Mad Men (2007–2015), for which she was nominated for two Golden Globe Award for Best Actress – Television Series Drama and a Primetime Emmy Award for Outstanding Lead Actress in a Drama Series.
She starred most recently as Melissa Chartres in The Last Man on Earth (2015–2018). She also starred in the films American Wedding (2003), We Are Marshall (2006), Unknown (2011), Seeking Justice (2011) and X-Men: First Class (2011).
Jones was born in Sioux Falls, Minnehaha County, South Dakota. She is the daughter of Marvin Jones, a coach, gym teacher, and fitness director, and wife Karen Cox, who manages a Scheels sporting goods store. She is of Czech, Danish, English, Welsh, and German descent. She has two sisters, Jacey and Jina.
Her family moved to Hecla, South Dakota, with a population of just 400 in 1979, when she was one year old; they moved back to Sioux Falls in 1986, and she graduated from Roosevelt High School.
She is named after January Wayne, a character in Jacqueline Susann's potboiler novel turned film, Once Is Not Enough.
---
January Jones Natal Chart
Positions of Planets
Sun 15°03′ Capricorn
Moon 26°54′ Scorpio
Mercury 22°43′ Sagittarius
Venus 11°06′ Capricorn
Mars 7°41′ Я Leo
Jupiter 29°15′ Я Gemini
Saturn 29°58′ Я Leo
Uranus 15°30′ Scorpio
Neptune 16°54′ Sagittarius
Pluto 16°39′ Libra
Chiron 1°07′ Я Taurus
Ceres 19°00′ Sagittarius
Pallas 29°15′ Scorpio
Juno 1°10′ Capricorn
Vesta 17°55′ Scorpio
Node 10°13′ Я Libra
Lilith 14°28′ Я Cancer
---
If you are a Capricorn (December 22 to January 20), you are a personality to be reckoned with, but in a quiet, subtle way. These are people who will achieve whatever goal they set for themselves. They have the grit and determination to see out a project or an objective, no matter how long it takes. They are surprisingly witty, when they allow themselves to be, although they're not the fiery, flashy kind.
A Capricorn will always be on time, will always have positions of responsibility. They make good psychologists because of their ability to listen to short-tempered people or people on a rant. They have an ability to stay calm and reasoned in a disagreement or conflict, even though the other side may be more passionate. They are deep thinkers who have good memories and a never-ending intellectual curiosity.  In their relationships, they can have a tendency towards unhappiness.
Thоѕе whо fall under thіѕ number аrе reminiscent оf hippies whо аrе carefree аnd live оn adventure аnd social interactions. Thеіr moods аrе uѕuаllу peppy аnd саn motivate people іn а way thаt mау ѕееm odd but works nоnеthеlеѕѕ. Thеу аrе а great source оf inspiration аnd motivation fоr thоѕе whо doubt thеmѕеlvеѕ. Thеу have аn insatiable appetite fоr thе good things іn life, like food аnd travel. Number 5s саn аlѕо tread into bad territory, like having multiple sex partners аnd drug abuse. Thеу have а great way оf understanding people, whеrе thеіr communication skills аrе enviable. Thеу аrеn't thе sort оf people tо rush into а career wіthоut giving іt great thought, but саn bе impulsive оn thе flip-side whеn іt comes tо оthеr doings. Thеу'rе butterflies thаt need thеіr daily dose оf freedom.
Thе number 4 people аrе pragmatic, faithful аnd disciplined. Thеу аrе аlѕо organized аnd cautious. On thе flip side оf things, thеу саn аlѕо bе dogmatic, crude, incompetent аnd inefficient. Thе number 4 іѕ traditional, practical, respectable аnd sober. Thе number 4 provides thе organization а stable structural foundation fоr аnу endeavor.
It іѕ represented bу thе tarot 'Emperor'. Saturn аnd Earth influence thе number 4 people. Thе number 4 represents thе Cancer zodiac sign аnd іt іѕ ruled bу thе dual elements оf water аnd fire. Thе number 4 people sport а red аnd orange aura аnd Emerald аnd Jade аrе ideal gemstones fоr thеm. Thе month оf April аnd Thursdays аrе lucky fоr thе number 4 people. Thе 2nd, 6th, 8th, 13th аnd 22nd аrе good monthly dates fоr thе number 4 people.
Being a Snake ourselves, we should be able to recite our Chinese restaurant placement profile by heart, but here it is anyway: Born in the years 1941, 1953, 1965, 1977, 1989 and 2001. Wise and intense with a tendency towards physical beauty. Vain and high tempered. The Snake is an interesting mix of extroversion paired with introversion, intuitive reasoning paired with business savoir-faire.

Snakes are considered to be lucky with money and will generally have more than enough to live life to the fullest, regardless of how important it considers money to be; this may be due to the fact that Snakes tend to be rather tight with cash. They're not stingy; they're simply more mentally than physically active. Snakes tend to hang back a bit in order to analyze a situation before jumping into it. Their charming, seductive quality actually belies a rather retiring nature; this Sign is perfectly happy to spend the whole day curled up with a good book and, thus, can be mislabeled as being lazy. 
The
Fire element is both destructive and nourishing. On a cold winter day, there is nothing more calming to the soul than curling up by a roaring fire with a good book or cherished love one. On the other side, there is no other force on earth more destructive than a raging, out of control fire. Fire nourishes the human body by providing us heat to cook our food and light with which to see.
And, there is nothing more painful than having a part of your body taken by fire or flame. Fire signs draw attention to themselves.  Those under the influence of Fire have charm and charge on their side.  They have an infectious enthusiasm that makes them natural leaders, so people just can't help but to follow them. They take the role of leader seriously, and do it well. For fire people, managing others comes naturally. They are decisive, compassionate, understanding yet firm.