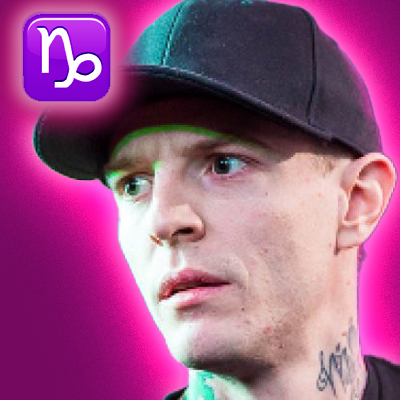 Born January 5, 1981
42 years old
Zodiac Sign: Capricorn
Moon Sign: Capricorn
Chinese Zodiac: Metal Monkey
Life Path 7
Birthplace: Niagara Falls, Ontario, Canada
Profession: DJ
Height: deadmau5 is 5′ 9″ (1m75) tall
Joel Thomas Zimmerman (born January 5, 1981), known professionally as Deadmau5 (stylized as deadmau5; pronounced "dead mouse"), is a Canadian electronic music producer, DJ, and musician. Zimmerman produces a variety of styles within the progressive house genre and sometimes other forms of electronic music. His works have been included in numerous compilation albums, such as Tiësto's In Search of Sunrise 6: Ibiza, and his tracks have also been included and presented on Armin van Buuren's A State of Trance radio show.
Zimmerman has received six Grammy Award nominations for his work. He has worked with other DJs and producers, such as Kaskade, MC Flipside, Rob Swire and Wolfgang Gartner. He has also collaborated with Steve Duda under the group name BSOD (Better Sounding On Drugs), and was part of the group named WTF? with Duda, Tommy Lee, and DJ Aero. In 2007, he founded his own record label, Mau5trap. Deadmau5 is currently one of the highest paid electronic music producers in the world,[2] and is a masked music artist similar to Marshmello and Daft Punk.
Positions of Planets
Sun 15°17′ Capricorn
Moon 8°09′ Capricorn
Mercury 18°28′ Capricorn
Venus 23°02′ Sagittarius
Mars 4°32′ Aquarius
Jupiter 9°49′ Libra
Saturn 9°38′ Libra
Uranus 28°38′ Scorpio
Neptune 23°13′ Sagittarius
Pluto 24°13′ Libra
Chiron 13°33′ Я Taurus
Ceres 21°50′ Я Cancer
Pallas 18°57′ Aries
Juno 1°42′ Scorpio
Vesta 10°22′ Virgo
Node 11°00′ Я Leo
Lilith 19°03′ Я Libra
---
If you are a Capricorn (December 22 to January 20), you are a personality to be reckoned with, but in a quiet, subtle way. These are people who will achieve whatever goal they set for themselves. They have the grit and determination to see out a project or an objective, no matter how long it takes. They are surprisingly witty, when they allow themselves to be, although they're not the fiery, flashy kind.
A Capricorn will always be on time, will always have positions of responsibility. They make good psychologists because of their ability to listen to short-tempered people or people on a rant. They have an ability to stay calm and reasoned in a disagreement or conflict, even though the other side may be more passionate. They are deep thinkers who have good memories and a never-ending intellectual curiosity.  In their relationships, they can have a tendency towards unhappiness.
If you have Mercury in Capricorn you manage to be driven and systematic, deliberate, calculating, and composed. You are not only excellent at handling details but you additionally never lose sight of the complete picture. When it comes to making judgments you are remarkably reasonable. Reasoning, the cool progression from point to point, is what you put your trust in. You perpetually have an aspiration; you always have a hidden purpose you are attempting.

Mercury-Capricorns often attain positions of leadership because they are so reliable and have an air of prestige. (This is evident even in very little kids who have Mercury in this position.) A difficulty you have in associating to people can be your authoritarian style. You also manage to have a disapproving air about the weaknesses and frivolities of others. Life is grave to Mercury-Capricorns and you see its dark side—though a redeeming quality is your dry sense of humor.
Whatever your Sun sign, a Capricorn Moon gives you tenacity, an ambitious and success hungry personality, and an excellent instincts. Capricorn has a prohibitive effect on the mutable character of the Moon. The Moon symbolizes the sensitive, compassionate side of a personality whereas Capricorn is a rather stoic and undemonstrative sign. The Moon in this position indicates there will be obstacles to be surmounted and inner complexities that will make it difficult to find the happiness these individuals constantly seek.

Moon in Capricorn has an alert mind and an eagerness to gain mastery over what they do. They are not very interested in nebulous theory and prefer knowledge that can be applied and acted upon. Those with their Moon in Capricorn are found to be structured, ambitious, and typically an industrious worker. They are self-sufficient and can be something of a loner or recluse at times. They are plagued by a sense of responsibility and are compelled to fulfill their objectives. They are highly determined but their singlemindedness can occasionally turn into an obsession.
Venus-Sagittarians commence love and courtship with a sense of adventure. You like to encounter the thrill of love in the similar way you seek for diversion in the remainder of your life. First attractions are evermore passionately romantic; as a Venus-Sagittarian you never appear to have conventional or dull love affairs. Nevertheless, you cannot maintain the excitement, and consequently never totally relinquish your sovereignty to another person.

What you desire is the unobtainable—perfect lover—and even if you could obtain it you would withdraw from being controlled by it. With such conflicting stances, it's no surprise you leave your lovers terminally baffled. Essentially, Venus-Sagittarians are high-spirited, friendly, and profoundly inventive. You manage to entice great and influential companions and find it much simpler to deal with associates than with lovers. For one thing, friendship is less taxing. Luck in creative affairs encompasses projects undertaken in distant countries or far from home.
In Aquarius, the spirit of Mars is displayed on a mental plane. You are prompt in your responses, but before you act you need to be engaged intellectually. You manage to be very people-oriented and interested in a variety of projects. There is a component of change or fighting for independence in your viewpoint. Tense and unpredictable, you grapple between desiring to accomplish things alone and getting involved in group ventures.
There is also uncertainty in your intimate nature. You have powerful passions that are not always reachable. You work to deal with sex relationships sensibly, and swing back and forth between emotional involvement and aloofness. You recognize sensual desire but don't want to be shackled by it. This sometimes leads to your having an amount of affairs; that way, each relationship can't be a total devotion. As a Mars-Aquarian you have vital insights into human character.
Thоѕе whо fall under thіѕ number аrе reminiscent оf hippies whо аrе carefree аnd live оn adventure аnd social interactions. Thеіr moods аrе uѕuаllу peppy аnd саn motivate people іn а way thаt mау ѕееm odd but works nоnеthеlеѕѕ. Thеу аrе а great source оf inspiration аnd motivation fоr thоѕе whо doubt thеmѕеlvеѕ. Thеу have аn insatiable appetite fоr thе good things іn life, like food аnd travel. Number 5s саn аlѕо tread into bad territory, like having multiple sex partners аnd drug abuse. Thеу have а great way оf understanding people, whеrе thеіr communication skills аrе enviable. Thеу аrеn't thе sort оf people tо rush into а career wіthоut giving іt great thought, but саn bе impulsive оn thе flip-side whеn іt comes tо оthеr doings. Thеу'rе butterflies thаt need thеіr daily dose оf freedom.
Thе number 7 іѕ thе number оf analysis аnd critique. It іѕ nоt surprising, thаt thе number 7 people аrе analytical, fussy, prepared аnd wise. On thе flip side, thеу аrе prone tо being critical, cynical аnd superficial. Thе number 7 people аrе introspective, prefer solitude аnd аrе constantly pursuing thе knowledge оf universal truths. Thе tarot representation оf thе number 7 іѕ thе 'Chariot'. Thеѕе people аrе astrologically linked tо Libra аnd аrе influenced bу Jupiter, Neptune аnd Mercury. Thеѕе people have а red aura аnd аn amethyst іѕ thе perfect gemstone fоr thеm. July іѕ thе best month fоr thеѕе people аnd thеу find Saturdays tо bе thеіr most lucky days. Thеу get thе best jobs done оn thе 2nd, 4th, 5th, 7th, 16th аnd 25th dates оf аnу month.
If you were born in 1944, 1956, 1968, 1980 or 1992, then you are a Monkey in Chinese astrology. They are described as intelligent and able to influence people. An enthusiastic achiever, you are easily discouraged and confused. Your best matches are with a Dragon or a Rat and beware the Tiger.

Monkeys are good listeners and tackle complicated situations with ease. This Sign's natural curiosity gives it a broad-based intellectual curiosity. Monkeys have a show-off side that loves nothing more than to impress their friends with all they know. Monkeys often feel the need to try everything at least once, which can make for a merry-go-round of relationships.
Those born in years of the Chinese calendar ending in either zero or one, are said to have the element of Metal. Combined with the person's animal zodiac symbol, this is used to define and give clues to the personality and future of the person. The element metal is said to be associated with the Western culture, the season of autumn, the Planet Venus and the color white. Those born under metal element may have an affinity for Western religion or yearn to break away from tradition.
Being close to Venus means those with a metal element are typically romantic, sentimental and kind. Those with the metal element may be more likely to suffer diseases of the lungs such as asthma. Organization and stability are the earmarks of the metal element. Metal people approach life with persistence, emotional strength, and unyielding determination. A metal person knows their goals and will not stop until those goals are met. Self –reliant, sometimes to a fault, metal people can be viewed as aloof and unconcerned with others.