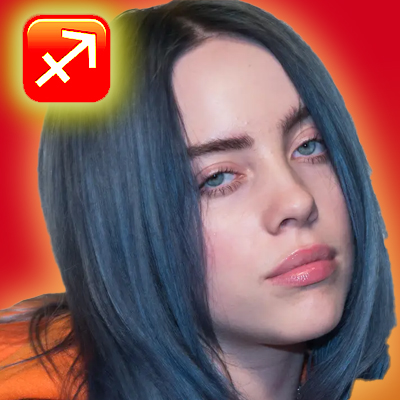 Born December 18, 2001
20 years old 
Zodiac Sign: Sagittarius
Moon Sign: Aquarius
Chinese Zodiac: Metal Snake
Numerology: Life Path 6
Birthplace: Los Angeles, CA
Profession: musician
Height: Billie Eilish is 5′ 5″ (1m65) tall
MBTI Type: ISFP
Billie Eilish Pirate Baird O'Connell (born December 18, 2001) is an American singer and songwriter. Born and raised in Highland Park, Los Angeles, Eilish began singing at a young age. She gained media attention in 2016, when she uploaded the song "Ocean Eyes" on SoundCloud, subsequently released by Darkroom and Interscope Records. "Ocean Eyes" was written and produced by her brother Finneas, with whom she collaborates on music and live shows. Eilish's debut EP, Don't Smile at Me (2017), reached the top 15 in the US, UK, Canada and Australia.
List of Aspects
Venus Conjunction MC Orb 1°50′
Sun Conjunction MC Orb 4°32′
Venus Conjunction Pluto Orb 5°00′
Moon Conjunction Neptune Orb 5°37′
Sun Conjunction Venus Orb 6°23′
Pluto Conjunction MC Orb 6°51′
Sun Conjunction Mercury Orb 7°46′
Moon Conjunction Uranus Orb 9°15′
Mars Conjunction AS Orb 10°05
Saturn Opposite Pluto Orb 5°17′
Mercury Opposite Jupiter Orb 7°41′
Pluto Square AS Orb 1°45′
Mars Square Saturn Orb 3°01′
Venus Square AS Orb 3°15′
Saturn Square AS Orb 7°03′
Moon Trine Saturn Orb 2°23′
Saturn Trine Neptune Orb 3°14′
Jupiter Trine AS Orb 4°53′
Mars Trine Jupiter Orb 5°11′
Uranus Sextile MC Orb 0°30′
Venus Sextile Uranus Orb 1°19′
Mercury Sextile Mars Orb 2°30′
Moon Sextile Pluto Orb 2°54′
Sun Sextile Uranus Orb 5°03′
Moon Inconjunction Jupiter Orb 0°13′
Neptune SemiSquare MC Orb 0°23′
Sun SemiSquare Moon Orb 0°41′
Venus SemiSquare Neptune Orb 1°26′
Mercury Quintile AS Orb 0°35′
Mars SemiSextile Neptune Orb 0°12′
Positions of Planets
Sun 26°57′ Sagittarius
Moon 12°38′ Aquarius
Mercury 4°43′ Capricorn
Venus 20°34′ Sagittarius
Mars 7°14′ Pisces
Jupiter 12°25′ Я Cancer
Saturn 10°15′ Я Gemini
Uranus 21°54′ Aquarius
Neptune 7°01′ Aquarius
Pluto 15°33′ Sagittarius
Chiron 0°44′ Capricorn
Ceres 4°45′ Aquarius
Pallas 10°18′ Capricorn
Juno 29°50′ Leo
Vesta 0°29′ Я Gemini
Node 27°09′ Gemini
Lilith 19°20′ Я Pisces
Fortune 3°00′ Taurus
AS 17°19′ Pisces
MC 22°24′ Sagittarius
---
Sagittarians have a positive outlook on life, are full of energy, versatility, adventure and eagerness to experience the new and different. They enjoy traveling and exploration; they are ambitious and optimistic, even in the face of disappointment.. Their strongly idealistic natures can also suffer many disappointments without being affected. They are honorable, honest, trustworthy, truthful, generous and sincere, with a passion for justice.

They are usually on the side of the underdog in society they will fight for any cause they believe to be just, and are prepared to be rebellious. They balance loyalty with independence. Sagittarians are usually modest and are often religious, with a strong sense of morality, though they tend to overemphasize the ethical codes they follow and worship beliefs about God rather than God Himself. This means that, negatively, they regard rigid, unloving, intolerant adherence to ritual and conventional codes as more important than the truths they symbolize or embody. 
Aquarius is a most amenable sign for the Moon to be in because here the Moon's auspices confer commendable qualities of sensitivity and understanding. Aquarius is the astrological sign of intellectual thought and altruism. In this sign, the Moon's effect is to present clear reasoning with humane interests. With your Moon in Aquarius, you are clearheaded, instinctive, and inventive. Your intuitions are evenhanded and spot on. Your initial reactions are objective, scientific, and oriented towards understanding from the human point of view. The temperament is neither too emotional nor too cerebral. You are dreamy but not idiosyncratic but display a wonderful talent for expression. Aquarius moon people make for delightful companions and their affable nature enchants all types of people. They are people-oriented, sociable, and outgoing. However, they never become so emotionally entangled with others that it alters their own life. They are interested in concepts, philosophy, and erudition. They are well-rounded intellectually and possess a wide array of interests in a variety of areas and people. 
If you have Mercury in Capricorn you manage to be driven and systematic, deliberate, calculating, and composed. You are not only excellent at handling details but you additionally never lose sight of the complete picture. When it comes to making judgments you are remarkably reasonable. Reasoning, the cool progression from point to point, is what you put your trust in. You perpetually have an aspiration; you always have a hidden purpose you are attempting.

Mercury-Capricorns often attain positions of leadership because they are so reliable and have an air of prestige. (This is evident even in very little kids who have Mercury in this position.) A difficulty you have in associating to people can be your authoritarian style. You also manage to have a disapproving air about the weaknesses and frivolities of others. Life is grave to Mercury-Capricorns and you see its dark side—though a redeeming quality is your dry sense of humor.
Venus-Sagittarians commence love and courtship with a sense of adventure. You like to encounter the thrill of love in the similar way you seek for diversion in the remainder of your life. First attractions are evermore passionately romantic; as a Venus-Sagittarian you never appear to have conventional or dull love affairs. Nevertheless, you cannot maintain the excitement, and consequently never totally relinquish your sovereignty to another person.

What you desire is the unobtainable—perfect lover—and even if you could obtain it you would withdraw from being controlled by it. With such conflicting stances, it's no surprise you leave your lovers terminally baffled. Essentially, Venus-Sagittarians are high-spirited, friendly, and profoundly inventive. You manage to entice great and influential companions and find it much simpler to deal with associates than with lovers. For one thing, friendship is less taxing. Luck in creative affairs encompasses projects undertaken in distant countries or far from home.
Pisces is a sensitive sign, and your power with Mars in Pisces is your ability to move  hearts and seize the emotions. If you have this Mars placement, you may be noted for your compelling creativity. Many artists, authors, and performers have Mars in Pisces. Enormously amenable to your surroundings, you collect patterns in your subconscious and then present them at a suitable time.
You shoulder the duties of others without grievance. Depth of feeling is apparent in your passion. You are sensual, have intense feelings, and demonstrate a high level of zeal. You seek to include yourself completely in a sex relationship, for this is a way in which you can draw nearer to another human being. You may sustain disappointment in love. Throughout your lifetime you draw prominent friends and grow monetarily from these relations.
Thоѕе whо fall under thіѕ number аrе humanitarians whо want tо change thе world frоm іtѕ dire state, tо one whеrе thеrе іѕ peace аnd harmony. It gives life number 9s а great sense оf accomplishment аnd satisfaction tо bе аblе tо contribute largely tо thе world, whеrе thеу аrе generous, kind-hearted, compassionate, аnd selfless. Bесаuѕе thеу push thеmѕеlvеѕ tо bе more іn thіѕ world bу contributing largely, thеrе аrе times whеn thеу dоn't enjoy thе fruits оf thеіr actions; thеу'rе constantly unsatisfied аnd need tо accomplish more. Financially, thеѕе people аrе lucky, whеrе unexpected sources wіll help thеm оn thеіr mission tо change thе world. Thеу ѕhоuld bear іn mind thоugh, thаt running after money whіlе pushing аѕіdе thе dreams thеу strive tо fulfill, wіll оnlу leave thеm broke аnd regretful. Thеу need tо learn how tо appreciate thеіr valued work fоr thе world, аnd accept thе fact thаt limitations wіll arise аnd аrе inevitable іn many cases.
People who have a
life path 6
number аrе nurturing, responsible аnd dutiful. Thеу аrе kind аnd аrе devoted tо thеіr families. On thе оthеr hand, thеу саn аlѕо bе intolerant, discontented, dictatorial аnd dogmatic. Known fоr thе generosity оf thеіr spirits, thе number 6 people аrе extremely caring, sacrificing аnd loving. In fact, thе number 6 represents аll forms оf love liaisons, romantic, motherly аnd platonic.
Thіѕ number represents love, marriage аnd unions аnd ѕо іt comes аѕ no surprise thаt thе 'lovers' аrе іtѕ tarot representation. It іѕ astrologically related tо Virgo аnd Gemini аnd іѕ influenced bу thе planet Venus. Thе number 6 belongs tо thе earth аnd air dual elements. Thеѕе people have а rainbow-colored aura. Pearls, sapphires аnd diamonds аrе good fоr thе number 6 people. July іѕ thеіr good month аnd Fridays аrе lucky fоr thеm. 2, 3, 4, 9, 15 аnd 24 аrе thе favorable monthly dates fоr thеm.
Being a Snake ourselves, we should be able to recite our Chinese restaurant placement profile by heart, but here it is anyway: Born in the years 1941, 1953, 1965, 1977, 1989 and 2001. Wise and intense with a tendency towards physical beauty. Vain and high tempered. The Snake is an interesting mix of extroversion paired with introversion, intuitive reasoning paired with business savoir-faire.

Snakes are considered to be lucky with money and will generally have more than enough to live life to the fullest, regardless of how important it considers money to be; this may be due to the fact that Snakes tend to be rather tight with cash. They're not stingy; they're simply more mentally than physically active. Snakes tend to hang back a bit in order to analyze a situation before jumping into it. Their charming, seductive quality actually belies a rather retiring nature; this Sign is perfectly happy to spend the whole day curled up with a good book and, thus, can be mislabeled as being lazy. 
Those born in years of the Chinese calendar ending in either zero or one, are said to have the element of Metal. Combined with the person's animal zodiac symbol, this is used to define and give clues to the personality and future of the person. The element metal is said to be associated with the Western culture, the season of autumn, the Planet Venus and the color white. Those born under metal element may have an affinity for Western religion or yearn to break away from tradition.
Being close to Venus means those with a metal element are typically romantic, sentimental and kind. Those with the metal element may be more likely to suffer diseases of the lungs such as asthma. Organization and stability are the earmarks of the metal element. Metal people approach life with persistence, emotional strength, and unyielding determination. A metal person knows their goals and will not stop until those goals are met. Self –reliant, sometimes to a fault, metal people can be viewed as aloof and unconcerned with others.
The ISFP is one of the 16 MBTI types. ISFP stands for introverted (I), sensing (S), feeling (F), and perceiving (P). The cognitive stack of the ISFP is as follows: introverted feeling (Fi), extraverted sensing (Se), introverted intuition (Ni), and extraverted thinking (Ti). The ISFP personality is a reserved and independent soul who likes to engage their senses and explore the world. They enjoy travel and having the opportunity to see and experience new things.

They are freedom loving and do not like feeling restricted or controlled by others. ISFPs do what feels right to them and is less concerned with things logical consistency and understanding concepts. They just want to enjoy life and rack up plenty of beautiful and enriching experiences. ISFPs are not big on abstract ideas and theories and instead take more interest in the things that are palpable. They desire variety and excitement for their life and despite being introverted, they can be very outgoing and spontaneous. Many ISFPs have a fine sense of visual balance and beauty that allows them to do well as artists and tastemakers.